Revitalisasi Usaha Pengrajin Mendong di Sendangsari Minggir Sleman pada Era Pandemi Covid-19
Revitalizing the Business of Mendong Crawings in Sendangsari Minggir Sleman in the Covid-19 Pandemic Era
Keywords:
MSME Empowerment, Mendong craftsman, Online Marketing
Abstract
The Covid-19 pandemic has had a real impact on Micro, Small, and Medium Enterprises in Indonesia, including in the Special Region of Yogyakarta. The Mendong craftsmanship "DERIJI HANDYCRAFT" in Sendangsari Village, Minggir, was among those that were severely affected. This community service activity aims to (1) innovate and catalog products to attract more consumers, (2) train and develop an online product marketing platform for partners, and (3) provide financial management training. Achieving these goals is done through training with discussion methods, lectures, and workshops with partners. The results of this service activity indicate that the program is going well and smoothly. This program can produce products in the form of catalogs and photos of product innovations, social media platforms for online marketing, and software and financial management guides for Micro Enterprises. While the suggestions are submitted from the results of this PPM program, DERIJI CRAFT partners should be able to update their online marketing platforms and socialize them to future generations to maintain sustainability.
Downloads
Download data is not yet available.
References
Fahrika, A. I. & Roy, J. (2020). Dampak pandemi covid 19 terhadap perkembangan makro ekonomi di indonesia dan respon kebijakan yang ditempuh. INOVASI: Jurnal Ekonomi, Keuangan dan Manajemen, 16(2), 206-213. https://doi.org/10.30872/jinv.v16i2.8255
Febianti, F. & Urbanus, N. (2017). Analisis dampak perkembangan pariwisata terhadap perilaku konsumtif masyarakat wilayah bali selatan. Jurnal Kepariwisataan dan Hospitalitas, 1(2), 118-133.
Gani, I. (2021). Dampak pandemi covid 19 terhadap sektor usaha di kalimantan timur. INOVASI: Jurnal Ekonomi, Keuangan dan Manajemen, 17(1), 1-9. https://doi.org/10.30872/jinv.v17i1.9183
Muhyiddin. (2020). Covid-19, New Normal, dan Perencanaan Pembangunan di Indonesia. Jurnal Perencanaan Pembangunan: The Indonesian Journal of Development Planning, 4(2), 240-252. https://doi.org/10.36574/jpp.v4i2.118
Nalini, S. N. L. (2021). Dampak Dampak covid-19 terhadap Usaha MIkro, Kecil dan Menengah. Jesya (Jurnal Ekonomi dan Ekonomi Syariah), 4(1), 662-669. https://doi.org/https://doi.org/10.36778/jesya.v4i1.278
Nugraha, Y. E. (2021). Dampak Pandemi Covid 19 Pada Unit Usaha Pariwisata Di Kawasan Pesisir Kota Kupang. Jurnal Industri Parawisata, 3(2), 134-149. https://doi.org/10.36441/pariwisata.v3i2.411
Pradana, M. I. W. & Mahendra, G. K. (2021). Analisis Dampak Covid-19 Terhadap Sektor Pariwisata Di Objek Wisata Goa Pindul Kabupaten Gunungkidul. Journal of Social Politics and Governance (JSPG), 3(2), 73-85. https://doi.org/10.24076/JSPG.2021v3i2.623
Prasetya, A., Nurdin, M. F., & Gunawan, W. (2021). Perubahan Sosial Masyarakat Dalam Perspektif Sosiologi Talcott Parsons Di Era New Normal. Sosietas, 11(1), 929-939. https://doi.org/10.17509/sosietas.v11i1.36088
Risnaningsih. (2017). Pengelolaan Keuangan Usaha Mikro dengan Economic Entity Concept. Jurnal Analisa Akuntansi dan Perpajakan, 1(1), 41-50. https://doi.org/10.25139/jaap.v1i1.97
Suprihatin, W. (2020). Analisis Perilaku Konsumen Wisatawan Era Pandemi Covid-19 (Studi Kasus Pariwisata di Nusa Tenggara Barat). Jurnal Bestari : Badan Pengembangan Sumber Daya Manusia Daerah Provinsi NTB, 1(1), 56-66.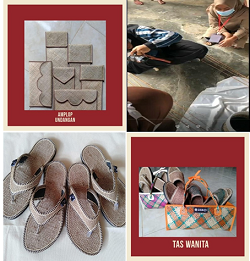 Downloads
How to Cite
Suranto, S., & Jatiningsih, ‪Dyah E. S. (2023). Revitalisasi Usaha Pengrajin Mendong di Sendangsari Minggir Sleman pada Era Pandemi Covid-19: Revitalizing the Business of Mendong Crawings in Sendangsari Minggir Sleman in the Covid-19 Pandemic Era. PengabdianMu: Jurnal Ilmiah Pengabdian Kepada Masyarakat, 8(2), 217–223. https://doi.org/10.33084/pengabdianmu.v8i2.2531
License
Copyright (c) 2023 Suranto Suranto, ‪Dyah Ekaari Sekar Jatiningsih
This work is licensed under a Creative Commons Attribution-ShareAlike 4.0 International License.
Authors who publish with this journal agree to the following terms:
Any article on the copyright is retained by the author(s).
Author grant the journal, right of first publication with the work simultaneously licensed under a Creative Commons Attribution License that allows others to share work with acknowledgment of the work authors and initial publications in this journal.
Authors are able to enter into a separate, additional contractual arrangements for non-exclusive distribution of published articles of work (eg, post-institutional repository) or publish it in a book, with acknowledgment of its initial publication in this journal.
Authors are permitted and encouraged to post their work online (e.g., in institutional repositories or on their websites) prior to and during the submission process, as can lead to productive exchanges, as well as earlier and greater citation of published work.
The article and any associated published material is distributed under the Creative Commons Attribution-ShareAlike 4.0 International License