Etika Berinternet (Netiket) untuk Meningkatkan Literasi Digital Pelajar di SMAN 2 Banjarmasin
Internet Ethics (Netiquette) to Improve Student Digital Literacy at SMAN 2 Banjarmasin
Keywords:
Internet ethics, Netiquette, Student , digital literacy
Abstract
Internet ethics (netiquette) is one indicator of digital ethical competence in digital literacy. Schools are one of the targets of the digital literacy program promoted by the government, although they have participated in the digital literacy program, not all schools in Banjarmasin understand what is meant by internet ethics. SMAN 2 Banjarmasin (SMADA) is a partner in this program, which is also one of the schools whose students have never received socialization/material about internet ethics. Based on that problems, this community service program is carried out by socializing internet ethics to improve students' digital literacy at SMADA. At the end of the socialization session, students will have evaluation about internet ethics. This session was held to find out the extent of their understanding about netiquette. Based on evaluation results, SMADA's students understand the material that has been delivered. Students are able to assess whether or not they have implemented internet etiquette. This internet ethics socialization made students understand the importance of applying internet ethics. They understand what to upload or not when using social media and other digital tools.
Downloads
Download data is not yet available.
References
Ahyati, I. U. & Sya'rawi, H. (2022). Etika Berinternet (Netiket) dalam Komunikasi Daring di Politeknik Negeri Banjarmasin. INTEKNA, 22(1), 25-30.
Asosiasi Penyelenggara Jasa Internet Indonesia. (2020). Laporan Survei Internet APJII 2019-2020 (Q2). Jakarta: Asosiasi Pengguna Jasa Internet Indonesia.
Fahrimal, Y. (2018). Netiquette: Etika Jejaring Sosial Generasi Milenial Dalam Media Sosial. Jurnal Penelitian Pers dan Komunikasi Pembangunan, 22(1), 69-78. http://dx.doi.org/10.46426/jp2kp.v22i1.82
Kementerian Komunikasi dan Informasi Republik Indonesia. (2022). Budaya Digital Membaik, Indeks Literasi Digital Indonesia Meningkat. https://www.kominfo.go.id/content/detail/39488/siaran-pers-no-15hmkominfo012022-tentang-budaya-digital-membaik-indeks-literasi-digital-indonesia-meningkat/0/siaran_pers
Kementerian Pendidikan, Kebudayaan, Riset dan Teknologi Republik Indonesia. (2022). Data Pokok Pendidikan SMAN 2 Banjarmasin. https://dapo.kemdikbud.go.id/sekolah/8D825DADACFD356DEE0D
Kemp, S. (2022). Digital 2022: Indonesia. https://datareportal.com/reports/digital-2022-indonesia
Kusumastuti, F., Astuti, S. I., Astuti, Y. D., Birowo, M. A., Hartanti, L. E., & Kurnia, N. M. (2021). Etis Bermedia Digital. Jakarta: Kementerian Komunikasi dan Informatika Republik Indonesia.
Ramadi, A. N. & Fitria, N. J. L. (2022). Pelaksanaan Webinar Makin Cakap Digital sebagai Bentuk Pemberdayaan Pandu Digital Daring untuk Masyarakat Indonesia. Journal of Social and Policy Issues, 2(2), 77-81. https://doi.org/10.58835/jspi.v2i2.44
Simarmata, J., Hanum, R. A., Situmorang, D., Sitorus, M., Lubis, R. A., Fazila, N., et al. (2020). Elemen-Elemen Multimedia untuk Pembelajaran. Medan: Kita Menulis.
Syaripudin, A., Ahmad, D., Ningrum, D. W., Banyumurti, I., & Magdalena, M. (2017). Kerangka Literasi Digital Indonesia. Jakarta: Perkumpulan Mitra Teknologi Informasi dan Komunikasi Indonesia.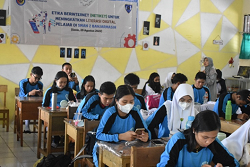 Downloads
How to Cite
Ahyati, I. U., Sya'rawi, H., & Permanasari, L. (2023). Etika Berinternet (Netiket) untuk Meningkatkan Literasi Digital Pelajar di SMAN 2 Banjarmasin: Internet Ethics (Netiquette) to Improve Student Digital Literacy at SMAN 2 Banjarmasin. PengabdianMu: Jurnal Ilmiah Pengabdian Kepada Masyarakat, 8(2), 175–180. https://doi.org/10.33084/pengabdianmu.v8i2.4151
License
Copyright (c) 2023 Inayatul Ulya Ahyati, Huda Sya'rawi, Linda Permanasari
This work is licensed under a Creative Commons Attribution-ShareAlike 4.0 International License.
Authors who publish with this journal agree to the following terms:
Any article on the copyright is retained by the author(s).
Author grant the journal, right of first publication with the work simultaneously licensed under a Creative Commons Attribution License that allows others to share work with acknowledgment of the work authors and initial publications in this journal.
Authors are able to enter into a separate, additional contractual arrangements for non-exclusive distribution of published articles of work (eg, post-institutional repository) or publish it in a book, with acknowledgment of its initial publication in this journal.
Authors are permitted and encouraged to post their work online (e.g., in institutional repositories or on their websites) prior to and during the submission process, as can lead to productive exchanges, as well as earlier and greater citation of published work.
The article and any associated published material is distributed under the Creative Commons Attribution-ShareAlike 4.0 International License