Pendampingan Pembuatan Media Pembelajaran Berbasis Aplikasi Canva Bagi Guru SMP Srijaya Negara
Assistance for Making Learning Media Based on Canva for Teacher in Srijaya Negara Junior High School
Keywords:
Asisstance, Canva, srijaya, Teacher
Abstract
Community service activities carried out on this occasion are related to improving teacher competence based on Law No. 14 of 2005 concerning Teachers and Lecturers. The method of community service is mentoring the teachers of Srijaya Negara Junior High School. The service results showed increased understanding and ability of the Teachers of Srijaya Negara Junior High School to make Canva-based learning media. Mentoring activities for making Canva-based learning media went well and efficiently. The teachers showed enthusiasm for creating learning media using Canva. The enthusiastic attitude of the teachers can be seen from the enthusiasm and desire to complete Canva-based learning media. In addition, the understanding and knowledge of teachers in utilizing Canva to create learning media can be seen from the initial test (pre-test) and the final test (post-test).
Downloads
Download data is not yet available.
References
Bararah, I. (2017). Efektifitas Perencanaan Pembelajaran dalam Pembelajaran Pendidikan Agama Islam di Sekolah. Jurnal Mudarrisuna: Media Kajian Pendidikan Agama Islam, 7(1), 131-147. http://dx.doi.org/10.22373/jm.v7i1.1913
Daharti, R., Susilowati, I., & Sutanto, H. A. (2013). Strategi Peningkatan Kompetensi Guru Dengan Pendekatan Analysis Hierarchy Process. JEJAK: Jurnal Ekonomi dan Kebijakan, 6(1), 80-92. https://doi.org/10.15294/jejak.v6i1.3750
Maritsa, A., Salsabila, U. H., Wafiq, M., Anindya, P. R., & Ma'shum, M. A. (2021). Pengaruh Teknologi Dalam Dunia Pendidikan. Al-Mutharahah: Jurnal Penelitian Dan Kajian Sosial Keagamaan, 18(2), 91-100. https://doi.org/10.46781/al-mutharahah.v18i2.303
Novauli, F. M. (2015). Kompetensi Guru Dalam Peningkatan Prestasi Belajar Pada SMP Negeri Dalam Kota Banda Aceh. Jurnal Administrasi Pendidikan, 3(1), 45-67.
Romadhoni, N. F., Rahman, M. H., Pertiwi, N., Idrus, R. T., & Armiwaty. (2023). Workshop Peningkatan Literasi Digital Mahasiswa Melalui Aplikasi Desain Grafis Canva. INOVASI: Jurnal Hasil Pengabdian Masyarakat, 3(1), 1-7. https://doi.org/10.35580/inovasi.v3i1.46426
Sahertian, P. A. & Sahertian, I. A. (2000). Supervisi Pendidikan dalam Rangka Program Inservice Eduation. Jakarta: Rineka Cipta.
Syahmidi, S. & Surawan, S. (2022). Administrasi Guru: Upaya Peningkatan Kualitas Profesionalisme Mengajar. Journal on Education, 4(4), 1401-1411. https://doi.org/10.31004/joe.v4i4.1799
Trias, T. M. (2016). Penyusunan Rencana Pelaksanaan Pembelajaran (RPP) Guru Bahasa Indonesia Di SMP Negeri 2 Bantul. Jurnal Pend. Bahasa dan Sastra Indonesia - S1, 5(2), 1-15.
Wahyuni, S. & Ibrahim, A. S. (2012). Perencanaan Pembelajaran Bahasa Berkarakter. Malang: Refika Adita.
Weni, D. M. & Isnani, G. (2016). Meningkatkan Hasil Belajar Siswa dengan Pengembangan Media Pembelajaran E-Learning Berbasis Blog. JPBM (Jurnal Pendidikan dan Bisnis Manajemen), 2(2), 114-123.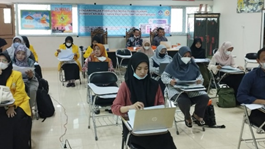 Downloads
How to Cite
Sulkipani, S., Nurdiansyah, E., Camellia, C., & Dhita, A. N. (2023). Pendampingan Pembuatan Media Pembelajaran Berbasis Aplikasi Canva Bagi Guru SMP Srijaya Negara: Assistance for Making Learning Media Based on Canva for Teacher in Srijaya Negara Junior High School. PengabdianMu: Jurnal Ilmiah Pengabdian Kepada Masyarakat, 8(4), 650–655. https://doi.org/10.33084/pengabdianmu.v8i4.4245
License
Copyright (c) 2023 Sulkipani Sulkipani, Edwin Nurdiansyah, Camellia Camellia, Aulia Novemy Dhita
This work is licensed under a Creative Commons Attribution-ShareAlike 4.0 International License.
Authors who publish with this journal agree to the following terms:
Any article on the copyright is retained by the author(s).
Author grant the journal, right of first publication with the work simultaneously licensed under a Creative Commons Attribution License that allows others to share work with acknowledgment of the work authors and initial publications in this journal.
Authors are able to enter into a separate, additional contractual arrangements for non-exclusive distribution of published articles of work (eg, post-institutional repository) or publish it in a book, with acknowledgment of its initial publication in this journal.
Authors are permitted and encouraged to post their work online (e.g., in institutional repositories or on their websites) prior to and during the submission process, as can lead to productive exchanges, as well as earlier and greater citation of published work.
The article and any associated published material is distributed under the Creative Commons Attribution-ShareAlike 4.0 International License