Peningkatan Kesehatan Masyarakat Suku Arfak melalui Bakti Sosial di Kampung Kwau Papua Barat
Improvement of Public Health Arfak Tribe through Social Service in Kwau Village West Papua
Keywords:
Arfak Tribe, Anthropometry, Nutritional status
Abstract
Health services in Papua are still a serious problem that not all Papuan people cannot reach, especially people living in remote and mountainous areas. Kampung The purpose of this service activity is to provide free health check up and assess nutritional status in an effort to improve the health of the Arfak community in Kwau Village, West Papua Province. through health checks and body measurements. The number of patients receiving treatment was 85 people with an age range of 1-70 years, consisting of children to elderly patients. Our result showed most of the patients suffered from Acute Respiratory Tract Infection (ARI) as many as 39 people, then stomach ulcers as many as 18 patients, muscle diseases and arthritis as many as 18 people. Other diseases, which amounted to 10 people, were relatively few suffered by the people of Kampung Kwau. In general, children in Kwau Village have good nutrition. There were three children who were categorized as very short. The sustainable use and management of local food by the Arfak traditional community in Kwau Village shows that the community has sufficient food security to meet optimal nutritional intake.
Downloads
Download data is not yet available.
References
Andrade, C. (2021). Z Scores, Standard Scores, and Composite Test Scores Explained. Indian Journal of Psychological Medicine, 43(6), 555-557. https://doi.org/10.1177/02537176211046525
Kementerian Kesehatan Republik Indonesia. (2020). Peraturan Menteri Kesehatan Republik Indonesia Nomor 2 Tahun 2020 tentang Standar Antropometri Penilaian Status Gizi Anak. Jakarta: Kementerian Kesehatan Republik Indonesia.
Ma, Z. F., Wang, C. W., & Lee, Y. Y. (2022). Editorial: Malnutrition: A Cause or a Consequence of Poverty? Frontiers in Public Health, 9, 796435. https://doi.org/10.3389/fpubh.2021.796435
Rahmadhita, K. (2020). Permasalahan Stunting dan Pencegahannya. Jurnal Ilmiah Kesehatan Sandi Husada, 9(1), 225-229. https://doi.org/10.35816/jiskh.v11i1.253
Rauf, A. W. & Lestari, M. S. (2009). Pemanfaatan Komoditas Pangan Lokal Sebagai Sumber Pangan Alternatif di Papua. Jurnal Penelitian dan Pengembangan Pertanian, 28(2), 54-62.
Ruswati, Leksono, A. W., Prameswary, D. K., Pembajeng, G. S., Inayah, Felix, J., et al. (2021). Risiko Penyebab Kejadian Stunting pada Anak. Jurnal Pengabdian Kesehatan Masyarakat, 1(2), 34-38. https://doi.org/10.31849/pengmaskesmas.v1i2/5747
Sapary, F. E., Rai, I. N., & Sunarta, I. N. (2017). Strategi Pengelolaan Ekowisata Mokwam Area Untuk Mendukung Pelestarian Lingkungan Di Kabupaten Manokwari Provinsi Papua Barat. Ecotrophic : Jurnal Ilmu Lingkungan (Journal of Environmental Science), 11(2), 156-165.
Siddiqui, F. S., Salam, R. A. Lassi Z. S, & Das J. K. (2020). The Intertwined Relationship Between Malnutrition and Poverty. Frontiers in Public Health, 8, 453. https://doi.org/10.3389/fpubh.2020.00453
Sudiman, H. (2006). Perbandingan Status Gizi Balita dengan Indeks Antropometri berdasar Baku Rujukan WHO-NCHS dan Baku WHO 2005. Buleti Penelitian Kesehatan, 34(3), 129-136.
Sumiarni, E., Wamafma, F., Pudyatmokok, Y. S., Sakmaf, M., Jazir, M., Bahamba, A. Y., et al. (2018). Eksistensi Hukum Adat Serta Nilai-Nilai Kearifan Lokal Suku Arfak (Hatam, Meyah, Moile, Sougb) Sebagai Penunjang Pembangunan. Manokwari: STIH Manokwari Press.
Supriadi, H. (2016). Strategi Kebijakan Pembangunan Pertanian di Papua Barat. Analisis Kebijakan Pertanian, 6(4), 352-377.
Suryawan, I. N. (2015). Dinamika Pemekaran Kampung Dan Benteng Terbuka Papua. Kritis, 24(1), 40-58. https://doi.org/10.24246/kritis.v24i1p40-58
Tim Nasional Percepatan Penanggulangan Kemiskinan. (2019). Pengembangan Peta status gizi balita di Indonesia. https://www.tnp2k.go.id/download/72303PetastatusgizibalitaFINAL.pdf
Trihono, Atmarita, Tjandrarini, D.H., Irawati, A., Utami, N.H., Tejayanti, T., et al. (2015). Pendek (Stunting) di Indonesia, masalah dan solusinya. Jakarta: Badan Penelitian dan Pengembangan Kesehatan.
Widiastuti, S., Lisangan, M. M., & Wambrauw L. T. (2021). Analisis Kasus Stunting dan faktor-faktor yang Berhubungan di Kampung Arowi Distrik Manokwari Timur. Cassowary, 4(2), 159-171. https://doi.org/10.30862/casssowary.cs.v4.i2.97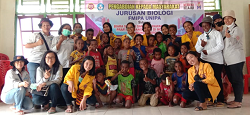 Downloads
How to Cite
Kawulur, E. I. J. J., Krey, K., Ratnawati, S., Sinuraya, S., Panjaitan, R., Salosa, Y. Y., Massora, M., Lefaan, P. T., Maturbongs, A. C., & Allo, W. Y. L. (2023). Peningkatan Kesehatan Masyarakat Suku Arfak melalui Bakti Sosial di Kampung Kwau Papua Barat: Improvement of Public Health Arfak Tribe through Social Service in Kwau Village West Papua. PengabdianMu: Jurnal Ilmiah Pengabdian Kepada Masyarakat, 8(2), 262–270. https://doi.org/10.33084/pengabdianmu.v8i2.4291
License
Copyright (c) 2023 Elda Irma Jeanne Joice Kawulur, Keliopas Krey, Sita Ratnawati, Sabarita Sinuraya, Rawati Panjaitan, Yenny Yendri Salosa, Maria Massora, Paskalina Theresia Lefaan, Agatha Cecilia Maturbongs, Wendy Yudija Limbong Allo
This work is licensed under a Creative Commons Attribution-ShareAlike 4.0 International License.
Authors who publish with this journal agree to the following terms:
Any article on the copyright is retained by the author(s).
Author grant the journal, right of first publication with the work simultaneously licensed under a Creative Commons Attribution License that allows others to share work with acknowledgment of the work authors and initial publications in this journal.
Authors are able to enter into a separate, additional contractual arrangements for non-exclusive distribution of published articles of work (eg, post-institutional repository) or publish it in a book, with acknowledgment of its initial publication in this journal.
Authors are permitted and encouraged to post their work online (e.g., in institutional repositories or on their websites) prior to and during the submission process, as can lead to productive exchanges, as well as earlier and greater citation of published work.
The article and any associated published material is distributed under the Creative Commons Attribution-ShareAlike 4.0 International License