Pelatihan Budidaya Maggot pada Anak Asuh di Panti Asuhan Muhammadiyah Malang
Maggot Cultivation Training on Foster Child on Muhammadiyah Orphanage, Malang
Keywords:
Feed of Chicken and Fish, Maggot, Orphanage , Training , Foster Child
Abstract
The Muhammadiyah Malang Orphanage (PAMMA) is one of the Da'wah movements of Amar Ma'ruf Nahi Munkar in the municipality of Malang, in the social sector, through alleviating education and empowering school-aged orphans. One of the empowerment programs is to provide life skills to foster children. PAMMA has land that can be used for fruit and vegetable cultivation, chicken, and fish. However, the cultivation of chicken and fish requires the availability of expensive commercial feed. Maggot is a black fly caterpillar rich in nutrients and protein and can be used as a substitute for chicken and fish feed. The purpose of this activity is training for foster children and orphanage caregivers to cultivate maggots, and the results are used as an alternative to chicken and fish feed. The method of this service activity is in the form of training, implementation, monitoring, and evaluation of activities. Maggot cultivation training at the Integrated Waste Disposal Site, Tumpang, Malang district. Maggot cultivation practices are carried out on PAMMA land. Several foster children and orphanages had received training and practiced maggot cultivation. Under caregivers' guidance, foster children have successfully cultivated maggots independently at PAMMA by utilizing organic waste obtained from the scope of the orphanage. Cultivated caterpillars have been used as a substitute for commercial chicken and fish feed. The conclusion is the training on maggot production has been carried out and mastered by the PAMMA brothers and caregivers, and the production has been used as feed for chicken and fish cultivation.
Downloads
Download data is not yet available.
References
Affandi, G. R., Laili, N., Hasanah, F. N., Syabana, A., & Hidayat, R. A. (2021). Peningkatan Kapasitas Life Skill dan Konselor Sebaya Anak Panti Asuhan Yatim 'Asyiyah Balongbendo. Jurnal Pengabdian Masyarakat IPTEKS, 7(2), 183-191. https://doi.org/10.32528/jpmi.v7i2.4834
Barros-Cordeiro, K. B., Báo, S. N., & Pujol-Luz, J. R. (2014). Intra-puparial development of the black soldier-fly, Hermetia illucens. Journal of Insect Science, 14, 83. https://doi.org/10.1093/jis/14.1.83
Bondari, K. & Sheppard, D. C. (1987). Soldier fly, Hermetia illucens L., larvae as feed for channel catfish, Ictalurus punctatus (Rafinesque), and blue tilapia, Oreochromis aureus (Steindachner). Aquaculture Research, 18(3), 209–220. https://doi.org/10.1111/j.1365-2109.1987.tb00141.x
Diener, S., Zurbrügg, C., & Tockner, K. (2009). Conversion of organic material by black soldier fly larvae: establishing optimal feeding rates. Waste Management and Research, 27(6), 603–610. https://doi.org/10.1177/0734242X09103838
Fahmi, M. R., Hem, S., & Subamia, I. W. (2009). Potensi maggot untuk peningkatan pertumbuhan dan status kesehatan ikan. Jurnal Riset Akuakultur, 4(2), 221-232. https://doi.org/10.15578/jra.4.2.2009.221-232
Fauzi, R. U. A. & Sari, E. R. N. (2018). Analisis Usaha Budidaya Maggot sebagai Alternatif Pakan Lele. Industria: Jurnal Teknologi dan Manajemen Agroindustri 7(1), 39-46. https://doi.org/10.21776/ub.industria.2018.007.01.5
Firdaus, M., Intyas, C. A., & Yahya, Y. (2021). Peningkatan Kapasitas Produksi Terasi Rebon di Desa Ketapang, Kotamadya Probolinggo. PengabdianMu: Jurnal Ilmiah Pengabdian Kepada Masyarakat, 6(3), 285–290. https://doi.org/10.33084/pengabdianmu.v6i3.1832
Hem, S. (2011). Final report project FISH-DIVA: Maggot-bioconversion research program in Indonesia concept of new food resources results and applications 2005-2011. Jakarta: Centre for Aquaculture Research and Development.
Irwandi. (2018). Program pengembangan potensi dan pemberdayaan melalui pendidikan life skill," (pengembangan life skill penghuni panti asuhan At-Taqwa Muhammadiyah Kenagarian III Koto kec. Rambatan kabupaten Tanah Datar). Alfuad: Jurnal Sosial Keagamaan, 2(1), 90-95. http://dx.doi.org/10.31958/jsk.v2i1.1212
Rahman, A. (2018). Identifikasi Strategi Peningkatan Kesejahteraan Masyarakat di Kecamatan Sungaiambawang Kabupaten Kuburaya Provinsi Kalimantan Barat. Jurnal Manajemen Pembangunan, 5(1), 17-36.
Rambet, V., Umboh, J. F., Tulung, Y. L. R., & Kowel, Y. H. S. (2016). kecernaan protein dan energi ransum broiler yang menggunakan tepung maggot (Hermetia illucens) sebagai pengganti tepung ikan. Zootec, 36(1), 13-22. https://doi.org/10.35792/zot.36.1.2016.9314
Ridwan, I., Dollo, A., & Andriyani, A. (2019). Implementasi pendekatan Participatory Rural Appraisal pada program pelatihan. Journal of Nonformal Education and Community Empowerement, 3(2), 88-94. https://doi.org/10.15294/jnece.v3i2.34913
Septiawati, R., Astriani, D., & Ariffianto, M. A. (2021). Pemberdayaan Ekonomi Masyarakat Melalui Pengembangan Potensi Lokal Budidaya Black Soldier Fly (Maggot) di Desa Sukaratu Karawang. Al-Kharaj: Jurnal Ekonomi, Keuangan & Bisnis Syariah, 3(2), 219-229. https://doi.org/10.47467/alkharaj.v3i2.339
Syahrizal, Edimarwan, & Ridwan, M. (2014). Kombinasi limbah kelapa sawit dan ampas tahu sebagai media budidaya maggot (Hermetia illucens) salah satu alternatip pakan ikan. Jurnal Ilmiah Universitas Batanghari Jambi, 14(4), 108-114. http://dx.doi.org/10.33087/jiubj.v14i4.233
Tomberlin, J. K., Adler, P. H., & Myers, H. M. (2009). Development of black soldier fly (Diptera: Stratiomyidae) in relation to temperature. Environmental Entomology, 38(3), 930-934. https://doi.org/10.1603/022.038.0347
Warburton, K. & Hallman, V. (2002). Processing of material by the soldier fly, Hermetia illucens. Queensland: Rural Industries Research and Development Corporation.
Wardhana, A. H. (2016). Black Soldier Fly (Hermetia illucens) sebagai Sumber Protein Alternatif untuk Pakan Ternak. Wartazoa : Buletin Ilmu Peternakan dan Kesehatan Hewan Indonesia, 26(2), 69-78. http://dx.doi.org/10.14334/wartazoa.v26i2.1218
Zahrosa, D. B., Soejono, D., Prabowo, R. U., Jannah, W., Khalimah, Z. N., Irvandika, F., et al. (2022). Budidaya maggot: solusi efektif dalam pemanfaatan sampah di desa panti. Integritas, 6(2), 380-390. https://doi.org/10.36841/integritas.v6i2.2457
Zubaidah, S., Norhayani, N., & Rahayuningsih, S. E. A. (2021). Pemberdayaan Panti Asuhan Berkah Palangka Raya sebagai Basis Usaha Olahan Ikan di Kota Palangka Raya Kalimantan Tengah. PengabdianMu: Jurnal Ilmiah Pengabdian Kepada Masyarakat, 6(6), 550–557. https://doi.org/10.33084/pengabdianmu.v6i6.2091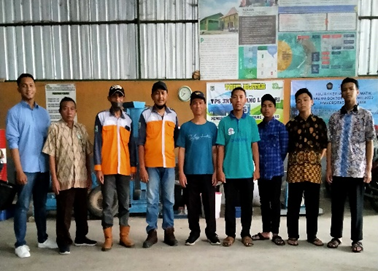 Downloads
How to Cite
Ardiarini, N. R., Firdaus, M., Widodo, E., Gama, Z. P., & Sujoko, A. (2023). Pelatihan Budidaya Maggot pada Anak Asuh di Panti Asuhan Muhammadiyah Malang: Maggot Cultivation Training on Foster Child on Muhammadiyah Orphanage, Malang. PengabdianMu: Jurnal Ilmiah Pengabdian Kepada Masyarakat, 8(4), 593–599. https://doi.org/10.33084/pengabdianmu.v8i4.4295
License
Copyright (c) 2023 Noer Rahmi Ardiarini, Muhamad Firdaus, Eko Widodo, Zulfaidah Penata Gama, Anang Sujoko
This work is licensed under a Creative Commons Attribution-ShareAlike 4.0 International License.
Authors who publish with this journal agree to the following terms:
Any article on the copyright is retained by the author(s).
Author grant the journal, right of first publication with the work simultaneously licensed under a Creative Commons Attribution License that allows others to share work with acknowledgment of the work authors and initial publications in this journal.
Authors are able to enter into a separate, additional contractual arrangements for non-exclusive distribution of published articles of work (eg, post-institutional repository) or publish it in a book, with acknowledgment of its initial publication in this journal.
Authors are permitted and encouraged to post their work online (e.g., in institutional repositories or on their websites) prior to and during the submission process, as can lead to productive exchanges, as well as earlier and greater citation of published work.
The article and any associated published material is distributed under the Creative Commons Attribution-ShareAlike 4.0 International License