Edukasi Pola Hidup Bersih dan Sehat (PHBS) pada Anak Usia Sekolah Dasar melalui Media Permainan Berbasis Kearifan Lokal "BAREGA" di Kelurahan Marang Kota Palangka Raya
Education Clean and Healthy Behaviour (PHBS) in Children of Elementary Schools using Media Local Wisdom Games "BAREGA" at Marang Urban Village of Palangka Raya
Keywords:
PHBS, Games, Children, BAREGA
Abstract
Clean and Healthy Living Behavior (PHBS) is an effort to create conditions for individuals, families, groups, and communities in attitudes and behavior so they can adopt a healthy life to maintain and improve their health status. Elementary school-age children often ignore the health problems they experience, so preventive and promotive efforts are needed so that they have good and correct PHBS knowledge, attitudes, and actions to prevent some health problems from occurring. Health education for children aims to familiarize them with a clean and healthy lifestyle that starts with being responsible for their health and environment. This education can be done by using learning methods adapted to the characteristics and needs of children. Therefore, the Community Service Team carries out community service activities as an effort to increase education regarding PHBS, an innovative media based on local wisdom, namely the game "BAREGA," with the primary target audience being elementary school-age children through counseling and demonstrations on a combination of puzzle games and snake's ladders with a material clean and healthy lifestyle based on local wisdom. The implementation of this activity went smoothly, all the children looked very enthusiastic, and it was hoped that it would increase public awareness, especially among children, in implementing a clean and healthy lifestyle in everyday life.
Downloads
Download data is not yet available.
References
Arif, R. I., Daima, U. Z., & Yudabbirul, A. (2020). Sosialisasi Gerakan Masyarakat Hidup Sehat Melalui Permainan Ular Tangga di Kota Palangka Raya. Jurnal Pengabdian Pada Masyarakat Membangun Negeri, 4(2), 253-260.
Dahlia. (2018). Psikologi Perkembangan Anak Usia Dini. Yogyakarta: Pustaka Pelajar.
Elfiadi. (2016). Bermain dan Permainan Bagi Anak Usia Dini. ITQAN: Jurnal Ilmu-Ilmu Kependidikan, 7(1), 51–60.
Farhani N. & Pratiwi V.N. (2019). Permainan Puzzle Sebagai Media Edukasi Konsumsi Sayur dan Buah di TK/PG Yasporbi Surabaya. Community Devolepment Journal, 3(2), 45–50. https://doi.org/10.33086/cdj.v3i2.657
Firmansyah, A., Setiawan, H., Wibowo, D. A., Rohita, T., & Umami, A. (2021). Virtual Reality (VR) Media Distraction Relieve Anxiety Level of the Children During Circumcision. In Proceedings of the 1st Paris Van Java International Seminar on Health, Economics, Social Science and Humanities (PVJ-ISHESSH 2020), 611-614. https://doi.org/10.2991/assehr.k.210304.137
Imawati, P. F., Maulana, A., Azmi, P. L., Haniyfa, R. S., & Maheswari, T. (2019). Ular Tangga Raksasa Sebagai Media Pembelajaran Perilaku Hidup Bersih dan Sehat (PHBS) Pada Siswa SMPN 3 Arjasa, Kabupaten Situbondo. Jurnal KSM Eka Prasetya UI, 1(6), 1–8.
Ishak, S. N., La Patilaiya, H., Miranda, O., Malik, A. A., & Kudo, W. (2022). Permainan Edukatif sebagai Sarana Peningkatan Pengetahuan, Sikap serta PHBS Siswa SDN 26 Kelurahan Gambesi Kota Ternate. Jurnal Anugerah, 4(1), 35-42. https://doi.org/10.31629/anugerah.v4i1.4258
Jayantika, G. P., Rahmawati, T. A., Pitriani, Rostantia, B., Karsono, R. R., & Zorgi, S. (2021). Permainan Ular Tangga Sebagai Media Pemberlajaran Perilaku Hidup Bersih Dan Sehat (PHBS) Pada Siswa SDN 3 Benteng. Kolaborasi: Jurnal Pengabdian Masyarakat, 1(2), 95–98. https://doi.org/10.56359/kolaborasi.v1i2.21
Karalina, V. (2020). Peranan Permainan Puzzle Untuk Meningkatkan Kemampuan Koordinasi Motorik Halus Bagi Anak Autis. Skripsi. Surabaya: Universitas Negeri Surabaya.
Kelurahan Marang. (2021). Profil Kelurahan Marang 2021. Palangka Raya: Kelurahan Marang.
Lestari, P. I., Prima, E., & Sulistyadewi, N. P. E. (2018). Bermain Dan Permainan Anak Usia Dini Di Tempat Penitipan Anak. Seminar Nasional Aplikasi Iptek (SINAPTEK), 103-108. https://doi.org/10.36002/sptk.v0i0.463
Nurmahmudah, E., Puspitasari, T., & Agustin, I. T. (2018). Perilaku Hidup Bersih dan Sehat (PHBS) pada Anak Sekolah. ABDIMAS: Jurnal Pengabdian Masyarakat, 1(2), 46–52. https://doi.org/10.35568/abdimas.v1i2.327
Setiawan, H., Khairunnisa, R. N., & Oktavia, W. (2021). Handwashing Health Education to Prevent Covid-19 Transmission in SMP Inspirasi. ABDIMAS: Jurnal Pengabdian Masyarakat, 4(1), 428–432. http://dx.doi.org/10.35568/abdimas.v4i1.1017
Sugiritama, I. W., Wiryawan, I. G. N. S., Ratnayanthi, I. G. A. D., Ariana, I. G. K. K., Linawati, N. M., & Wahyuniari, I. A. I. (2021). Pengembangan Pola Hidup Bersih dan Sehat (PHBS) pada Anak Sekolah melalui Metode Penyuluhan. Buletin Udayana Mengabdi, 20(1), 64-70. https://doi.org/10.24843/BUM.2021.v20.i01.p11
Sujiono, Y. N., Zainal, O. R., Rita, R., & Tampiomas, E. L. (2014). Metode Pengembangan Kognitif. Banten: Universitas Terbuka.
Swstrini., K. C., Antara, P. A., & Tirtayani, L. A.. (2016). Penerapan Bermain Ular Tangga untuk Meningkatkan Kemampuan Kerjasama Kelompok B1 di TK Widya Sesana Sangsit. Jurnal Pendidikan Anak Usia Dini Undiksha, 4(2), 7764. https://doi.org/10.23887/paud.v4i2.7764
Wati, P. D. C. A. & Ridlo, I. A. (2020). Hygienic and Healthy Lifestyle in the Urban Village of Rangkah Surabaya. Jurnal Promkes: The Indonesian Journal of Health Promotion and Health Education, 8(1), 47–58. https://doi.org/10.20473/jpk.V8.I1.2020.47-58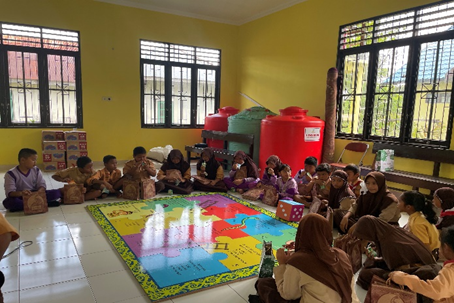 Downloads
How to Cite
Lestarisa, T., Trinovita, E., & Toemon, A. N. (2023). Edukasi Pola Hidup Bersih dan Sehat (PHBS) pada Anak Usia Sekolah Dasar melalui Media Permainan Berbasis Kearifan Lokal "BAREGA" di Kelurahan Marang Kota Palangka Raya: Education Clean and Healthy Behaviour (PHBS) in Children of Elementary Schools using Media Local Wisdom Games "BAREGA" at Marang Urban Village of Palangka Raya. PengabdianMu: Jurnal Ilmiah Pengabdian Kepada Masyarakat, 8(4), 642–649. https://doi.org/10.33084/pengabdianmu.v8i4.4407
License
Copyright (c) 2023 Trilianty Lestarisa, Elsa Trinovita, Angeline Novia Toemon
This work is licensed under a Creative Commons Attribution-ShareAlike 4.0 International License.
Authors who publish with this journal agree to the following terms:
Any article on the copyright is retained by the author(s).
Author grant the journal, right of first publication with the work simultaneously licensed under a Creative Commons Attribution License that allows others to share work with acknowledgment of the work authors and initial publications in this journal.
Authors are able to enter into a separate, additional contractual arrangements for non-exclusive distribution of published articles of work (eg, post-institutional repository) or publish it in a book, with acknowledgment of its initial publication in this journal.
Authors are permitted and encouraged to post their work online (e.g., in institutional repositories or on their websites) prior to and during the submission process, as can lead to productive exchanges, as well as earlier and greater citation of published work.
The article and any associated published material is distributed under the Creative Commons Attribution-ShareAlike 4.0 International License