Pelatihan dan Pendampingan Media Loose Part untuk Membangun Keterampilan Abad 21 Guru-guru PAUD
Loose Part Media Training and Assistance to Build 21st Century Skills for PAUD Teachers
Keywords:
Loose Part, 21st century skills, PAUD
Abstract
The partner who is the subject of this service program is RA Al-Amin. RA Al-Amin is a kindergarten located on Jalan Haji Muhammad Yamin No.482, Pahlawan, Medan Perjuangan, Sei Kera Hulu, Kec. Medan Perjuangan, Medan City, North Sumatra. RA Al-Amin is in the same yard as the AL-Amin Mosque. The Pk Mini program was carried out to build the 21st-century skills of RA AL-Amin teachers. This is done based on an analysis of the problems experienced by partners: the teacher's experience in participating in training related to media development is low, learning is monotonous, media availability is very lacking, media availability is very lacking, media that available are less effective, and the playing field is inadequate. The solutions offered are based on partner problems: organizing Loose Part media training for RA Al-Amin teachers, organizing assistance in making and using Loose Part media for RA Al-Amin teachers, and providing Loose Part media Part to RA Al-Amin. The results of this service found that teachers have skills in managing learning to the demands of the 21st century and can effectively organize learning using Loose Part media.
Downloads
Download data is not yet available.
References
Asnawati. (2019). Upaya Peningkatan Kemampuan Guru Untuk Menggunakan Media Pembelajaran Dalam Proses Pembelajaran Melalui Supervisi Akademik Kepala Sekolah SD Negeri 63 Pekanbaru. Perspektif Pendidikan Dan Keguruan, 10(1), 44-58. https://doi.org/10.25299/perspektif.2019.vol10(1).3098
Basri, H. (2019). Optimalisasi Peran Guru Pendidikan Anak Usia Dini Yang Proporsional. EDUCHILD (Journal of Early Childhood Education), 1(1), 29–45.
Graha, A. N. (2005). Pengaruh Pelatihan Terhadap Kemampuan Karyawan Dan Dampaknya Terhadap Kinerja Karyawan (Studi Pada Karyawan PT. Gatra Mapan Malang). Jurnal Ekonomi Modernisasi, 1(2), 75-93.
Lestari, M. O. & Halim, A. K. (2022). Penggunaan Media Loose Part dalam Mengembangkan Kreativitas Anak Usia Dini di PAUD Tunas Harapan. Jurnal Family Education, 2(3), 271–279. https://doi.org/10.24036/jfe.v2i3.69
Rapiatunnisa, R. (2022). Meningkatkan Kreativitas Anak Usia Dini Melalui Metode Bermain Peran. Mitra Ash-Shibyan: Jurnal Pendidikan dan Konseling, 5(1), 17–26. https://doi.org/10.46963/mash.v5i01.423
Sumarseh & Eliza, D. S. (2022). Penerapan Media Pembelajaran Berbahan Loose Part in Door Untuk Membangun Merdeka Belajar Anak Usia Dini. Generasi Emas: Jurnal Pendidikan Islam Anak Usia Dini, 5(1), 65–75. https://doi.org/10.25299/ge:jpiaud.2022.vol5(1).9229
Tafonao, T. (2018). Peranan Media Pembelajaran Dalam Meningkatkan Minat Belajar Mahasiswa. Jurnal Komunikasi Pendidikan, 2(2), 103-114. https://doi.org/10.32585/jkp.v2i2.113
Tafonao, T., Saputra, S., & Suryaningwidi, R. (2020). Learning Media and Technology: Generation Z and Alpha. Indonesian Journal of Instructional Media and Model, 2(2), 89-100. https://doi.org/10.32585/ijimm.v2i2.954
Tasnim & Fahruddin. (2021). Perencanaan Dan Asesmen Perkembangan Pada Anak Usia Dini (Studi Kasus Pada Lembaga Pendidikan Anak Usia Dini Paud TK/RA) Di Kecamatan Labuhan Haji. JPAP (Jurnal Praktisi Administrasi Pendidikan), 5(2), 54–59. https://doi.org/10.29303/jpap.v5i2.125
Watini, S. (2019). Implementasi Model Pembelajaran Sentra pada TK Labschool STAI Bani Saleh Bekasi. Jurnal Obsesi : Jurnal Pendidikan Anak Usia Dini, 4(1), 110-123. https://doi.org/10.31004/obsesi.v4i1.190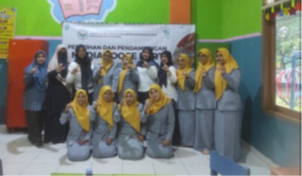 Downloads
How to Cite
Frisnoiry, S., Siregar, T. M., Elfitra, E., & Frimaulia, S. (2023). Pelatihan dan Pendampingan Media Loose Part untuk Membangun Keterampilan Abad 21 Guru-guru PAUD: Loose Part Media Training and Assistance to Build 21st Century Skills for PAUD Teachers. PengabdianMu: Jurnal Ilmiah Pengabdian Kepada Masyarakat, 8(4), 562–569. https://doi.org/10.33084/pengabdianmu.v8i4.4814
License
Copyright (c) 2023 Suci Frisnoiry, Tiur Malasari Siregar, Elfitra Elfitra, Sara Frimaulia
This work is licensed under a Creative Commons Attribution-ShareAlike 4.0 International License.
Authors who publish with this journal agree to the following terms:
Any article on the copyright is retained by the author(s).
Author grant the journal, right of first publication with the work simultaneously licensed under a Creative Commons Attribution License that allows others to share work with acknowledgment of the work authors and initial publications in this journal.
Authors are able to enter into a separate, additional contractual arrangements for non-exclusive distribution of published articles of work (eg, post-institutional repository) or publish it in a book, with acknowledgment of its initial publication in this journal.
Authors are permitted and encouraged to post their work online (e.g., in institutional repositories or on their websites) prior to and during the submission process, as can lead to productive exchanges, as well as earlier and greater citation of published work.
The article and any associated published material is distributed under the Creative Commons Attribution-ShareAlike 4.0 International License