Digitalisasi Manajemen Bank Sampah Terpadu di Banjar Tegeh Sari, Kelurahan Tonja
Digitalization of Integrated Waste Bank Management in Banjar Tegeh Sari, Tonja Village
Keywords:
Digitization, Integration, Governance, Waste bank, Cooperatives
Abstract
Banjar Tegeh Sari, Tonja Village, North Denpasar District, is one of the banjars or groups of residents who have sufficient social capital in waste management. Banjar Tegeh Sari has several activity units directly and indirectly related to waste management, such as waste bank groups, empowered gardens (including bio pore and infiltration wells), and cooperatives. The main problem in waste management at Banjar Tegeh Sari is the need for digitalization and integrated management between the five waste bank groups in Banjar Tegeh Sari and the Manik Galih Cooperative. The aim of integrating and digitizing waste banks is to combine the five groups of waste banks so that recording the amount of non-organic waste becomes more valid and practical while recording the nominal amount of waste in cooperatives. The solution provided is a conceptual model for designing and digitizing waste banks in an integrated manner with cooperatives which will later be called the Tegeh Sari Integrated Waste Management System (SiMaSaDu Tegeh Sari). The target is to integrate and digitize the five waste bank groups into the waste bank management cooperative to make it more efficient and effective.
Downloads
Download data is not yet available.
References
Adnyana, Y., Wijaya, B. A., & Rijasa, M. M. (2022). Pengelolaan Sampah Di Banjar Tegeh Sari Kelurahan Tonja Denpasar Utara. J-ABDI: Jurnal Pengabdian Kepada Masyarakat, 1(9), 2475–2480. https://doi.org/10.53625/jabdi.v1i9.1289
Aziz, A., Fajar, S., & Gumilang, S. (2018). Rancangan Fitur Aplikasi Pengelolaan Administrasi dan Bisnis Bank Sampah di Indonesia. In Konferensi Nasional Sistem Informasi 2018 STMIK Atma Luhur Pangkalpinang, 8 – 9 Maret 2018, 208–213.
Azizah, W. N., Ishom, M., & Widianto, E. (2020). Bank Sampah Sebagai Alternatif Strategi Pemberdayaan Masyarakat dalam Mengembangkan Kampung Wisata Tematik "Kampung Putih" Kota Malang. Diklus: Jurnal Pendidikan Luar Sekolah, 4(2), 88–100. https://doi.org/10.21831/diklus.v4i2.31528
Elza, N. I., Ekayanti, M., & Ismail, A. (2020). Pengelolaan Sampah Berbasis Masayarakat: Layakkah Secara Finansial? (Studi Kasus: Bank Sampah Rangga Mekar). JEPA (Jurnal Ekonomi Pertanian dan Agribisnis), 4(2), 335–342. https://doi.org/10.19674/j.cnki.issn1000-6923.2020.0578
Haryati, S. & Rochmah, R. N. (2022). Sosialisasi Program Pengelolaan Bank Sampah Digital di Desa Tirtayasa Bersama Mahasiswa KKM Kelompok 7. Jurnal Pengabdian Dinamika, 9(2), 110–114.
Krisdiana, P., Ridwan, W. A., Rezky, R. M. B. A. P, & Safaruddin. (2022). Pemanfaatan Limbah Rumah Tangga Melalui Bank Sampah di Kelurahan Sukajadi Kabupaten Ogan Komering Ulu Sumatera Selatan. Jurnal Terapan Internship Dan Multidisiplin, 1(3), 1-10.
Lelyani, N. K., Sariningsih, N. N. A., Lengur, C. F. M., Pratama, A. A. P. Y., & Putri, D. A. P. A. G. (2022). Digitalisasi Tata Kelola Bank Sampah Untuk Mendukung Desa Riang Gede sebagai Desa Sadar Sampah. To Maega : Jurnal Pengabdian Masyarakat, 5(3), 385-396. https://doi.org/10.35914/tomaega.v5i3.1131
Marali, M. D., Pradana, F., & Priyambadha, B. (2018). Pengembangan Sistem Aplikasi Transaksi Bank Sampah Online Berbasis Web (Studi Kasus : Bank Sampah Malang). Jurnal Pengembangan Teknologi Informasi Dan Ilmu Komputer, 2(11), 5644–5650.
Mulyadi, Wahyudi, R., Khristiana, Y., & Sapariyah, R. A. (2021). Pengelolaan Sampah di Masa Pandemi Covid 19 pada Bank Sampah "Berkah Mina" Surakarta. Wasana Nyata : Jurnal Pengabdian Kepada Masyarakat, 5(2), 50–55. https://doi.org/10.36587/wasananyata.v5i2.1076
Suparmini & Junadi, P. (2018). The role of waste bank partnership in efforts to decrease waste volume in urban: A case study at a waste bank in Kalibaru, Cilodong, Depok City. IOP Conference Series: Earth and Environmental Science, 126, 012125. https://doi.org/10.1088/1755-1315/126/1/012125
Susanto, Gunartin, & Muanifah, S. (2022). Role Model Administrasi Bank Sampah Berbasis Digital di Kota Tangerang Selatan. Jurnal Surya Kencana Dua: Dinamika Masalah Hukum Dan Keadilan, 9(2), 126–138. http://dx.doi.org/10.32493/SKD.v9i2.y2022.26202
Wahyuni, Mandala, C. A. P., Cahyani, F. D., Nurdiansyah, M. B., Hamadduloh, R. H., Aditiya, M. R. D., et al. (2022). Optimalisasi Penanganan Sampah Di Desa Sekaran Melalui Digitalisasi Bank Sampah Menuju Desa Mandiri Sampah 2025. BERNAS: Jurnal Pengabdian Kepada Masyarakat, 3(4), 1000–1005. https://doi.org/10.31949/jb.v3i4.3485
Widayat, P., Hamuddin, B., & Syofya, H. (2021). Waste Bank: Model and Education of Organic and Non Organic Waste Processing in Riau Province. In Proceedings of the First International Conference on Science, Technology, Engineering and Industrial Revolution (ICSTEIR 2020), 372–377. https://doi.org/10.2991/assehr.k.210312.062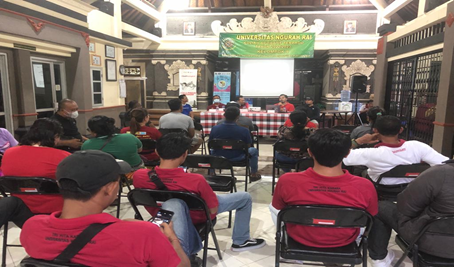 Downloads
How to Cite
Wijaya, B. A., Adnyana, Y., Ardana, P. D. H., Sumada, I. M., & Swetasoma, C. G. (2023). Digitalisasi Manajemen Bank Sampah Terpadu di Banjar Tegeh Sari, Kelurahan Tonja: Digitalization of Integrated Waste Bank Management in Banjar Tegeh Sari, Tonja Village. PengabdianMu: Jurnal Ilmiah Pengabdian Kepada Masyarakat, 8(4), 620–626. https://doi.org/10.33084/pengabdianmu.v8i4.5570
License
Copyright (c) 2023 Bagus Arya Wijaya, Yudistira Adnyana, Putu Doddy Heka Ardana, I Made Sumada, Cokorda Gede Swetasoma
This work is licensed under a Creative Commons Attribution-ShareAlike 4.0 International License.
Authors who publish with this journal agree to the following terms:
Any article on the copyright is retained by the author(s).
Author grant the journal, right of first publication with the work simultaneously licensed under a Creative Commons Attribution License that allows others to share work with acknowledgment of the work authors and initial publications in this journal.
Authors are able to enter into a separate, additional contractual arrangements for non-exclusive distribution of published articles of work (eg, post-institutional repository) or publish it in a book, with acknowledgment of its initial publication in this journal.
Authors are permitted and encouraged to post their work online (e.g., in institutional repositories or on their websites) prior to and during the submission process, as can lead to productive exchanges, as well as earlier and greater citation of published work.
The article and any associated published material is distributed under the Creative Commons Attribution-ShareAlike 4.0 International License