Evaluasi Pelaksanaan Proyek Drainase Dengan Metode CPM Dan PERT
Drainage Project Implementation Evaluation With The CPM And PERT Method
Keywords:
CPM, PERT, Durasi Proyek, Jalur kritis
Abstract
This research purposes to evaluate the implementation of the drainage project in Jl. Mulawarman, Gg. Arjuna, Sepinggan. This research uses the CPM (Critical Path Method) and the PERT (Project Evaluation and Review Technique). Based on the budget plan, time schedule, weekly report, documentation and interview found that the result of the CPM with two critical paths are work activities. The first critical path are: Activity A (Mobilization and Demobilization), Activity C (Landfilling activity), Activity F (Concrete works K-175, Ready Mix). The second critical path are: Activity A (Mobilization and Demobilization), Activity E (Begisting work for black channels), and Activity G (Plain U24 Concrete Iron Works). Meanwhile, the result of PERT has 49% chance to be completed with the project duration of 18 weeks.
Downloads
Download data is not yet available.
References
Anggara, H. (2005). Perencanaan dan Pengendalian Proyek dengan Metode PERT-CPM: Studi Kasus Fly Over Ahmad Yani, Karawang. Journal the Winners, Vol. 6, No. 2: 155-174.
Dannyanti, E. (2010). Optimalisasi Pelaksanaan Proyek dengan Metode PERT dan CPM (Studi Kasus Twin Tower Building Pascasarjana Undip). Skripsi, FT Undip. Semarang.
Gray, C., Simanjuntak, P., Lien K.S., Mspaitella, P.F.L., Varley, R. C. G. (2007). Pengantar Evaluasi Proyek. Gramedia Pustaka Utama. Jakarta.
Handoko, T.H. (1999). Manajemen Personalia dan Sumber Daya Manusia. BPFE. Yogyakarta.
Levin, Richard I. & Kirkpatrick Charles A. (1972). Perentjanaan dan Pengawasan dengan PERT dan CPM. Bhratara. Jakarta.
Maharesi, (2002), Penjadwalan Proyek Menggunakan Metode Pert dan CPM, No.22-23
Ndeo, J. (2013). Analisis Durasi Proyek Jalan Dengan Penggabungan Metode CPM dan PERT (Studi Kasus Pada Ruas Jalan Dalam Kota Lewoleba-Kabupaten Lembata-Provinsi Nusa Tenggara Timur). TAPM, Universitas Terbuka. Jakarta.
Taurusyanti, D. & Lesmana, M.F. (2015). Optimalisasi Penjadwalan Proyek-Jembatan Girder Guna Mencapai Efektifitas Penyelesaian dengan Metode PERT dan CPM pada PT Buana Masa Metalindo. Jurnal Ilmiah Manajemen Fakultas Ekonomi, Vol. 1, No. 1 Tahun 2015: 32-36.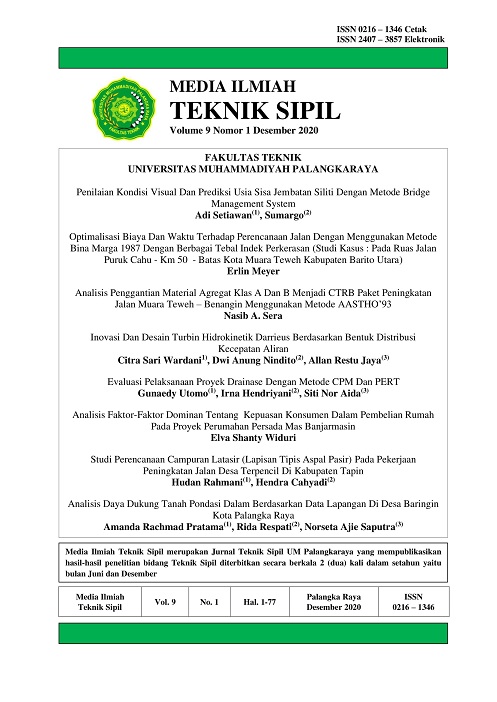 Downloads
How to Cite
Utomo, G., Hendriyani, I., & Aida, S. N. (2020). Evaluasi Pelaksanaan Proyek Drainase Dengan Metode CPM Dan PERT: Drainage Project Implementation Evaluation With The CPM And PERT Method. Media Ilmiah Teknik Sipil, 9(1), 44–52. https://doi.org/10.33084/mits.v9i1.1884
License
All rights reserved. This publication may be reproduced, stored in a retrieval system, or transmitted in any form or by any means, electronic, mechanical, photocopying, recording.