Analisis Faktor-Faktor Dominan Tentang Kepuasan Konsumen Dalam Pembelian Rumah Pada Proyek Perumahan Persada Mas Banjarmasin
Analysis Of Dominant Factors Concerning Customer Satisfaction In Buying A House In Persada Mas Banjarmasin Housing Project
Keywords:
analisis faktor, analisis tabulasi silang, faktor dominan, kepuasan konsumen
Abstract
To find out the dominant factors about consumer satisfaction in buying a house in a housing project, there must be involvement between the developer and the consumer. This is intended to find out the priorities and expectations of consumers in buying a house in the housing project. The importance of knowing consumer satisfaction is to make strategies in an effort to improve and improve the quality of housing products. Customer satisfaction really depends on the facility, what are the dominant factors about consumer satisfaction in buying a house in a housing project. The dominant factors that consumers want in buying a house are obtained from information on consumers who live in the area. This information is obtained through distributing questionnaires which are then processed by validity analysis, reliability analysis, factor analysis, and cross-tabulation analysis. By getting the dominant factors about consumer satisfaction in buying a house in a housing project, the development party can improve and improve existing facilities so that consumers feel satisfied so that they become a source of sustainable competitiveness
Downloads
Download data is not yet available.
References
Barkley, Bruce T, & James H. Saylor, (1994), Customer Driven Project Management: A New Paradigm in Total Quality Implementation, Singapore: Mc. Graw-Hill. Inc
Cahyana, Jaka, & Sudaryatmo, (2004), Panduan Membeli Rumah Hunian, Elexmedia Komputindo, Jakarta
Direktorat Tata Kota dan Tata Daerah bekerja sama dengan Direktorat Pendidikan Masalah Bangunan, (1983). Pedoman Perencanaan Lingkungan Pemukiman Kota
Kotler, Philip, Amstrong, Gary, (1997). Dasar-dasar Pemasaran, Prehallindo, Jakarta
Mangkunegara, AnwarPrabu, (2002), Perilaku Konsumen, Reflika Aditama, Bandung
Saifuddin, Azwar, (1997), Validitas dan Reliabilitas, Pustaka Pelajar Offset, Yogyakarta
Santoso, Budi, (2000), Real Estate Sebuah Konsep Ilmu dan Problema Pengembang Indonesia, Jakarta
Santoso, Singgih, (2002), SPSS Statistik Multivariat, Elex Media Komputindo Kelompok Gramedia, Jakarta
Sugandi, Machmud, (2002), Jurnal Bangunan: Kepuasan Pelanggan Sebagai Fokus Implementasi Manajemen Kualitas di dalam Suatu Proyek Pembangunan REal Estate, Malang: Jurusan Teknik Sipil Fakultas Teknik Universitas Negeri Malang
Suhaemi, Uzair, (2003), Materi Kuliah Validitas dan Reliabilitas, Sekolah Tinggi Ilmu Statistik, Jakarta
Supranto, J. (2001), Pengukuran Tingkat Kepuasan Pelanggan Untuk Menaikan Pangsa Pasar, Rineka Cipta, Jakarta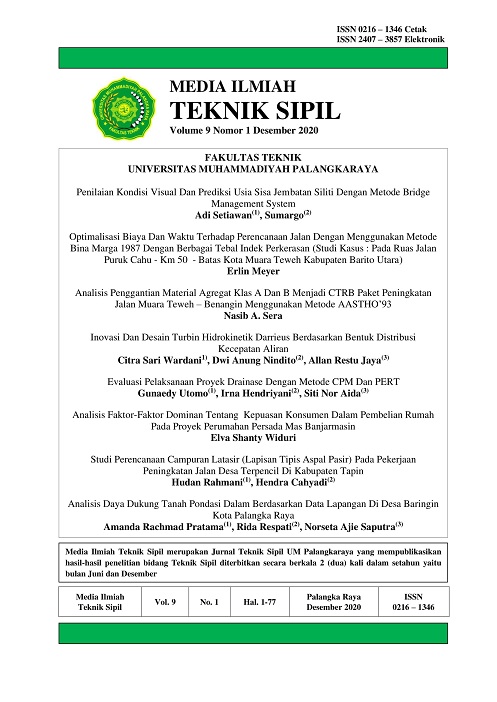 Downloads
How to Cite
Widuri, E. S. (2020). Analisis Faktor-Faktor Dominan Tentang Kepuasan Konsumen Dalam Pembelian Rumah Pada Proyek Perumahan Persada Mas Banjarmasin: Analysis Of Dominant Factors Concerning Customer Satisfaction In Buying A House In Persada Mas Banjarmasin Housing Project. Media Ilmiah Teknik Sipil, 9(1), 53–61. https://doi.org/10.33084/mits.v9i1.1886
License
All rights reserved. This publication may be reproduced, stored in a retrieval system, or transmitted in any form or by any means, electronic, mechanical, photocopying, recording.