Estimasi Pergerakan Aliran Barang Komoditi Pangan Kabupaten Klaten Ke Wilayah Di Jawa Tengah
Estimation Of The Flow Of Food Commodity Goods In Klaten District To The District In Central Java
Keywords:
Matriks Asal Tujuan, Kabupaten Klaten, Angkutan Barang
Abstract
The Klaten area has extensive agricultural land, there are still rice fields and food industrial areas. There are many small and large-scale food industries in Klaten Regency whose travel patterns have not been identified. Where these industries are the driving force for the economy of several regions in Klaten Regency, of course, there must be a travel identification policy set. In the stages of determining a policy or decision, there is a need for data that must be available and complete, such as traffic data and information. Traffic data serves as material for determining traffic policies for various regions, which are used to identify opportunities for demand for goods traffic. This transport policy increases traffic as a form of intervention on the delivery side of the road network. This study uses a quantitative descriptive method and data collection method with the Secondary Data Analysis (ADS) approach. The secondary data used in this study is survey data, namely the Ministry of Transportation, the Transportation Research and Development Agency, Surveys of Origin, and Destination of Goods Transportation. The results of the analysis show that the volume of food cargo transported from Klaten Regency to all Regencies in Central Java is 548,605 tons per month in 2023, the largest food commodities are rice and coffee, followed by agricultural commodities and grains. The largest mode of cargo transportation from Klaten Regency to areas in Central Java is to the Boyolali Regency, Sukoharjo Regency, and Magelang Regencies
Downloads
Download data is not yet available.
References
Astutik, Herna Puji. 2020. Pergerakan Distribusi Matrik Asal Tujuan Transportasi Barang Internal Di Provinsi Daerah Istimewa Yogyakarta. Jurnal Kacapuri Jurnal Keilmuan Teknik Sipil Volume 3 Nomor 2 Edisi Desember 2020.
https://jateng.bps.go.id/indicator/12/766/2/jumlah-penduduk-menurut-kabupaten-kota-di-jawa-tengah.html
Kumaat, Meike. 2013. Analisis Bangkitan Dan Tarikan Pergerakan Penduduk Berdasarkan Data Matriks Asal Tujuan Kota Manado. Jurnal Tekno Sipil / Volume 11 / No.58 / April 2013
Menhub. 2015. Keputusan Menteri Perhubungan KM 71 tahun 2005 tentang Pengangkutan Barang/Muatan antar Pelabuhan Laut di dalam Negeri.
Menhub. 2016. Survei Asal Tujuan Transportasi Barang. Kementrian Perhubungan Badan Penelitian dan Pengembangan Perhubungan.
Perdana, Yandra Rahadian., Soemardjito, Joewono. (2016). Analisis Asal Tujuan Komoditi Utama Antar Wilayah Pulau Jawa, Kalimantan, Dan Nusa Tenggara Timur. Jurnal Penelitian Transportasi Multimoda Volume 14/No. 01/Maret/2016
Petyasari, Ariesta Dianti, 2014, Identifikasi Pola Pergerakan Angkutan Barang Masuk Dan Keluar Kawasan Industri Pulogadung. FALTL – Usakti. Universitas Trisakti
Republik Indonesia. 2000. Undang-undang Republik Indonesia Nomor 22 Tahun 2000 tentang LaluIintas dan Angkutan Jalan pada Ketentuan Umum Pasal 1 Nomor4
Safitri, R. 2015. Analisis Pola Pergerakan Berdasarkan Estimasi Matriks Asal Tujuan Menggunakan Data Telepon Seluler (Studi Kasus Provinsi Bali). Jurnal Fropil. Vol 3 Nomor 2 Juli-Desember 2015.
Sutrisni, Sri, Safi'I dan Setiono. 2014. Estimasi Matriks Asal Tujuan ( Mat ) Kota Surakarta Tahun 2025 Origin-Destination Matrices ( Od Matrix ) Estimation Of Surakarta City In 2025. e-Jurnal MATRIKS TEKNIK SIPIL Vol. 2 No. 2/Juli 2014/237
Tamin, O.Z. 1985. The Estimation of Matrices for Freight Movement From Traffic Counts Using a Non-Linear Regression Approach, MSc Thesis of the University of London, Imperial College and University College London.
Tamin, O.Z. 1997. "Perencanaan dan Pemodelan Transportasi", Teknik Sipil Institut Teknologi Bandung.
Tonny, Judiantno. 2012. Analisis Pola Dan Estimasi Pergerakan Barang Sebagai Pertimbangan Prioritas Pembangunan Jalan Di Kabupaten Bengkalis - Provinsi Riau. Jurnal Perencanaan Wilayah Dan Kota, Vol.11 No.2
Widodo, K.H, Soemardjito, J, Sa'duddin, Nugroho, D.P, dkk. 2021. Perencanaan Terminal Barang Dalam Perspektif Logistik . Gadjah Mada University Press Anggota. Yogyakarta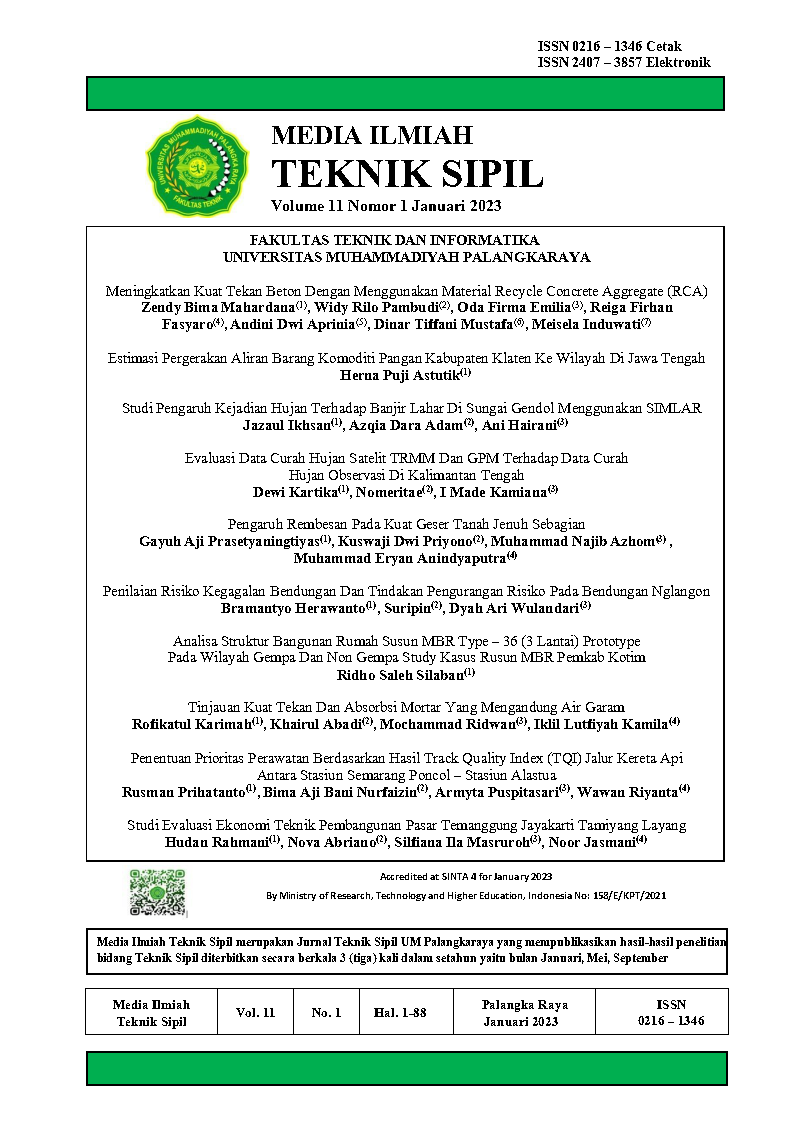 Downloads
How to Cite
Astutik, H. P. (2023). Estimasi Pergerakan Aliran Barang Komoditi Pangan Kabupaten Klaten Ke Wilayah Di Jawa Tengah: Estimation Of The Flow Of Food Commodity Goods In Klaten District To The District In Central Java. Media Ilmiah Teknik Sipil, 11(1), 9–16. https://doi.org/10.33084/mits.v11i1.3652
License
Copyright (c) 2023 Herna Puji Astutik
This work is licensed under a Creative Commons Attribution-ShareAlike 4.0 International License.
All rights reserved. This publication may be reproduced, stored in a retrieval system, or transmitted in any form or by any means, electronic, mechanical, photocopying, recording.