Pelatihan Komputer sebagai Bentuk Pengembangan Nilai-Nilai Karakter dalam Bidang Pendidikan
Computer Training as the Form of Character Value Development in Education Field
Keywords:
training, value development, character value, education
Abstract
The result of the analysis of the studyshows the lack of educational condition related to Information Technology (IT) especially for orphanage children. Community service activities aim to provide computer training as a form of character development in the field of education. The subjects of community service activities are the children at the Mujahidin Orphanage in Anjir Serapat Village, Kapuas Timur Sub-District, Kapuas District, with 11 members. Training activities are supported by lecture methods, frequently asked questions and direct practice of using computer applications with the help of training modules provided to the participants as a tool in practice. The results showed that computer training can give knowledge and understanding for orphaned children in computer skills in the mastery of Microsoft Word, Microsoft Excel, and Microsoft Powerpoint and can foster the values of educational characters in themselves such as curiosity, creative, hard work, and communicative.
Downloads
Download data is not yet available.
References
Aqib, Z. 2011. Pendidikan Karakter Membangun Perilaku Positif Anak Bangsa. Bandung: CV. YRAMA WIDYA.
Bernardin, H. J. & Russell, J. E. A. 1993. Human Resource Management, An Experiential Approach. Mc Graw Hill Inc
Lickona, T. 1992. Educating for Character: How Our Schools Can Teach Respect and Responsibility, 1992, New York: Bantam Books
Mathis, R. L. & Jackson, J. H. 2002. Manajemen Sumber Daya Manusia Edisi Pertama. Jakarta: Salemba Empat
Narwanti, S. 2011. Pendidikan Karakter (Pengintegrasian 18 Nilai Pembentuk Karakter Dalam Mata Pelajaran). Yogyakarta: Familia.
Nur, M. 2011. Model Pembelajaran Berdasarkan Masalah. Surabaya: Pusat Sains dan Matematika Sekolah UNESA.
Sikula, A.F, 1976, Personel Administration and Human Resources Management, Canada; John Wiley and Sous, Inc.
Sudjana, N & Rivai, A. 1990. Media Pengajaran. Bandung: Sinar Baru
Undang-Undang R.I. Nomor 20 Tahun 2003 tentang Sistem Pendidikan. 2003. Jakarta: Kementerian Pendidikan dan Kebudayaan R.I.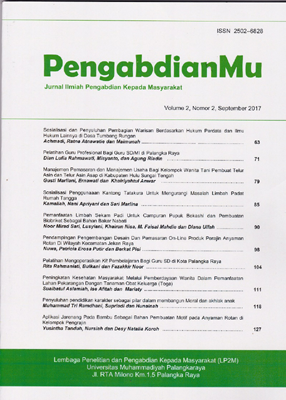 Downloads
How to Cite
Supardi, S., Kartini, N. H., & Fatmawati, A. (2017). Pelatihan Komputer sebagai Bentuk Pengembangan Nilai-Nilai Karakter dalam Bidang Pendidikan: Computer Training as the Form of Character Value Development in Education Field. PengabdianMu: Jurnal Ilmiah Pengabdian Kepada Masyarakat, 2(1), 53–62. https://doi.org/10.33084/pengabdianmu.v2i1.120
License
Authors who publish with this journal agree to the following terms:
Any article on the copyright is retained by the author(s).
Author grant the journal, right of first publication with the work simultaneously licensed under a Creative Commons Attribution License that allows others to share work with acknowledgment of the work authors and initial publications in this journal.
Authors are able to enter into a separate, additional contractual arrangements for non-exclusive distribution of published articles of work (eg, post-institutional repository) or publish it in a book, with acknowledgment of its initial publication in this journal.
Authors are permitted and encouraged to post their work online (e.g., in institutional repositories or on their websites) prior to and during the submission process, as can lead to productive exchanges, as well as earlier and greater citation of published work.
The article and any associated published material is distributed under the Creative Commons Attribution-ShareAlike 4.0 International License