Pendampingan Peningkatan Pendapatan UMKM yang Terdampak Covid-19 melalui Perbaikan Pengelolaan Manajemen Keuangan dan Digital Marketing
Assistance in Increasing the Income of MSMEs Affected by Covid-19 through Improved Financial Management and Digital Marketing
Keywords:
Income, Finance, Digital marketing
Abstract
Through better financial management and digital marketing, the study seeks to raise the income of MSMEs impacted by COVID-19. Due to a pandemic of MSME business players, there are a number of issues, including decreasing sales, ineffective advertising, and a lack of business fund management expertise, all of which have a negative impact on MSME entrepreneurs' revenue. This study is quantitative and relies on respondents' responses to a questionnaire survey. Multiple linear regression analysis was performed in the data analysis process. The t-test was employed to examine the independent variable's partial impact on the dependent variable. The f test is utilized to examine the combined impact of the independent and dependent variables on the dependent variable. The outcomes of data processing demonstrate that better financial management and digital marketing have an impact on raising the income of Micro, Small, and Medium Enterprises affected by COVID-19. When viewed collectively, the independent and dependent variables have an impact on one another. by employing sound financial management and digital marketing to boost the revenue of Covid-19-affected Micro, Small, and Medium Enterprises.
Downloads
Download data is not yet available.
References
Arrizal, N. Z. & Sofyantoro, S. (2020). Pemberdayaan Ekonomi Kreatif dan UMKM di Masa Pandemi Melalui Digitalisasi. Birokrasi Pancasila : Jurnal Pemerintahan, Pembangunan dan Inovasi Daerah, 2(1), 39–48.
Fauziyyah, N. & Ersyafdi, I. R. (2021). Dampak covid-19 pada pasar saham di berbagai negara. FORUM EKONOMI: Jurnal Ekonomi, Manajemen dan Akuntansi, 23(1), 56-66. https://doi.org/10.30872/jfor.v23i1.8573
Harahap, S. S. (2015). Analisis Krisis atas Laporan Keuangan. Jakarta: Rajawali Persada.
Hery. (2014). Akuntansi Dasar 1 dan 2. Jakarta: Gramedia Widiasarana Indonesia.
Ilmi, N. A. N. (2021). Peran UMKM Dalam Mengurangi Tingkat Pengangguran Masyarakat dan Strategi UMKM Ditengah Pandemi Covid-19. Jurnal Manajemen Bisnis, 18(1), 96-107. https://doi.org/10.38043/jmb.v18i1.2790
Kleindl, B.A. & Burrow, J.L. (2005). E-Commerce Marketing. United States of America: South Western.
Nalini, S. N. L. (2021). Dampak Dampak covid-19 terhadap Usaha MIkro, Kecil dan Menengah. Jesya (Jurnal Ekonomi Dan Ekonomi Syariah), 4(1), 662-669. https://doi.org/10.36778/jesya.v4i1.278
Nasruddin, R. & Haq, I. (2020). Pembatasan Sosial Berskala Besar (PSBB) dan Masyarakat Berpenghasilan Rendah. SALAM: Jurnal Sosial dan Budaya Syar-i, 7(3), 639-648. https://doi.org/10.15408/sjsbs.v7i7.15569
Sanjaya, R. & Josua, T. 2009. Creative Digital Marketing. Jakarta: Elex Media Komputindo.
Sirait, P. (2014). Pelaporan dan Laporan Keuangan. Yogyakarta: Graha Ilmu.
Sugiri, D. (2020). Menyelamatkan Usaha Mikro, Kecil dan Menengah dari Dampak Pandemi Covid-19. Fokus Bisnis : Media Pengkajian Manajemen dan Akuntansi, 19(1), 76–86. https://doi.org/10.32639/fokusbisnis.v19i1.575
Tarigan, Z. N. A. B., Dewi, F. N., & Pribadi, Y. (2022). Keberlangsungan Usaha Mikro, Kecil, Dan Menengah Di Masa Pandemi: Dukungan Kebijakan Pemerintah. Jurnal BPPK: Badan Pendidikan dan Pelatihan Keuangan, 15(1), 12-23. https://doi.org/10.48108/jurnalbppk.v15i1.666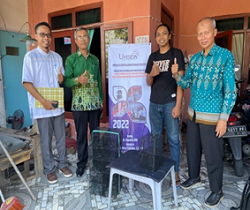 Downloads
How to Cite
Supardi, S., Yulianto, M. R., & Sumarno, S. (2023). Pendampingan Peningkatan Pendapatan UMKM yang Terdampak Covid-19 melalui Perbaikan Pengelolaan Manajemen Keuangan dan Digital Marketing: Assistance in Increasing the Income of MSMEs Affected by Covid-19 through Improved Financial Management and Digital Marketing. PengabdianMu: Jurnal Ilmiah Pengabdian Kepada Masyarakat, 8(2), 224–232. https://doi.org/10.33084/pengabdianmu.v8i2.4021
License
Copyright (c) 2023 Supardi Supardi, Mochamad Rizal Yulianto, Sumarno Sumarno
This work is licensed under a Creative Commons Attribution-ShareAlike 4.0 International License.
Authors who publish with this journal agree to the following terms:
Any article on the copyright is retained by the author(s).
Author grant the journal, right of first publication with the work simultaneously licensed under a Creative Commons Attribution License that allows others to share work with acknowledgment of the work authors and initial publications in this journal.
Authors are able to enter into a separate, additional contractual arrangements for non-exclusive distribution of published articles of work (eg, post-institutional repository) or publish it in a book, with acknowledgment of its initial publication in this journal.
Authors are permitted and encouraged to post their work online (e.g., in institutional repositories or on their websites) prior to and during the submission process, as can lead to productive exchanges, as well as earlier and greater citation of published work.
The article and any associated published material is distributed under the Creative Commons Attribution-ShareAlike 4.0 International License