Pendampingan Administrasi Sekolah berbasis Digital di SMP Muhammadiyah Palangka Raya
Digital-based School Administration Assistance at Muhammadiyah Middle School Palangka Raya
Keywords:
Digital, School administration, Governance
Abstract
Technological developments have a significant impact, one of which is education. Activities or services in schools that were initially manual are now turning digital. Of course, this also requires preparation from various components of the school, both students and educators. This service aims to help schools with digital services. The method is a mentoring method with an approach in this service using the PAR or Participatory Action Research approach. The results of this dedication activity are: Improving quality, broadening insight, knowledge, and skills for educators and education staff at Muhammadiyah Junior School of Palangka Raya through community service activities related to school administration governance and providing strengthening the implementation of school administration governance by both lecturers and students. Produced 2 Microsoft Exel-Based School Administrative Governance Applications, the PPDB EMIS and DAPODIK Applications, and the Lahajar v.4.4 Application.
Downloads
Download data is not yet available.
References
Agas, A., Ajahari, A., Marsiah, M., & Surawan, S. (2022). Pembimbingan Perilaku Iffah Pada Remaja di TPA Sukamulya Kelurahan Tangkiling Kota Palangka Raya. Martabe : Jurnal Pengabdian Kepada Masyarakat, 5(7), 2422-2430. http://dx.doi.org/10.31604/jpm.v5i7.2422-2430
Agung, D. A. G. (2021). Pembelajaran Sejarah Di Era Revolusi Industri 4.0: Sebuah Alternatif. Jurnal Pendidikan Sejarah Indonesia, 4(1), 1-8. http://dx.doi.org/10.17977/um0330v4i1p1-8
Chotimah, H. & Satriyatma, A. (2022). Pelayanan Prima Berbasis Digital Melalui Aplikasi Sismandasa di SMAN 10 Malang. Indonesian Journal of Education and Learning, 5(2), 99-114. http://dx.doi.org/10.31002/ijel.v5i2.5390
Corey, S. (1953). Action Research to Improve School Practices. New York: Columbia University.
Harususilo, H. & Enggar, Y. (2018). Ki Hajar Dewantara dan Guncangan Pendidikan Era Industri 4.0. https://edukasi.kompas.com/read/2018/05/02/15561621/ki-hadjar-dewantara-dan-guncangan-pendidikan-era-industri-40?page=all
Hasan, H. (2009). Action Research: Desain Penelitian Integratif Untuk Mengatasi Permasalahan Masyarakat. AKSES: Jurnal Ekonomi dan Bisnis, 4(8), 177-188. https://doi.org/10.31942/akses.v4i8.523
Hasyim, F., Barokah, S. N., Karnowahadi, K., Setyadi, D. & Utaminingtyas, R. B. (2020). Pendampingan Pengelolaan Administrasi TK Aisiyah Bustanul Atfal 59 Meteseh Tembalang Semarang. Jurnal Sitechmas: Hilirisasi Teknologi kepada Masyarakat, 1(1), 1-6. http://dx.doi.org/10.32497/sitechmas.v1i1.2235
Hermawansyah, H. (2021). Manajemen Lembaga Pendidikan Sekolah Berbasis Digitalisasi di Era COVID -19. Fitrah: Jurnal Studi Pendidikan, 12(1), 27-46. https://doi.org/10.47625/fitrah.v12i1.320
Huda, A. & Mustakim, A. (2021). Pengembangan Keterampilan Pembacaan Maulid dan Seni Hadrah Al-Banjari Bagi Remaja Masjid Darul Mu'awanah Banjaranyar Tanjunganom Nganjuk. JANAKA: Jurnal Pengabdian Masyarakat, 8(2), 31–46.
Imron, A. (2011). Manajemen Peserta Didik Berbasis Sekolah. Jakarta: Bumi Aksara.
Mahanal, S. (2014). Peran guru dalam melahirkan generasi emas dengan keterampilan abad 21. Seminar Nasional Pendidikan HMPS Pendidikan Biologi FKIP Universitas Halu Oleo, 1, 1–16.
Mulyono, M. (2017). Manajemen Administrasi dan Organisasi Pendidikan. Jakarta: Ar-Ruzz Media.
Murhadi, M. & Poni, P. (2019). Digitalisasi Sekolah Melalui Pengembangan Website dan Layanan Sekolah Berbasis Teknologi Informasi. INTEK : Jurnal Informatika Dan Teknologi Informasi, 2(2), 62-69. https://doi.org/10.37729/intek.v2i2.567
Norvia, L., Surawan, & Safitri, E. (2022). Pendampingan Remaja Suka Mulya dalam Meningkatkan Self Control di Era Digital. Solidaritas: Jurnal Pengabdian, 2(2), 169–178. https://doi.org/10.24090/sjp.v2i2.6773
Prasasti, K. A., Marsiah, M., Ajahari, A., & Surawan, S. (2022). Bimbingan Belajar Bahasa Arab Dasar bagi Anak Usia Dini melalui Kegiatan Karya Wisata. WAHATUL MUJTAMA': Jurnal Pengabdian Masyarakat, 3(2), 148-154. https://doi.org/10.36701/wahatul.v3i2.581
Rais, N. S. R., Dien, M. M. J., & Dien, A. Y. (2018). Kemajuan teknologi informasi berdampak pada generalisasi unsur sosial budaya bagi generasi milenial. Mozaik, 10(2), 61–71.
Putra, W. M. (2019). Pendampingan Penyusunan Pedoman Tata Kelola Anggaran Keuangan SMP Muhammadiyah di Kota Yogyakarta. Prosiding Semnas LPPM UNSOED. 9(1), 376-384.
Winter, R. (1989) Learning from Experience: principles and practice in action research. New York: Falmer Press.
Yusuf, M., Marsiah, M., Ajahari, A., & Surawan, S. (2022). Pembinaan Remaja Dalam Pelestarian Kesenian Al-Banjari Melalui Gebyar Nasyid. Jurnal Paris Langkis, 3(1), 13–24. https://doi.org/10.37304/paris.v3i1.5219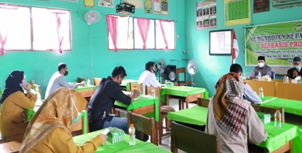 Downloads
How to Cite
Surawan, S., Mazrur, M., & Jennah, R. (2023). Pendampingan Administrasi Sekolah berbasis Digital di SMP Muhammadiyah Palangka Raya: Digital-based School Administration Assistance at Muhammadiyah Middle School Palangka Raya. PengabdianMu: Jurnal Ilmiah Pengabdian Kepada Masyarakat, 8(4), 606–613. https://doi.org/10.33084/pengabdianmu.v8i4.5032
License
Copyright (c) 2023 Surawan Surawan, Mazrur Mazrur, Rodhatul Jennah
This work is licensed under a Creative Commons Attribution-ShareAlike 4.0 International License.
Authors who publish with this journal agree to the following terms:
Any article on the copyright is retained by the author(s).
Author grant the journal, right of first publication with the work simultaneously licensed under a Creative Commons Attribution License that allows others to share work with acknowledgment of the work authors and initial publications in this journal.
Authors are able to enter into a separate, additional contractual arrangements for non-exclusive distribution of published articles of work (eg, post-institutional repository) or publish it in a book, with acknowledgment of its initial publication in this journal.
Authors are permitted and encouraged to post their work online (e.g., in institutional repositories or on their websites) prior to and during the submission process, as can lead to productive exchanges, as well as earlier and greater citation of published work.
The article and any associated published material is distributed under the Creative Commons Attribution-ShareAlike 4.0 International License