Meningkatkan Kompetensi Pedagogik Guru Melalui Supervisi Akademik Kunjungan Kelas
Improving Teachers' Pedagogical Competence Through Academic Supervision In Class Visits
Keywords:
Class Visit Academic Supervision, Teacher Pedagogic Competence
Abstract
This study aims to: (1) Improve teacher pedagogic competence, especially in the learning process through academic supervision of class visits. (2) Knowing the right steps in carrying out academic supervision of class visits in order to improve teacher pedagogic competence. In this study, 12 teachers as a sample consisted of 4 male teachers and 8 female teachers who received the action. As an object of research is the improvement of response teacher pedagogical competence through supervision of class visits. The data obtained is in the form of quantitative data in the form of a score. The results of the study can be concluded that through supervision of class visits can improve teacher pedagogical competence.
The results of the research that has been done show that the teacher's pedagogical competence in implementing the learning process. The initial condition for the teacher's pedagogic competency score was a score of 70.65 in the low category. Then carried out class research activities through academic supervision of class visits. In cycle I, the acquisition of pedagogic competency scores increased to 82.25 in the sufficient category. The results in cycle I did not meet the indicators of research success, so the action was continued in cycle II, the value obtained was 93.84 in the good category. The results of the second cycle of action have met the indicators of research success, therefore the actions are not continued to the next cycle. The stages of academic supervision of class visits are carried out starting from the initial meeting, namely checking the availability of lesson plans, syllabus, teaching aids, LKPD, evaluation tools.
Downloads
Download data is not yet available.
References
Andi, M., & Setiawan, D. (2018). Penelitian Tindakan Kelas Teori Serta Panduan Bagi Guru Kelas Dan Guru Bimbingan Konseling. Deepublish, 1, 67.
Estimurti, E. S., & Raudah, S. (2019). Upaya Meningkatkan Hasil Belajar Ipa Menggunakan Metode Problem Solving Berkolaborasi Dengan Metode Eksperimen Pada Peserta Didik Kelas III Di SD Islam Nurul Ihsan Palangkaraya. Tunas: Jurnal Pendidikan Guru Sekolah Dasar, 5(1), 1-6. https://doi.org/10.33084/tunas.v5i1.1182
Khairani, A., Sugianto, A., & Ildiyanita, R. (2022). Teknik Self-Management Untuk Meningkatkan Nilai Karakter Mandiri Belajar Siswa. Jurnal Bimbingan Dan Konseling Ar-Rahman, 8(1), 62. https://doi.org/10.31602/jbkr.v8i1.7076
Sagala, Syaiful,. (2010.). Supervisi pembelajaran dalam profesi pendidikan : membantu mengatasi kesulitan guru memberikan layanan belajar yang bermutu. Bandung : Alfabeta.
Sahertian, Piet A. (2008). Konsep Dasar dan Teknik Supervisi Pendidikan dalam Rangka Pengembangan Sumber Daya Manusia. Jakarta: Renika Cipta.
Irawan, I. (2022). Upaya Meningkatkan Produktivitas Kerja Guru Melalui Supervisi Akademik Oleh Kepala SMP Negeri Satu Atap 7 Palangka Raya. Pedagogik: Jurnal Pendidikan, 17(2), 89–99. https://doi.org/10.33084/pedagogik.v17i2.4088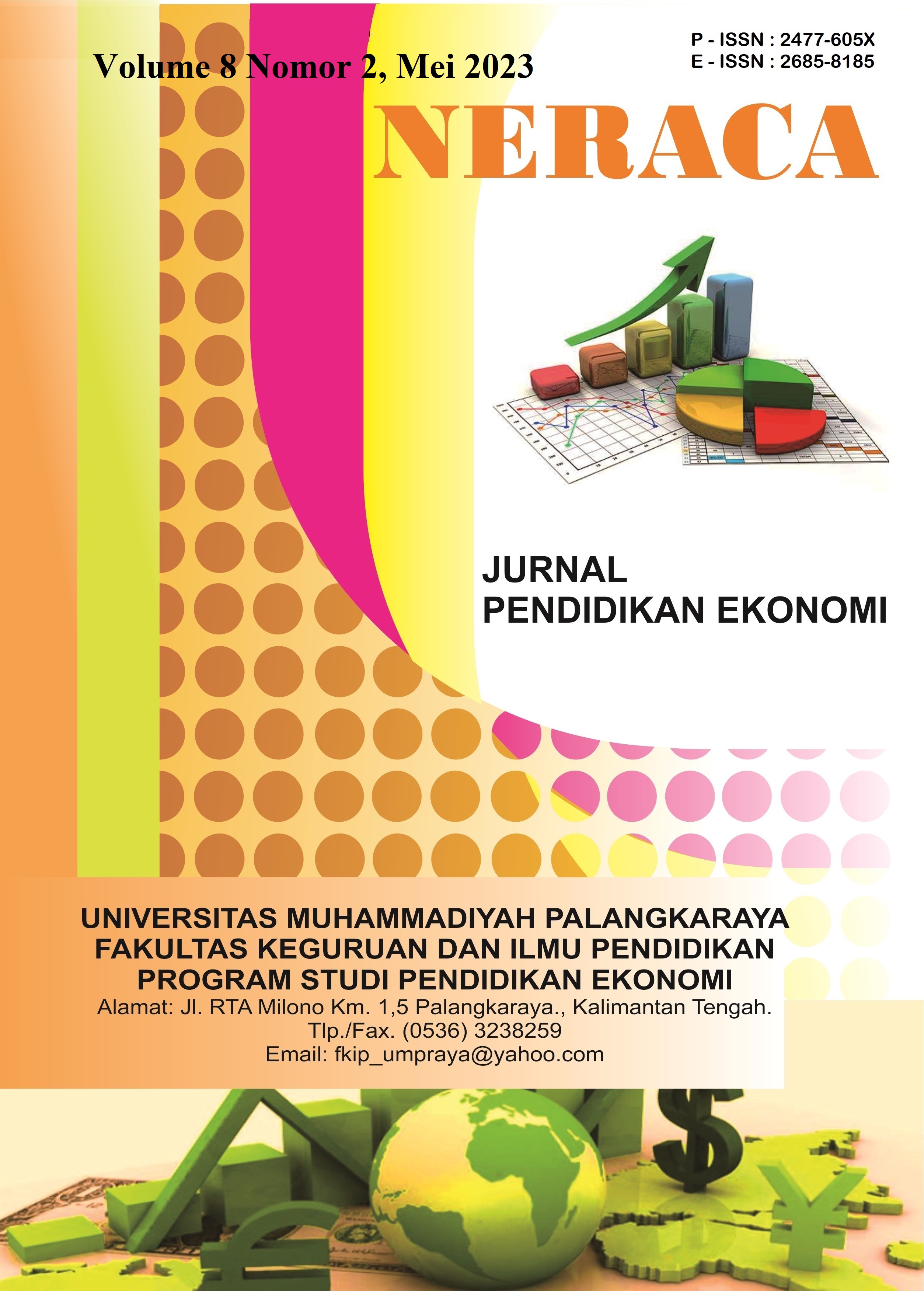 Downloads
How to Cite
Ahmadi, M. (2023). Meningkatkan Kompetensi Pedagogik Guru Melalui Supervisi Akademik Kunjungan Kelas: Improving Teachers' Pedagogical Competence Through Academic Supervision In Class Visits. Neraca: Jurnal Pendidikan Ekonomi, 8(2), 18–23. https://doi.org/10.33084/neraca.v8i2.5142
License
Copyright (c) 2023 Muhammad Ahmadi
This work is licensed under a Creative Commons Attribution-ShareAlike 4.0 International License.
All rights reserved. This publication may be reproduced, stored in a retrieval system, or transmitted in any form or by any means, electronic, mechanical, photocopying, recording.