Peningkatan Kompetensi Guru Dalam Menyusun Perangkat Pembelajaran RPP Melalui Workshop
Increasing Teacher Competence in Developing RPP Learning Materials Through Workshops
Keywords:
Teacher Competence, Developing Learning Devices, Workshop
Abstract
Based on the Regulation of the Minister of Education and Culture Number 6 of 2018 concerning Education and Training (Training) for Candidates for Principals is the preparation of competency for prospective school principals to strengthen insights, knowledge, attitudes, values and skills in leading schools, which aims to: (1) provide experience learning that integrates attitudes, knowledge, and skills on the dimensions of personality, managerial, entrepreneurial, supervision, and social competencies with empirical (contextual) experience according to the characteristics of prospective principals (2) develops the ability of prospective principals in identifying learning problems to improve learning outcomes learners. This research is an action research of school principals. The subjects in this study were Guppy Palangkaraya Middle School teachers. The stages of this research are planning, implementation, observation and reflection. From the results of the analysis of the ability of the teacher cycle 1 reached 95.45% and cycle 2 increased to 100%. there has been an increase of 4.55%. Competency improvement based on AKPK can improve supervisory competence of prospective school principals. The implementation of compiling RPP learning tools from home can improve student achievement.
Downloads
Download data is not yet available.
References
Purwati, I., Markhamah, M., & Sutama, S. (2022). Pembelajaran Tematik Berorientasi STEM Untuk Menumbuhkan Kemandirian Siswa Sekolah Dasar: Stem Oriented Thematic Learning For Growing Independence Elementary School Students. Tunas: Jurnal Pendidikan Guru Sekolah Dasar, 7(2), 84–91. https://doi.org/10.33084/tunas.v7i2.3686
Ali, M. 2017. Peningkatan Kemampuan Guru Dalam Menyusun Rencana Pelaksanaan Pembelajaran (RPP) Melalui Supervisi Akademik. Nusantara: Jurnal Ilmu Pengetahuan Sosial, 3, 37-42.
Amra, Abhanda. 2011. Profesionalisme Guru Untuk Meningkatkan Mutu Pendidikan di Era Teknologi Informasi. Ta'dib, Volume 14(2),170-180.
Ni'mah, N., Bulkani, Estimurti, E. S., Setyawan, D., & Riadin, A. (2023). Penerapan model pembelajaran untuk mengembangkan berpikir kritis siswa bagi guru sekolah dasar. Jurnal Inovasi Hasil Pengabdian Masyarakat (JIPEMAS), 6(1), 49–58. https://doi.org/10.33474/jipemas.v6i1.18689
Taufek, M. (2021). Peningkatan Kompetensi Guru Melalui Pembimbingan Dengan Metode Senyum, Sapa Dan Canda Ria (Sepacar) Di Sdn 1 Bumi Harjo: Improving Teacher Competence With The Through Guidance Smile, Greet And Joke Method (Sepacar) At Sdn 1 Bumi Harjo. Bitnet: Jurnal Pendidikan Teknologi Informasi, 6(1), 38–45. https://doi.org/10.33084/bitnet.v6i1.2609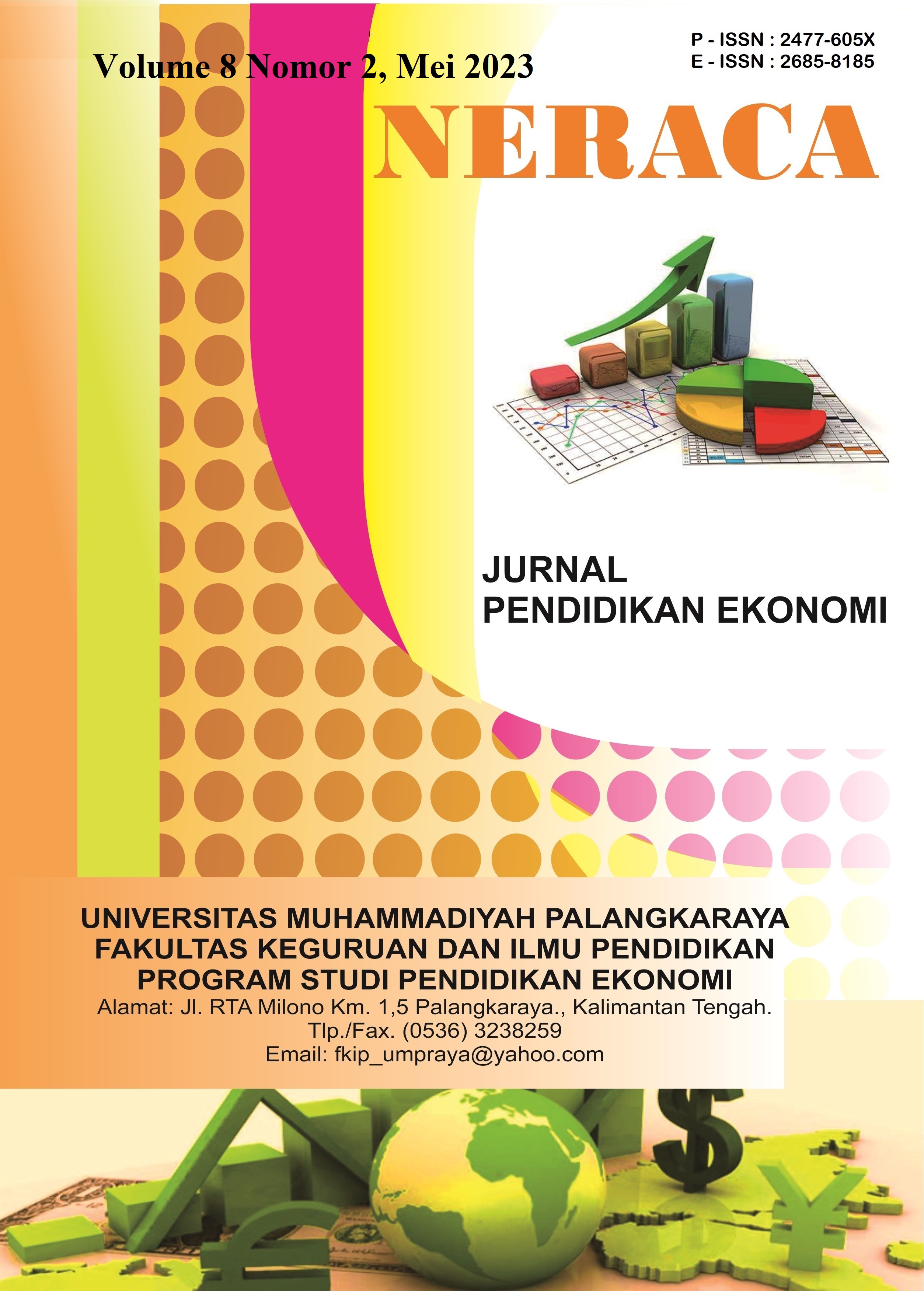 Downloads
How to Cite
Arimbi, D. (2023). Peningkatan Kompetensi Guru Dalam Menyusun Perangkat Pembelajaran RPP Melalui Workshop: Increasing Teacher Competence in Developing RPP Learning Materials Through Workshops. Neraca: Jurnal Pendidikan Ekonomi, 8(2), 41–46. https://doi.org/10.33084/neraca.v8i2.5166
License
Copyright (c) 2023 Denok Arimbi
This work is licensed under a Creative Commons Attribution-ShareAlike 4.0 International License.
All rights reserved. This publication may be reproduced, stored in a retrieval system, or transmitted in any form or by any means, electronic, mechanical, photocopying, recording.