Analisis Kepuasan Petani Terhadap Kegiatan Penyuluhan Pertanian di Kelurahan Kalampangan, Kota Palangka Raya Kalimantan Tengah
Farmer Satisfaction Analysis Of Agricultural Extension Activities In The Village Kalampangan, The City Of Palangkaraya Central kalimantan
Keywords:
Satisfaction, farming extesion, services quality
Abstract
This research is aimed at to know the satisfaction of farmer about farming extesionactivities at Village Kalampangan. The data were collected 42 sample farmers through questionrurires.Then the data were analyzed by using descriptive and nonparametric statistics it's the spearman correlation. The results of research showed thatfarmer satisfaction about farming extesion activities has satisfed category. Dimensions of quality serttices that's tangible, reliability, responseiveness, assurctnce, and empatlry, was positive coruelation with farmer satisfaction at village Kalampangan, Palangko Raya city.
Downloads
Download data is not yet available.
References
Fatah. Luthfi. 2007. Dinamika Pembangunan Pertanian dan Pedesaan. Banjarbaru: Pustaka Banua.
Gaspersz. Vincent. 2007. Manajemen Kualitas. Penerapan Konsepkonsep dalam Manajemen Bisnis Total. Jakarta: Gramedia Pustaka.
Kotler. Philip. 2000.Marketing management. New Jersey: Prentice Hall. Vo. 64.No. 1.
Riduwan.2009. Skala Pengukuran Variabel-variabel Penelitian. Bandung: Alfabeta.
Samsudin, U. 1986. Dasar-dasar Penyuluhan dan Modernisasi Pertanian. Bandung: Binacipta.
Setiana, Lucie. 2005. Penyuluhan dan Pemberdayaan Masyarakat. Bogor: Ghalia Indonesia.

Sopiatin, Popi. 2001. Manajemen Belajar Berbasis Kepuasan. Bogor: Ghalia Indonesia.
Supranto, J. 201 1. Pengukuran Tingkat Kepuasan Pelanggan Untuk Menaikkan Pangsa Pasar. Jakarta:
Rineka Cipta.
Tampubolon, Daulat P. 2001. Perguruan Tinggi Bermutu. Paradigma Baru Manajemen Pendidikan Tinggi Menghadapi Tantangan Abad Ke-21. Jakarta: PT Gramedia Pustaka Utama.
Tjiptono, Fandy. 2005. Prinsip-prinsip Total Quality Service. Yogyakarta: Andi.
Undang-Undang Nomor 16 Tahun 2006 tentang Sistem Penyuluhan Pertanian, Perikanan dan Kehutanan (UU SP3K).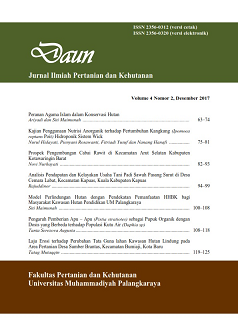 Downloads
How to Cite
Berkat, B., & Sunaryati, R. (2015). Analisis Kepuasan Petani Terhadap Kegiatan Penyuluhan Pertanian di Kelurahan Kalampangan, Kota Palangka Raya Kalimantan Tengah: Farmer Satisfaction Analysis Of Agricultural Extension Activities In The Village Kalampangan, The City Of Palangkaraya Central kalimantan. Daun: Jurnal Ilmiah Pertanian Dan Kehutanan, 2(1), 45–53. https://doi.org/10.33084/daun.v2i1.172
License
All rights reserved. This publication may be reproduced, stored in a retrieval system, or transmitted in any form or by any means, electronic, mechanical, photocopying, recording.