Kajian Etnopedagogi: Ubrug Banten Sebagai Sumber Belajar Siswa Sekolah Dasar
Ethnopedagogical Study: Ubrug Banten as a Learning Resource for Elementary School Students
Keywords:
Etnopedagogi, Ubrug Banten, Kearifan Lokal, Sumber Belajar
Abstract
Ubrug Banten sebagai salah satu kearifan lokal di Indonesia diyakini memapu dikembangakan menjadi salah satu bentuk etnopedagogi dalam hal ini sebagai sumber belajar melalui nilai-nilai pedagogi di dalamnya. Penelitian ini bertujuan untuk mengetahui aspek-aspek etnopedagogi pada Ubrug Banten, mengetahui nilai-nilai pedagogi apa sajakah yang ada pada Ubrug Banten, serta bagaimana ubrug dapat diintegrasikan sebagai sumber belajar. Penelitian ini menggunakan metode kualitatif dengan pendekatan etnografi. Hasil kajian ini menunjukan Ubrug Banten dapat dikembangkan menjadi salah satu bentuk etopedagogi karena didalmnaya terdapat tujuh aspek etnopedagogi yakini (1) Teruji selama berabad-abad, (2) Padu pada keseharian masyarakat, (3) Dapat diadaptasi dengan kultur kini (4) Lazim digunakan dimasyarakat (5) Terkait sistem kepercayaan (6) Bersifat dinamis, (7) Berdasarkan pengalaman, selain itu juga terdapat nilai-nilai pedagogi seperti nilai ketuhanan, sosial, dan moral di dalmanya. Dalam mengintegrasikannya perlu ada pengembangan lebih lanjut, meski begitu Ubrug Banten telah memenuhi standar kompetensi inti, serta dapat mengintegrasikan berbagai mata pelajaran dalam satu pementasan, adapun bentuk sumber belajar yang dapat dikembangkan bisa berupa pengembagan skenario, video, maupun pengembangan perangakat lunak virtual reality.

Downloads
Download data is not yet available.
References
Andriana, E, et al. 2017. Natural Science Big Book With Baduy Local Vesdom Base Media Development For Elementary School. Jurnal Pendidikan IPA Indonesia FMIPA UNNES, 6(1),76-80.
Andriana, E, et al. 2017. Pengembangan Multimedia Pembelajaran IPA Berbasis Kearifan Lokal Di Sekolah Dasar. JPSD (Jurnal Pendidikan Sekolah Dasar) UNTIRTA, 3(2), 186-200.
Aziz, Anwar. 2012. Analisis Nilai-Nilai Pendidikan Dalam Novel Negeri 5 Menara Karya A Fuadi. Skripsi. Universitas Negeri Yogyakarta.
Chaedar, Alwasilah. 2009. ETNOPEDAGOGI: Landasan Prektek Guru Dan Pendidikan Guru. Bandung. Pustaka jaya.
Fuja. Siti, et al. (2017). Implementasi Model Pembelajran Seni Terpadu Untuk Meningkatkan Apresiasi dan Kreativitas Seni Budaya Tradisional Daerah Banten "Teater Rakyat Ubrug", Jurnal Pendidikan Seni, 2(1), 51-62.
Majid, Abdul. (2015). Strategi Pembelajaran. Bandung: Remaja Rosdakarya.
Putra, Pirnandi. 2017. Pendekatan Etnopedagogi dalam Pembeajaran IPA SD/MI. Sambas, Primary Education Journal, 1(1), 17-23.
Sugiyono. (2019). Metode penelitian kuantitatif, kulaitatif, dan R&D. Bandung: Alfabeta.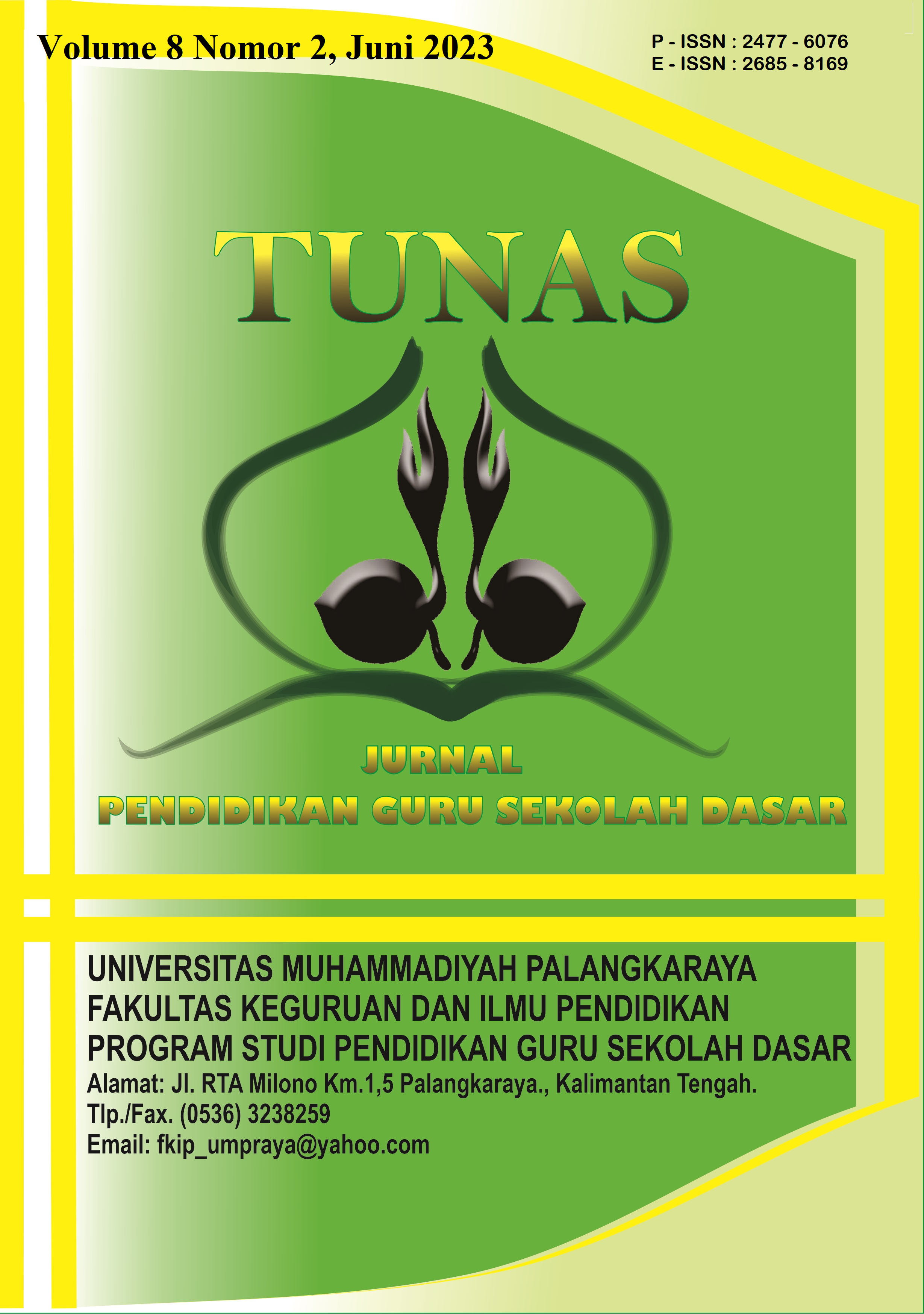 Downloads
How to Cite
Pambudi, G., Andriana, E. ., & Dewi, R. S. (2023). Kajian Etnopedagogi: Ubrug Banten Sebagai Sumber Belajar Siswa Sekolah Dasar: Ethnopedagogical Study: Ubrug Banten as a Learning Resource for Elementary School Students. Tunas: Jurnal Pendidikan Guru Sekolah Dasar, 8(2), 1–8. https://doi.org/10.33084/tunas.v8i2.3526
License
Copyright (c) 2023 Gigih Pambudi, Encep Andriana, Ratna Sari Dewi
This work is licensed under a Creative Commons Attribution-ShareAlike 4.0 International License.
Authors who publish with this journal agree to the following terms:
Any article on the copyright is retained by the author(s).
The author grants the journal, right of first publication with the work simultaneously licensed under a Creative Commons Attribution License that allows others to share work with an acknowledgment of the work authors and initial publications in this journal.
Authors are able to enter into separate, additional contractual arrangements for the non-exclusive distribution of published articles of work (eg, post-institutional repository) or publish it in a book, with acknowledgment of its initial publication in this journal.
Authors are permitted and encouraged to post their work online (e.g., in institutional repositories or on their websites) prior to and during the submission process, as can lead to productive exchanges, as well as earlier and greater citation of published work.
The article and any associated published material is distributed under the Creative Commons Attribution-ShareAlike 4.0 International License