Pengembangan Instrumen Penilaian Non Tes Kurikulum Merdeka Pada Pendidikan Dasar
Development of Non Test Instruments in The Independent Curriculum
Keywords:
Evaluasi, Kurikulum Merdeka, Penilaian Nontes
Abstract
Assessment is important in a learning process, with the teacher's assessment will know the ability of students in learning activities. Assessment of the independent curriculum requires teachers as educators not only to know the abilities of students related to cognitive but also psychomotor and affective. Therefore the research objective is to carry out the development of non-test assessments in PAIBP subjects, using library research research methods. Collect various references regarding non-test assessment instruments/devices and compile examples of non-test assessment instrument formats in the independent curriculum that can be used in PAIBP lessons.
Downloads
Download data is not yet available.
References
Asrul, Ananda, R., & Rosnita. (2015). Evaluasi Pembelajaran: Prinsip, Teknik, dan Prosedur. Medan: Citapustaka Media.
Bahtiar. (2020). Evaluasi Pembelajaran Sains. Mataram: Sanabil.
Farida, I. (2017). Evaluasi Pembelajaran. Bandung: PT Remaja Rosdakarya.
Hutapea, R. H. (2019). Instrumen Evaluasi Non-Tes dalam Penilaian Hasil Belajar Ranah Afektif dan Psikomotorik. Jurnal Teologi Dan Pendidikan Kristen Kontekstual, 2(2).
Iskandar, A. (2013). Pengembangan perangkat penilaian psikomotor di sekolah menengah kejuruan (SMK). Inspiration: Jurnal Teknologi Informasi Dan Komunikasi, 3(1), 37–46. https://jurnal.akba.ac.id/index.php/inspiration/article/view/30/30
Kementrian Pendidikan dan Kebudayaan Republik Indonesia. (2014). Salinan Peraturan Mentri Pendidikan Dan Kebudayaan Republik Indonesia Nomor 104 tahun 2014 tentang Penilaian Hasil Belajar Oleh Pendidik Pada Pendidikan Dasar Dan Pendidikan Menengah. Jakarta: Kementrian Pendidikan dan Kebudayaan Republik Indonesia.
Muhadjir, N. (1996). Metode Penelitian Kualitatif. Yogyakarta: Rake arasin.
Mulyadi. (2010). Evaluasi Pendidikan : Pengembangan Model Evaluasi Pendidikan di Sekolah. Malang: UIN-Maliki Press.
Noviansah, A., & Istiqomah, H. (2020). Pengembangan Instrumen Penilaian Pelajaran Bahasa Indonesia MI. Al-Azkiya: Jurnal Pendidikan MI/SD, 2(2).
Putri, O. D., Nevrita, N., & Hindrasti, N. E. K. (2019). Pengembangan Instrumen Penilaian Keterampilan Berpikir Kritis Siswa Sma Pada Materi Sistem Pencernaan. BIOEDUKASI (Jurnal Pendidikan Biologi), 10(1), 14. https://doi.org/10.24127/bioedukasi.v10i1.2004
Rusilowati, A. (2013). Pengembangan Intrumen Nontes. Seminar Nasional Evaluasi Pendidikan Tahun 2013, 1, 7–21.
Saputri, N., Adlim, A., & Inda Rahmayani, R. F. (2018). Pengembangan Instrumen Penilaian Psikomotorik Untuk Praktikum Kimia Dasar. JTK (Jurnal Tadris Kimiya), 3(2), 114–124. https://doi.org/10.15575/jtk.v3i2.3444
Supratiknya, A. (2012). Penilaian Hasil Belajar dengan Teknik Nontes. Yogyakarta: Penerbit Universitas Sanata Dharma.
Wardhani, S., Sugiyanto, & Herawati, R. (2010). Instrumen Penilaian Hasil Belajar Nontes dalam Pembelajaran Matematika di SD (Supinah (ed.)). Yogyakarta: Pusat Pengembangan dan Pemberdayaan Pendidik dan Tenaga Kependidikan (PPPPTK) Matematika.
Winarno, Muhtadi, Y., & Aldiya, M. A. (2019). Application of Learning Management Using Non-test Instrument to Improve the Quality of Education. ATM, 3(2).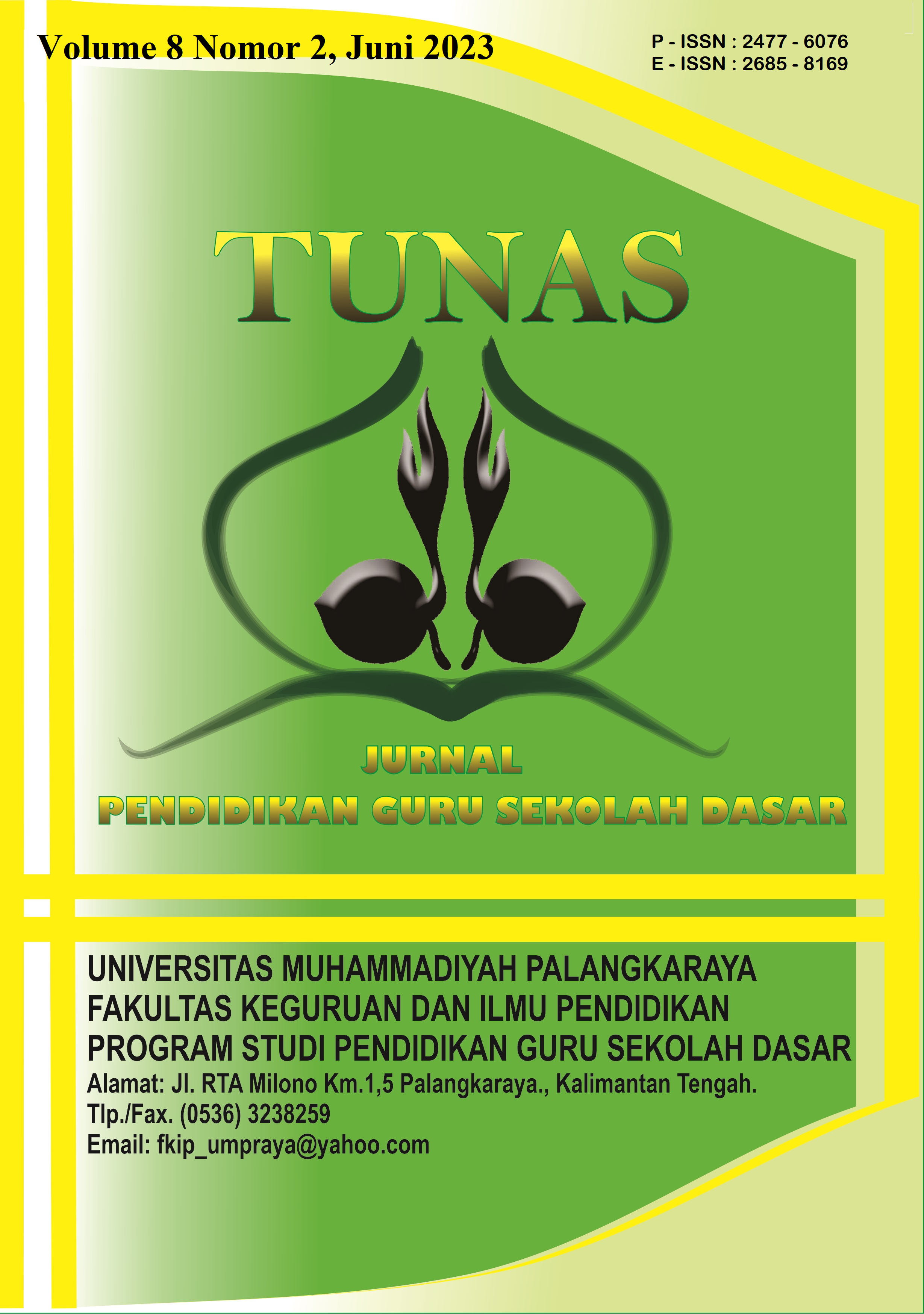 Downloads
How to Cite
Sufya, S., Atho'urrohman, W., Zuriyah, I. A., & Basith, A. (2023). Pengembangan Instrumen Penilaian Non Tes Kurikulum Merdeka Pada Pendidikan Dasar: Development of Non Test Instruments in The Independent Curriculum. Tunas: Jurnal Pendidikan Guru Sekolah Dasar, 8(2), 40–46. https://doi.org/10.33084/tunas.v8i2.4543
License
Copyright (c) 2023 Sulfina Sufya, Wifqi Atho'urrohman, Indah Aminatuz Zuriyah, Abdul Bashit
This work is licensed under a Creative Commons Attribution-ShareAlike 4.0 International License.
Authors who publish with this journal agree to the following terms:
Any article on the copyright is retained by the author(s).
The author grants the journal, right of first publication with the work simultaneously licensed under a Creative Commons Attribution License that allows others to share work with an acknowledgment of the work authors and initial publications in this journal.
Authors are able to enter into separate, additional contractual arrangements for the non-exclusive distribution of published articles of work (eg, post-institutional repository) or publish it in a book, with acknowledgment of its initial publication in this journal.
Authors are permitted and encouraged to post their work online (e.g., in institutional repositories or on their websites) prior to and during the submission process, as can lead to productive exchanges, as well as earlier and greater citation of published work.
The article and any associated published material is distributed under the Creative Commons Attribution-ShareAlike 4.0 International License