Peran Guru Dalam Penanaman Nilai Karakter Disiplin Pada Siswa Melalui Pembiasaan Sekolah
The Role Of The Teacher In Instrumenting The Character Value Of Discipline In Students Through School Habituation
Keywords:
Role Of Teacher, Character Of Discipline, School Habituation
Abstract
Based on preliminary observation school habituation activities at Luqman Al Hakim Ngawi Elementary School were carried out well. Teachers and students are involved in these habituation activities. This is an interesting concern for research to find out the implementation of school habituation activities as a means of instilling disciplinary character values in students. The purpose of this study was to determine the teacher's role in instilling the character values of discipline in students through school habituation activities. This study used qualitative research with a case study approach. The data sources in this study were school principals, 3 teachers, and 24 students using data collection techniques in the form of observation, interviews, and documentation. Data analysis techniques in this study used interactive data analysis techniques data collection, data condensation, data display, and conclusions. Research result conducted in school habituation activities to instill discipline character values in students, it is known that the teacher acts as a catalyst who invites, directs, and supervises students in school habituation activities. The teacher also acts as a role model who provides an example for discipline to students. Based on the research result above the existence of the role of the teacher in carrying out the school habituation can instill the character values of discipline in students.
Downloads
Download data is not yet available.
References
Afifah, R. N., & Khamidi, A. (2022). Peran Guru dalam Pengembangan Karakter Peserta Didik di Tingkat Sekolah Dasar. Jurnal Inspirasi Manajemen Pendidikan, 10(1), 132–141.
Ali, A. M. (2018). Pendidikan Karakter Konsep dan Implementasinya. Jakarta. Kencana (Prenadamedia Group).
Amin, M. M. (2015). Pendidikan Karakter Anak Bangsa. Calpulis.
Annisa, F. (2019). Penanaman Nilai-Nilai Pendidikan Karakter Disiplin pada Siswa Sekolah Dasar. Perspektif Pendidikan Dan Keguruan, 10(1), 1–7. https://doi.org/https://doi.org/1025299/perspektif.2019.vol10(1).3102
Arfandi, K. (2021). Guru Sebagai Model dan Teladan dalam Meningkatkan Moralitas Siswa. Edupedia: Jurnal Studi Pendidikan Dan Pedagogi Islam, 6(1), 1–8. https://doi.org/https://doi.org/1035316/edupedia.v6i1.1258
Ayuni, L. F., Susanto, S., & Pangestu, W. T. (2021). Bentuk Bimbingan Konseling Guru terhadap Pembentukan Karakter Siswa SDN Gemarang 7. Jurnal Pendidikan Dasar, 9(2), 294–300.
Bumbungan, B. (2016). Peran Guru dalam Mengintegrasikan Nilai-Nilai Karakter di SMP Negeri 1 Bua Ponrang Kabupaten Luwu. 2(1), 241–896.
Darmadi, H. (2015). Tugas, Peran, Kompetensi, dan Tanggung Jawab menjadi Guru Profesional. Jurnal Edukasi, 13(2), 161–174. https://doi.org/https://doi.org/10.31571/edukasi.v13i2.113
Hakim, L. N. (2013). Ulasan Metodologi Kualitatif: Wawancara Terhadap Elit. Aspirasi, 4(2), 165–172.
Harefa, Z. V., Tafonao, T., Harefa, D., Supalakkai, R. S., & Sophia, S. (2022). Peran Guru sebagai Fasilitator dan Katalisator melalui Teori Konstruktivisme dalam Model Pembelajaran Kontekstual Pendidikan Agama Kristen. Kharismata: Jurnal Teologi Pantekosta, 4(2), 211–228. https://doi.org/https://doi.org/10.47167/kharis.v4i2
Hasanah, H. (2016). Teknik-Teknik Observasi. Jurnal At-Taqaddum, 8(1), 21–46. https://doi.org/https://doi.org/10.21580/at.v8i1.116
Herdiansyah, H. (2014). Metodologi Penelitian Kualitatif. Jakarta. Salemba Humanika.
Julia, P., & Ati. (2019). Peranan Guru dalam Meningkatkan Nilai Karakter Disiplin dan Kejujuran Siswa di SD Unggul Lampeunereut. Jurnal Dedikasi Pendidikan, 3(2), 185–195. https://doi.org/https://doi.org/10.30601/dedikasi.v3i2.720
Melati, R. S., Ardianti, S. D., & Fardani, M. A. (2021). Analisis Karakter Disiplin dan Tanggung Jawab Siswa Sekolah Dasar pada Masa Pembelajaran Daring. Edukatif: Jurnal Ilmu Pendidikan, 3(5), 3062–3071. https://doi.org/https://doi.org/10.31004/edukatif.v3i5.1229
Miles, M. B., Huberman, A. M., & Saldana, J. (2014). Qualitative Data Analysis A Methods Sourcebook (3rd ed.). Amerika. SAGE.
Moleong, L. J. (2018). Metodologi Penelitian Kualitatif. Bandung. PT Remaja Rosdakarya.
Purwanti, E., Yantoro, & Pamela, I. S. (2020). Kedisiplinan Siswa di Sekolah Dasar. Adi Widya: Jurnal Pendidikan Dasar, 5(2).
Safitri, K. (2020). Pentingnya Pendidikan Karakter untuk Siswa Sekolah Dasar dalam Menghadapi Era Globalisasi. Jurnal Pendidikan Tambusai, 4(1), 264–271. https://doi.org/https://doi.org/1031004/jptam.v4i1.456
Salsabila, A., Afifah, A. N., & Cahyanti, S. Y. (2020). Penanaman Karakter Disiplin pada Siswa SDN Jelupang 01. EDISI: Jurnal Edukasi Dan Sains, 2(2), 318–333. https://doi.org/10.36088/edisi.v2i2.1024
Shoimah, L., Sulthoni, & Soepriyanto, Y. (2016). Pendidikan Karakter melalui Kegiatan Pembiasaan di Sekolah Dasar. Jurnal Kajian Teknologi Pendidikan, 1(2), 169–175.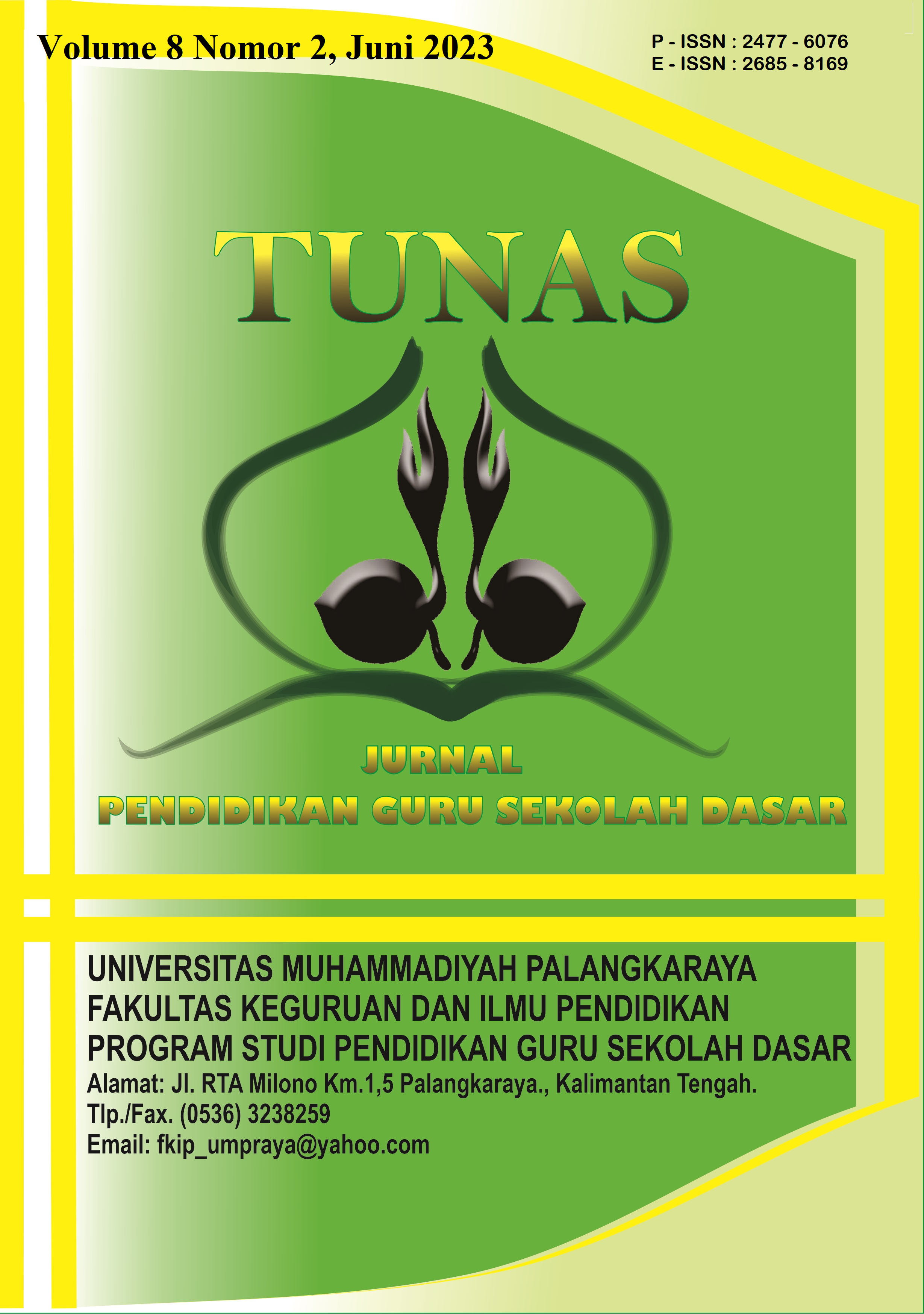 Downloads
How to Cite
Priastuti, D., Permata, S. D., & Nur'afiffah, U. U. (2023). Peran Guru Dalam Penanaman Nilai Karakter Disiplin Pada Siswa Melalui Pembiasaan Sekolah: The Role Of The Teacher In Instrumenting The Character Value Of Discipline In Students Through School Habituation. Tunas: Jurnal Pendidikan Guru Sekolah Dasar, 8(2), 27–34. https://doi.org/10.33084/tunas.v8i2.4908
License
Copyright (c) 2023 Dwi Priastuti, Santy Dinar Permata, Uci Ulfa Nur'afiffah
This work is licensed under a Creative Commons Attribution-ShareAlike 4.0 International License.
Authors who publish with this journal agree to the following terms:
Any article on the copyright is retained by the author(s).
The author grants the journal, right of first publication with the work simultaneously licensed under a Creative Commons Attribution License that allows others to share work with an acknowledgment of the work authors and initial publications in this journal.
Authors are able to enter into separate, additional contractual arrangements for the non-exclusive distribution of published articles of work (eg, post-institutional repository) or publish it in a book, with acknowledgment of its initial publication in this journal.
Authors are permitted and encouraged to post their work online (e.g., in institutional repositories or on their websites) prior to and during the submission process, as can lead to productive exchanges, as well as earlier and greater citation of published work.
The article and any associated published material is distributed under the Creative Commons Attribution-ShareAlike 4.0 International License