The Utilizing Of Video Maker As A Media In Writing Greeting Card At Junior High School 1 Mantiat Pari
Pemanfaatan Video Maker Sebagai Media Dalam Menulis Kartu Ucapan di SMP Negeri 1 Mantiat Pari
Keywords:
Video maker, media
Abstract
Media is one of the essential things in the teaching-learning process. One of them is video maker. Video maker is one of the applications that can be used as a media in teaching writing. The research aim is to see the utilizing of video maker as a media in writing greeting cards. There were sixteen students as a sample, especially eighth grades students. The researcher gave them ten items' of questionnaires. The findings of this research can be divided into two categories. The first was video maker gave the students motivation in learning English. They were in statement one (84,44%) statement two (94,44%), statement four (88,89%), and statement six (93,33%).  All of the statements have category very high. It meant video maker gives the students motivation to learn writing. The second was the students interested in using video maker as a media in writing. They were in the third statement (81,11%) and the category was very high, the fifth statement (83,33%) and the sort was very high, the eighth statement (76,67%) and the sort was high, the ninth statement (68,89%) and the sort was high, the tenth statement (86,67%) and the sort was very high. There was no questionnaire in medium, low or very low levels. Based on the result, it can be concluded that the utilization of video maker as a media in writing at SMPN-1 Mantiat Pari was positive. The students gave a positive response to it.
Downloads
Download data is not yet available.
References
A, H. (2021). "Yo, dude! This chick is whack": English exclamations in romantic films. Journal of Research on English and Language Learning (J-REaLL), 2(1), 156. https://doi.org/10.33474/j-reall.v2i1.7497
Ardayati, A. (2018). Film as A Media Used by Teachers to Teach Writing for Tertiary Level Students. Linguistic, English Education and Art (LEEA) Journal, 1(2), 180–192. https://doi.org/10.31539/leea.v1i2.186
Irdawati, R., & Wardah, R. M. (2018). The Effectiveness of Using Animated Fable Videos In Teaching Writing Narrative Text. 1–15.
Joshi, A., Kale, S., Chandel, S., & Pal, D. (2015). Likert Scale: Explored and Explained. British Journal of Applied Science & Technology, 7(4), 396–403. https://doi.org/10.9734/bjast/2015/14975
Komariyah, D. N. (2013). Writing Strategies Used. 1(1991), 2013–2015.
Mahanani, A. (n.d.). Kinds of Greeting Card ( Happy Occasion ).
Puspitarini, Y. D., & Hanif, M. (2019). Using Learning Media to Increase Learning Motivation in Elementary School. Anatolian Journal of Education, 4(2), 53–60. https://doi.org/10.29333/aje.2019.426a
Sabti, A. A., Md Rashid, S., Nimehchisalem, V., & Darmi, R. (2019). The Impact of Writing Anxiety, Writing Achievement Motivation, and Writing Self-Efficacy on Writing Performance: A Correlational Study of Iraqi Tertiary EFL Learners. SAGE Open, 9(4). https://doi.org/10.1177/2158244019894289
Sonia, E., Laily, V. ;, & Affini, N. (2022). The Use Of Tiktok Application For Descriptive Text In English Writing For The Tenth Grade Of Vocatioanal High Scool. Jurnal Ilmiah STBA, 8(2).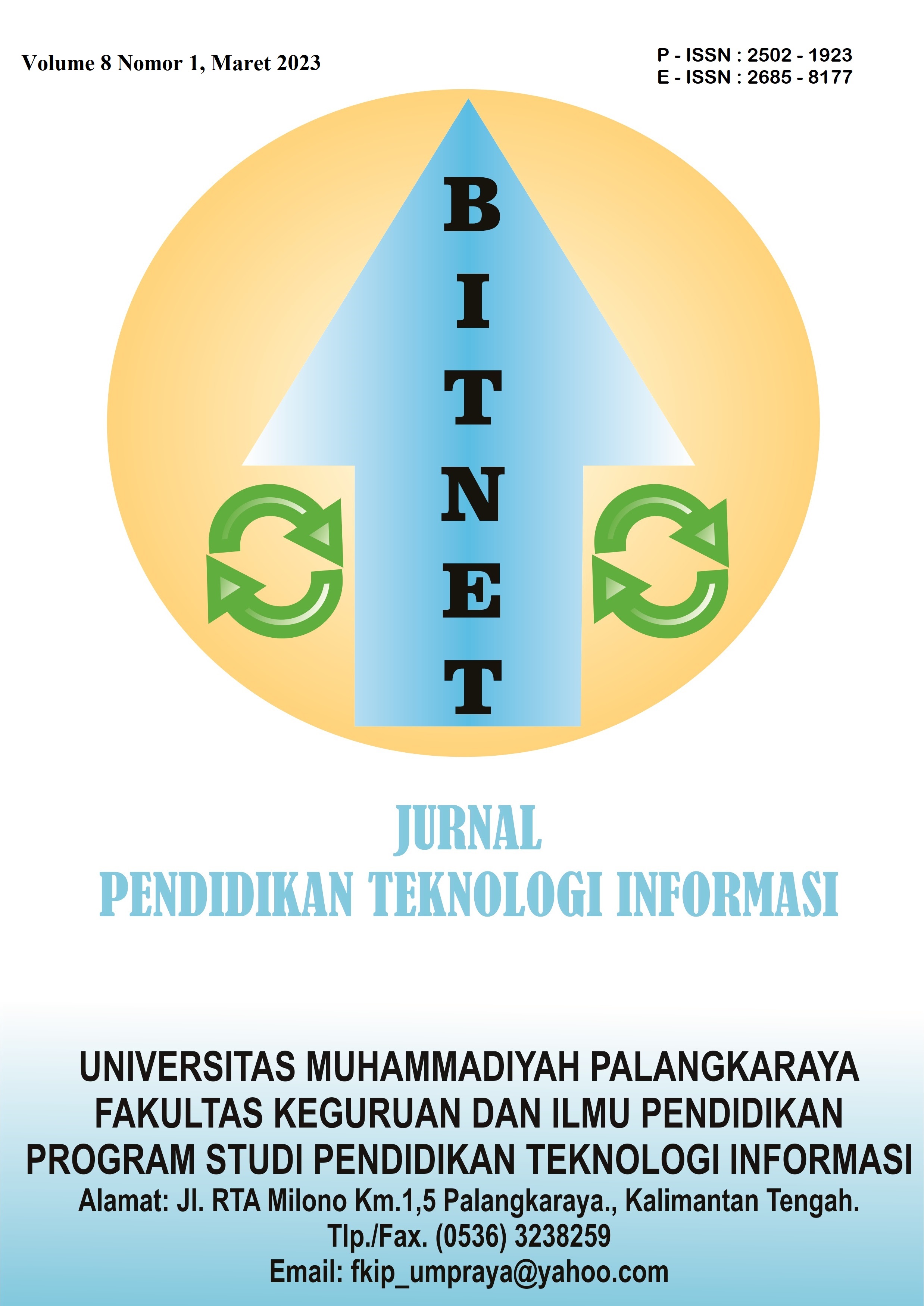 Downloads
How to Cite
Sari, D. N., Perdana, I., & Ristati, R. (2023). The Utilizing Of Video Maker As A Media In Writing Greeting Card At Junior High School 1 Mantiat Pari : Pemanfaatan Video Maker Sebagai Media Dalam Menulis Kartu Ucapan di SMP Negeri 1 Mantiat Pari. Bitnet: Jurnal Pendidikan Teknologi Informasi, 8(1), 1–6. https://doi.org/10.33084/bitnet.v8i1.4638
License
Copyright (c) 2023 Dina Novita Sari, Indra Perdana, Ristati Ristati
This work is licensed under a Creative Commons Attribution-ShareAlike 4.0 International License.
All rights reserved. This publication may be reproduced, stored in a retrieval system, or transmitted in any form or by any means, electronic, mechanical, photocopying, recording.