Analisis Kesulitan Pembelajaran Tematik Pada Peserta Didik Kelas IV-B SDN 4 Menteng Palangka Raya
Analysis of Thematic Learning Difficulties in Class IV-B Students of SDN 4 Menteng Palangka Raya
Keywords:
Kesulitan Pembelajaran Tematik
Abstract
Penelitian ini bertujuan untuk menganalisis kesulitan pembelajaran tematik pada peserta didik kelas IV-B SDN 4 Menteng Palangka Raya.
Metode yang di gunakan dalam penelitian ini adalah metode kualitatif. Teknik pengumpulan data yang di gunakan adalah observasi, wawancara dan dokumentasi. Hasil penelitian mengungkapkan peserta didik mengalami kesulitan belajar tematik dikarenakan peserta didik mengalami kesulitan dalam pembelajaraan yang dilaksanakan di dalam kelas.
Hasil penelitian menunjukan bahwa kesulitan belajar yang dialami peserta didik yaitu kesulitan dalam pembelajaran tematik yaitu kebingungan dalam perpindahan mata pelajaran, nilai hasil belajar rendah, mengganggu teman saat pembelajaran berlangsung, tidak fokus, tidak memahami materi kurang konsentrasi, dan di rumah lebih banyak bermain handphone.
Downloads
Download data is not yet available.
References
Anzar & Mardhatillah. (2017). Pembelajaran Tematik Sekolah Dasar Negeri. QALAMUNA: Jurnal Pendidikan, Sosial, Dan Agama, 13(2), 429-442.
Artapati & Budi Ningsih (2018). "Pelaksanaan Pendidikan di Indonesia"
Aulia & Luki. (2015). Mengintegrasikan pada pembelajaran tematik.
Aunurrahman. (2016). Belajar dan pembelajaran. Fitrah: Jurnal Kajian Ilmu-Ilmu Keislaman, 3(2), 333-352
Ayudia,dkk. (2016). Laporan Observasi. Basastra, 4(1), 34-49.
Diplan & Andi Setiawan, (2018).Metodologi Penelitian Pendidikan, Purwodadi Grogbogan: CV Sarna Untung.
Gunawan, I. (2016). Metode penelitian kuantitatif. Retrieved June, 7, 2017.
Hadi SubrotoDefinisi. (2018). Operasioanal Pembelajaran Tematik
Hidayah. (2015), Identifikasi kesulitan belajar. Jurnal Pendidikan Biologi dan Sains, 2(02), 23-33.
Imas Kurniasih . (2014). Implementasi Kurikulum 2013. Jurnal Tunas Bangsa, 4(2), 185-197.
Kadir, A., & Asrohah, H. (2015). Pembelajaran tematik.
Kamiludin & Suryaman. (2017). Ciri khas kurikulum 2013. Jurnal bahasa,3, 23-49.
Kunandar. (2015) mengimplementasikan penilaian autentik pada Kurikulum 2013. Basic Education, 5(12).
Kurniawan, A. (2018). Metodologi penelitian pendidikan.
L.J. Maleong, (2018). Wawancara Sebuah Penelitian. Indonesian Journal of Educational Counseling, 2(2), 179-186.
Mulyasa (2016). Implementasi Kurikulum 2013 Revisi: Dalam Era Industri 4.0. Bumi Aksara.
Oemar Hamalik. (2017). Pengertian Belajar . Jurnal Ilmiah Dikdaya, 5(1), 34-45.
Purwati, I., Markhamah, M., & Sutama, S. (2022). Pembelajaran Tematik Berorientasi STEM Untuk Menumbuhkan Kemandirian Siswa Sekolah Dasar: Stem Oriented Thematic Learning For Growing Independence Elementary School Students. Tunas: Jurnal Pendidikan Guru Sekolah Dasar, 7(2), 84–91. https://doi.org/10.33084/tunas.v7i2.3686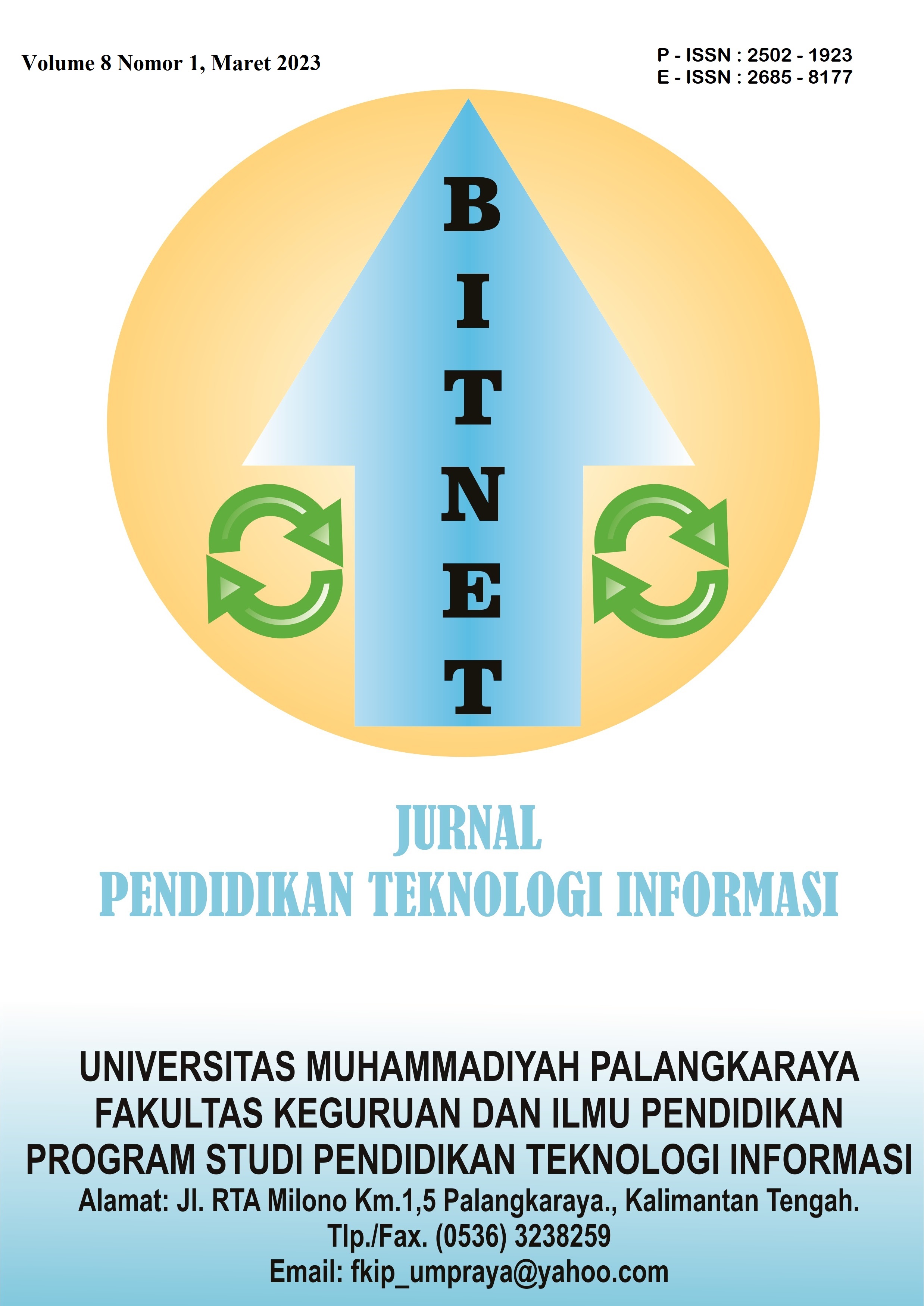 Downloads
How to Cite
Alhikmah, A., & Riadin, A. (2023). Analisis Kesulitan Pembelajaran Tematik Pada Peserta Didik Kelas IV-B SDN 4 Menteng Palangka Raya: Analysis of Thematic Learning Difficulties in Class IV-B Students of SDN 4 Menteng Palangka Raya. Bitnet: Jurnal Pendidikan Teknologi Informasi, 8(1), 34–38. https://doi.org/10.33084/bitnet.v8i1.4923
License
Copyright (c) 2023 Alhikmah, Agung Riadin
This work is licensed under a Creative Commons Attribution-ShareAlike 4.0 International License.
All rights reserved. This publication may be reproduced, stored in a retrieval system, or transmitted in any form or by any means, electronic, mechanical, photocopying, recording.