Pemanfaatan Abu Boiler Kelapa Sawit terhadap Pertumbuhan Tajuk Tanaman Tomat
Boiler Ash Utilization of Palm Oil On the Growth Of Tomato Plant Shoot
Keywords:
Tomato, Abu boiler, Growth and Shoot
Abstract
The purpose of this research is gaining influence boiler ash on growth and yield of tomatoes, (4) obtain optimal dosing of boiler ash is curuently applied to some media. This research was conducted at Jl. Manjuhan Palangkaraya. The time of this study will last for 4 months This study uses a completely randomized design factorial 2 factors. The first factor is the dose Abu boiler with a 5 stage treotment (without ash, 5 ton.ha-1, l0 ton ha-1, 15 ton.ha-1 and 20 ton.ha-1 . The second factor is the type of media with 3 levels of treatment (Soil sand, soil Podsolid and Peat. The treatment combinotion obtained as-mony as 15 combinations of treatment, with a repeat 3 times. The survey results reveoled that (1) the interaction of growth media and boiler ash dose showed significantly different results against 2,4 dan 6-wieks after planting variables plant height, amount of leaves on the age, 2, 4 and 6 weeks after, plantig, stem diameter at 4 weeks afier planting, and shoot dry weight lastest research. Treatment combination boiler ash 15 ton / ha and peat media (treatment b4t3) provide significant variahles plant height, leaf amount, diameter of stock, and shoot dry weight.
Downloads
Download data is not yet available.
References
Anonim, 2002. Arang Aklif dari Tempurung Kelapa. Pusat Dokumentasi dan Informasi Ilmiah Lembaga Ilmu Pengetahuan Lndonesia, Jakarta.
Buckman and Brady, 1982. Ilmu Tanah. PT. Bhatara Karya Aksara. Jakarta.
Cahyono, B. 1998. Tornat Budidaya, dan Analisis Usaha Tani. Kanisius.Yogyakarta.
David Laird, Pierce Fleming, Baiqun Wang, and Doug Karlen' 2011. Impact of Abu boiler Amendments on Soil Quality for a Typical Midwestern Agricultural Soil. USDA, ARS, National, Soil Tilth Laboratory, Ames Iowa. institute of Soil and Water Conservation, Yangling, China
Departemen Pertanian. 2006. Pedoman pengelolaan Limbah Kelapa sawit. Jakarta.
Edy, S. S., Winarna, Tobing P.L, dan Sufianto. 2000. Aplikasi limbah cair pabrik kelapa sawit pada perkebunan kelapa sawit. Prosiding. Pertemuan teknis kelapa sawit 2005. p 43-62. Pusat Penelitian Kelapa Sawit. Medan.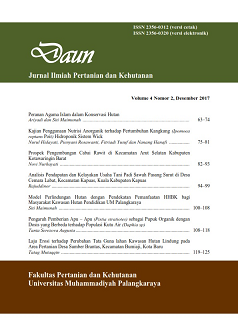 Downloads
How to Cite
Hidayati, N., & Indrayanti, A. L. (2015). Pemanfaatan Abu Boiler Kelapa Sawit terhadap Pertumbuhan Tajuk Tanaman Tomat: Boiler Ash Utilization of Palm Oil On the Growth Of Tomato Plant Shoot. Daun: Jurnal Ilmiah Pertanian Dan Kehutanan, 2(1), 54–65. https://doi.org/10.33084/daun.v2i1.174
License
All rights reserved. This publication may be reproduced, stored in a retrieval system, or transmitted in any form or by any means, electronic, mechanical, photocopying, recording.