Studi Evaluasi Ekonomi Teknik Pembangunan Pasar Temanggung Jayakarti Tamiyang Layang
Economic Evaluation Study Of Development Techniques For The Temanggung Jayakarti Tamiyang Layang Maket
Keywords:
redevelopment , revitalisasi, pasar temanggung jayakarti, ekonomi teknik
Abstract
The fire disaster that befell most of the Jayakarti Temanggung Market on June 26, 2005, resulted in reduced service facilities. Before a fire occurs, indeed the Temanggung Jayakarti Market needs to be renovated because the building is quite old. The development of the city of Tamiang Layang is currently quite rapid accompanied by the demands of the dynamics of the behavior of consumers as consumers which also increased so that the Temanggung Jayakarti Market is now considered less attractive. This situation raises an idea to make efforts to organize and rebuild the Jayakarti Temanggung Market. Redevelopment and revitalization of the Temanggung Jayakarti Market is basically very good, and this will support the economic sector in the city of Tamiang Layang so that it will increase local revenue (PAD). Besides that, it can also attract attraction for outside regional investors to enter Tamiang Layang City. The purpose of writing is to find out whether the redevelopment and revitalization carried out by the Temanggung Jayak Market in technical economy.
Downloads
Download data is not yet available.
References
DeGarmo, E. Paul, Sullivan, William G. 1997. Engineering Economy 10th Edition. Prentice Hall. New Jersey. USA.
Newnan, Donald G. 1988. Engineering Economic Analysis 3rd Edition. Engineering Press Inc. California USA.
Pemerintah Kabupaten Barito Timur. 2012. Studi Kelayakan Pembangunan Pertokoan Pasar Temanggung Jayakarti
Sullivan, William G., 2001. The Accreditation Bard of Engineering and Technology.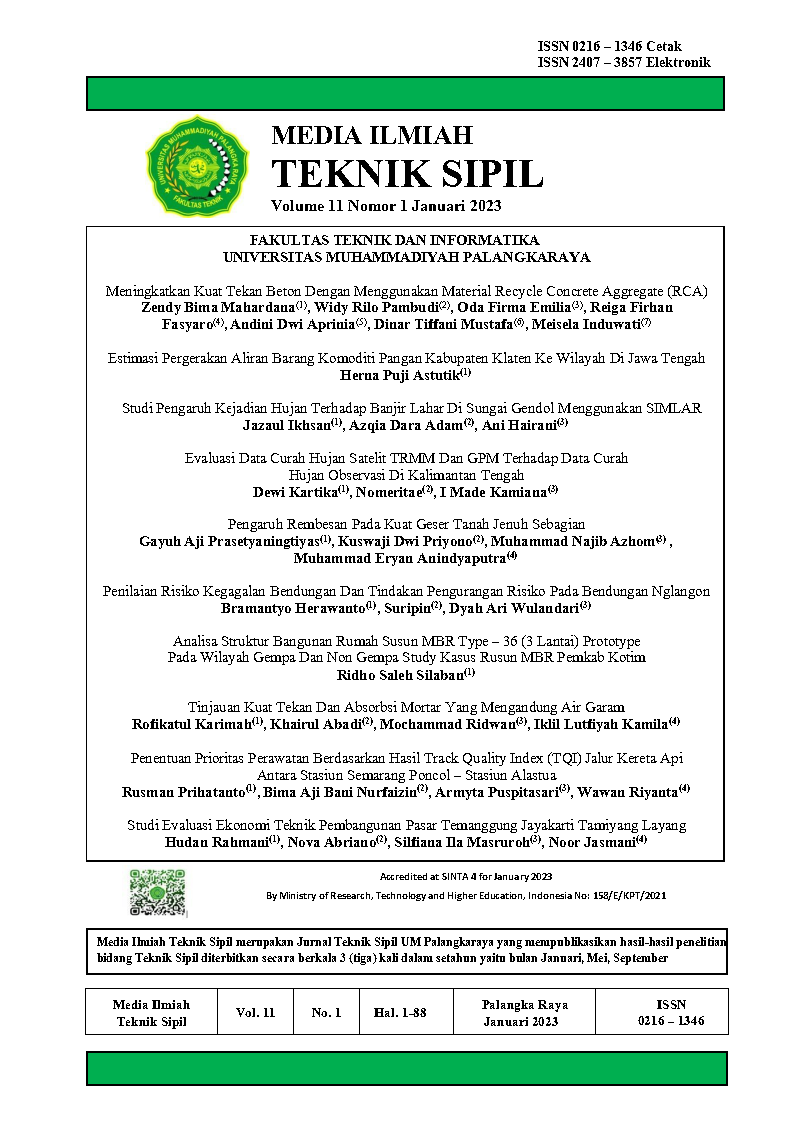 Downloads
How to Cite
Rahmani, H., Abriano, N., Masruroh, S. I., & Jasmani, N. (2023). Studi Evaluasi Ekonomi Teknik Pembangunan Pasar Temanggung Jayakarti Tamiyang Layang: Economic Evaluation Study Of Development Techniques For The Temanggung Jayakarti Tamiyang Layang Maket. Media Ilmiah Teknik Sipil, 11(1), 82–88. https://doi.org/10.33084/mits.v11i1.4785
License
Copyright (c) 2023 Hudan Rahmani, Nova Abriano, Silfiana Ila Masruroh, Noor Jasmani
This work is licensed under a Creative Commons Attribution-ShareAlike 4.0 International License.
All rights reserved. This publication may be reproduced, stored in a retrieval system, or transmitted in any form or by any means, electronic, mechanical, photocopying, recording.