Manajemen Operasional Pelabuhan Penyeberangan Batulicin – Tanjung Serdang Provinsi Kalimantan Selatan
Operational Management Of Batulicin Ferry Port – Tanjung Serdang, South Kalimantan Province
Keywords:
penyeberangan, panjang antrian, biaya waktu tunggu, jumlah kapal
Abstract
The Batulicin ferry port in Tanah Bumbu and the Tanjung Serdang crossing in Kotabaru, Pulau Laut district, has a very important role for transportation in facilitating the flow of goods and people as a series of the South Kalimantan Axis Cross Road that connects the city of Banjarmasin and all cities in South Kalimantan province and the city. -cities on the island of Kalimantan to Kotabaru, Tanah Laut district. With the economic development around coal mining, plantations and tourism in South Kalimantan, it is estimated that the need for transportation services from year to year always increases. To anticipate these conditions, the land transportation system and crossing required optimal performance standards. This research was conducted at the Batulicin - Tanjung Serdang crossing by taking case studies at the Batulicin and Tanjung Serdang ferry ports. The purpose of this study is to find a solution to the problem of optimizing the Batulicin port operating system whether additional ships are needed due to the long queue of passenger cars and goods that will cross from Batulicin to Kotabaru or vice versa. The data collected includes the performance of the crossing system, data retrieval is carried out on December 20 to December 24, 2021. Data analysis is based on the concept of combined costs, between vehicle waiting time costs and ship operating costs, with the number of ships. From the results of the discussion, it can be concluded that operational management in the form of an optimal performance system requires 4 ships with a minimum combined cost reference.
Downloads
Download data is not yet available.
References
Kanafani, Adib, (1983), Transportation Demand Analysis, Mc. Graw-Hill Book Company.
Kodoatie, Robert J, (1997), Analisa Ekonomi Teknik, Cetakan Kedua, Andi Offset, Yogyakarta.
Morlok, Edward K, (1995), Pengantar Teknik dan Perencanaan Transportasi, ed; Yani Sianipar, Erlangga, Jakarta.
Nasution, H.M.N, (1996), Manajemen Transportasi, Ghalia Indonesia, Jakarta.
Soerjatmodjo, Gatot (2001), Studi Optimasi Sistem operasi Pelabuhan Penyeberangan Padangbai – Pulau Bali, Tesis, Institut Teknologi Sepuluh Nopember, Surabaya.
Tamin, OZ, (1997), Perencanaan dan Pemodelan Transportasi, Penerbit ITB, Bandung.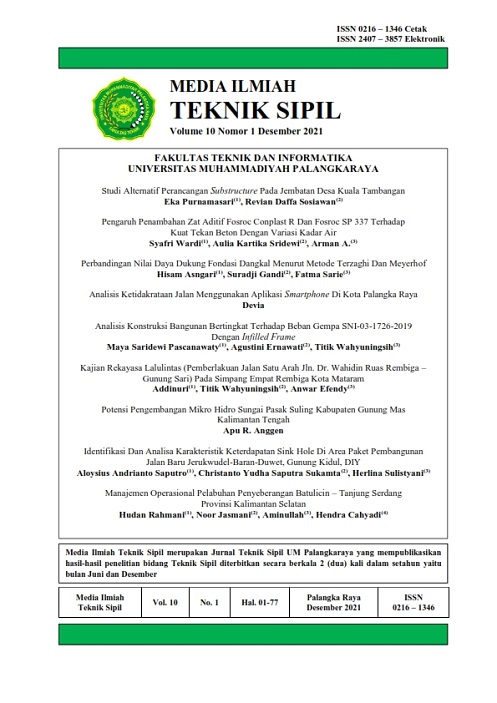 Downloads
How to Cite
Rahmani, H., Jasmani, N., Aminullah, A., & Cahyadi, H. (2021). Manajemen Operasional Pelabuhan Penyeberangan Batulicin – Tanjung Serdang Provinsi Kalimantan Selatan: Operational Management Of Batulicin Ferry Port – Tanjung Serdang, South Kalimantan Province. Media Ilmiah Teknik Sipil, 10(1), 69–77. https://doi.org/10.33084/mits.v10i1.3101
License
All rights reserved. This publication may be reproduced, stored in a retrieval system, or transmitted in any form or by any means, electronic, mechanical, photocopying, recording.