Studi Perencanaan Campuran Latasir (Lapisan Tipis Aspal Pasir) Pada Pekerjaan Peningkatan Jalan Desa Terpencil Di Kabupaten Tapin
A Study Of Latasir Mixed Planning On Road Improvement Works Of Remote Village In Tapin
Keywords:
Latasir, Lapis permukaan, Transportasi, Cara manual
Abstract
Candi Laras Utara sub-district, includes swampy lowlands, are very difficult to reach by using a 4-wheeled vehicle because the conditions of the roads are not standard or in narrow terms and the traffic volume can be said to be very low because it is only passed by 2-wheeled vehicles, the alternative is to use a Latasir pavement layer as a surface layer, there are 3 problems that must be examined, including how to plan the composition of the Latasir-forming material mixture, and how to transport the material to the road work location. and how to process the Latasir material, method The logic of this research is an experimental method, namely the processing of test objects in the form of samples of various variations in the form of surface or road surface layers, but previously all the materials that make up these samples were also tested in the laboratory as well as their quality. It was concluded that the asphalt content that met the requirements for the best quality of this Latasir was 7%, 710 kg stability, 6.170% air cavity, the quotient for marshall was 3.533 KN / mm, mixed density 2.183 kg / dm³ and melting 2.890 mm.
Downloads
Download data is not yet available.
References
Departemen Pekerjaan Umum, Direktorat Jenderal Bina Marga, (1983), Petunjuk Pelaksanaan Lapis Tipis Aspal Pasir (Latasir), No.G2/PT/B/1983.
Departemen Pekerjaan Umum, Direktorat Jenderal Bina Marga, (1995), Buku 3 Petunjuk Teknis Spesifikasi Umum Jalan Kabupaten. Berdasarkan Petunjuk AASHTO.
Departemen Pekerjaan Umum, Direktorat Jenderal Bina Marga, (1999), Buku 3 Spesifikasi Umum, berdasarkan SNI 1995.
Departemen Pekerjaan Umum, Direktorat Jenderal Bina Marga. (1999), Buku Pelatihan Teknisi Laboratorium Pengujian Bahan Jalan dan Jembatan.
Dinas Pekerjaan Umum Provinsi Kalimantan Selatan, Pedoman Pelaksanaan Jalan Kabupaten, (2003). Penerbit: DPU KS 2003.
Hanafi Basri, M. Nor Asnan. (2017). Perencanaan Perkerasan Jalan Pedesaan. Media Bina Marga DPU Provinsi Kalimantan Tengah, Vol. 3 Juli 2017.
Indrayadi. (2000). Alternatif Desain Campuran Dan Cara Pelaksanaan Jalan Terpencil Di Kabupaten Barito Selatan Kecamatan Jenamas. Universitas Negeri Palangkaraya.
Kementerian Pekerjaan Umum dan Perumahan Rakyat, Direktorat Jendral Bina Marga, Spesifikasi Umum 2018 Untuk Pekerjaan Konstruksi Jalan dan Jembatan
Silvia Sukirman, (1993), Perkerasan Lentur Jalan Raya, Nova, Bandung.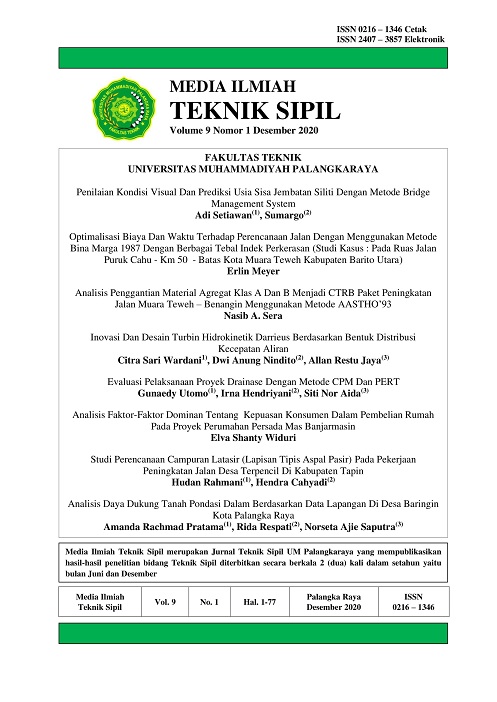 Downloads
How to Cite
Rahmani, H., & Cahyadi, H. (2020). Studi Perencanaan Campuran Latasir (Lapisan Tipis Aspal Pasir) Pada Pekerjaan Peningkatan Jalan Desa Terpencil Di Kabupaten Tapin: A Study Of Latasir Mixed Planning On Road Improvement Works Of Remote Village In Tapin. Media Ilmiah Teknik Sipil, 9(1), 62–69. https://doi.org/10.33084/mits.v9i1.1902
License
All rights reserved. This publication may be reproduced, stored in a retrieval system, or transmitted in any form or by any means, electronic, mechanical, photocopying, recording.