Research Article: Isolasi dan Identifikasi Senyawa Terpenoid
Research Article: Isolation and Identification of Terpenoid Compounds
Keywords:
Terpenoid, Tumbuhan, Senyawa
Abstract
Terpenoids are a group of hydrocarbons that are produced in large quantities by  plants and are mainly contained in the sap and cell vacuoles. In plants, terpene compounds and their modifications, terpenoids, are secondary metabolites. Terpenoids make up many of the essential oils produced by plants. The content of essential oils influences the use of spice products, both as seasonings, as fragrances, as well as ingredients for medicine, health, etc. The terpenoid-steroid test was carried out using the Lieberman-Buchard reagent which yielded positive results for terpenoids for all fractions. The results obtained for the n-hexane and ethyl acetate fractions on the addition of lieberman-buchard yielded positive results for steroids as indicated by the formation of a green color in the fractions. The purpose of this research article is to provide information to find out what methods are used in isolation in identifying terpenoid compounds and knowing the types of terpenoid compounds obtained from the results of previous research journals.
Downloads
Download data is not yet available.
References
Astuti, Maria Dewi, Tuti Sriwinarti, and Kamilia Mustikasari. (2017). Isolasi Dan Identifikasi Senyawa Terpenoid Dari Ekstrak N-Heksana Daun Kelopak Tambahan Tumbuhan Permot (Passiflora Foetida L). Jurnal Sains Dan Terapan Kimia 11(2):80.
Barokati Azizah, Nina Salamah. (2013). Standarisasi Parameter Non Spesifik dan Perbandingan Kadar Kurkumin Ekstrak Etanol dan Ekstrak Terpurifikasi Rimpang Kunyit. Jurnal Ilmiah Kefarmasian, Vol. 3, No. 1, 2013: 21-30.
Dwisari, Fath, Harlia, and Andi Hairil Alimuddin. (2016). "Isolasi Dan Karakterisasi Senyawa Terpenoid Ekstrak Metanol Akar Pohon Kayu Buta-Buta (Excoecaria Agallocha L.). Jurnal Kajian Komunikasi (JKK) 5(3):25–30.
Fauzia, Dini Nur, Mukasi W. Kurniawati, Arina I. Fuady, and Khairani S. Pratiwi. (2021). Isolasi Dan Identifikasi Senyawa Terpenoid Fraksi Heksana Dari Umbi Rumput Teki (Cyperus Rotundus, L). Jurnal Sintesis 2(1):10–15.
Furi, Mustika, Enda Mora, and Zuhriyah. (2015). Isolasi Dan Karakteristik Terpenoid Dari Ekstrak Etil Asetat Kulit Batang Meranti Kunyit (Shorea Conica). Jurnal Penelitian Farmasi Indoneisa 3(2):38–42.
Gandjar, Ibnu Gholib, and Rohman, Abdul. (2019). Kimia farmasi analisis. Yogyakarta: Pustaka pelajar.
Jenie, Umar Anggara, Leonardus B. S. Kardono, Muhammad Hanafi, Rymond J. Rumampuk, and Akhmad Darmawan. (2014). Teknik Modern Spektroskopi NMR : Teori Dan Aplikasi Dalam Elusidasi Struktur Molekul Organik.
LPPT UGM. (2017). Kalibrasi – Laboratorium Penelitian Dan Pengujian Terpadu.
Masadi, Yuniar Indo, Titik Lestari, and Indri Kusuma Dewi. (2018). Identifikasi Kualitatif Senyawa Terpenoid Ekstrak N- Heksana Sediaan Losion Daun Jeruk Purut (Citrus Hystrix Dc). Jurnal Kebidanan Dan Kesehatan Tradisional 3(1):32–40.
Miftahul Jannah, Sumi Wijaya, Henry Kurnia Setiawan. (2021). Standarisasi Simplisia Daun Kenikir (Cosmos caudatus Kunth) Dari Tiga Daerah Berbeda. Journal Of Pharmacy Sciene and Practice, Vol 8 no 1, 2021.
Rutdianti, Sayu, Rudi Kartika, and Partomun Simanjuntak. (2017). Isolasi Dan Identifikasi Senyawa Kimia Terpenoid Dari Isolat Etil Asetat Daun Ekaliptus (Eucalyptus Deglupta Blume.). Prosiding Seminar Nasional Kimia 2017 148–52.
Rumondang, M., D. Kusrini, dan E. Fachriyah. (2013). Isolasi, Identifikasi, Dan Uji Antibakteri Senyawa Triterpenoid Dari Ekstrak n-Heksana Daun Tempuyung (Sonchus arvensis L.). Chem Info. 1:156-164.
Supomo. (2021). Khasiat Tumbuhan Akar Kuning Berbasis Bukti. Ypgyakarta: Nas Media Pustaka.
Stuart, Barbara H. (2005). Infrared Spectroscopy: Fundamentals and Applications.
Sumarni, Ni Ketut, Asriani Hasanuddi, Siti Nuryanti, and Gatot Siswo Hutumo. (2020). Isolation and Characterization of Terpenoid Compounds Ethanol Extract on Young Coconut Coir (Cocos Nucifera L). International Journal of Scientific and Technology Research 9(2):5622–25.
Osward, T. T., (1995). Tumbuhan Obat, Baratha, Jakarta.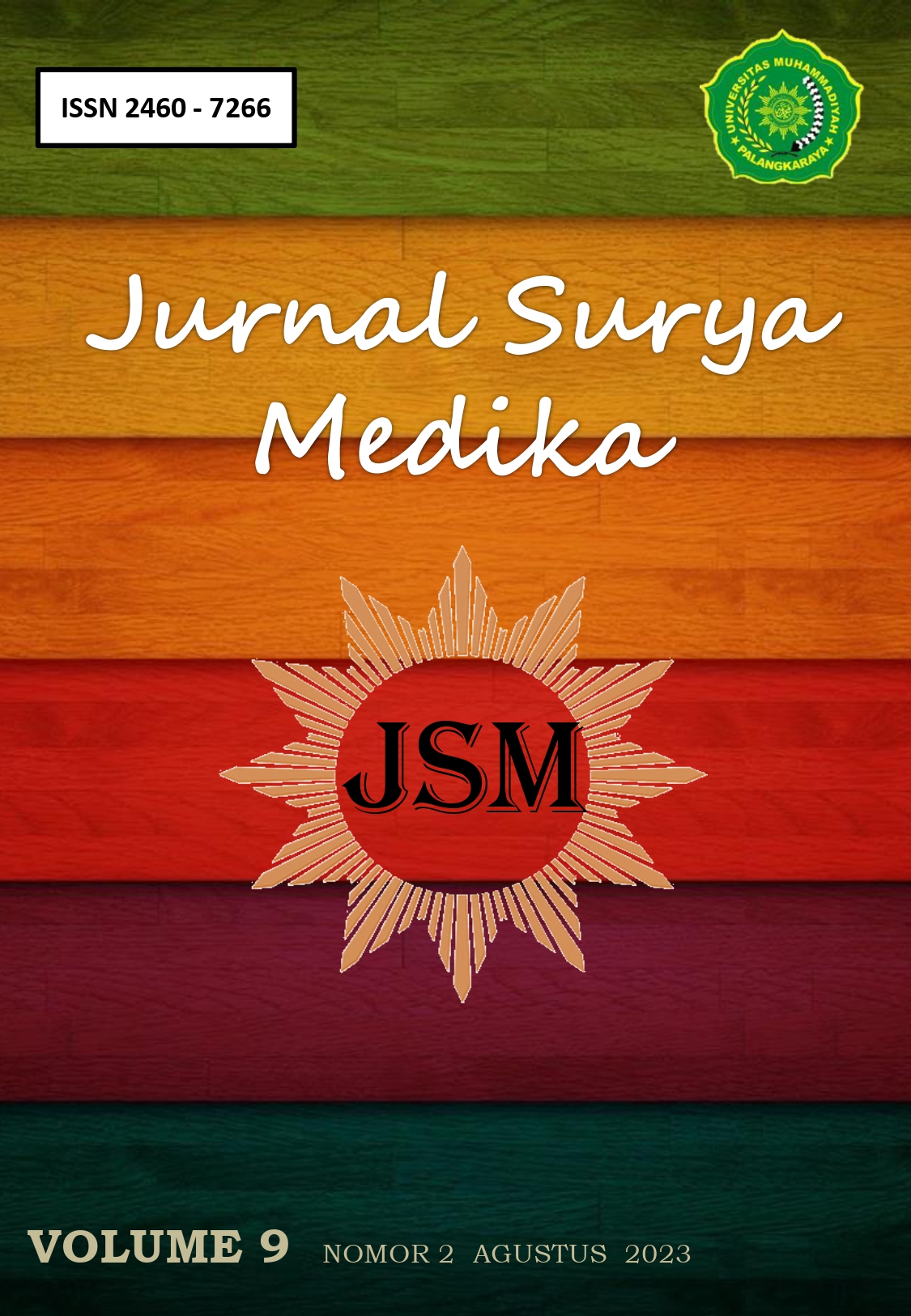 Downloads
How to Cite
Mierza, V., Antolin, A., Ichsani, A., Dwi, N., Sridevi, S., & Dwi, S. (2023). Research Article: Isolasi dan Identifikasi Senyawa Terpenoid: Research Article: Isolation and Identification of Terpenoid Compounds. Jurnal Surya Medika (JSM), 9(2), 134–141. https://doi.org/10.33084/jsm.v9i2.5681
License
Copyright (c) 2023 Vriezka Mierza, Antolin Antolin, Audi Ichsani, Nurma Dwi, Sridevi Sridevi, Syfa Dwi
This work is licensed under a Creative Commons Attribution-ShareAlike 4.0 International License.
All rights reserved. This publication may be reproduced, stored in a retrieval system, or transmitted in any form or by any means, electronic, mechanical, photocopying, recording.