Restorasi Estetik dengan Strip Crown pada Gigi Anterior Desidui (Laporan Kasus)
Aesthetic Restoration with Strip Crown for Anterior Primary Teeth (Case Report)
Keywords:
Strip Crown, Desidui, Karies, Restorasi Estetik
Abstract
Background: Anterior dental caries affect masticatory function and aesthetics. The most popular type of aesthetic crown for the restoration of deciduous incisors is the strip crown. Purpose: to report the case of restoration of an aesthetic restoration with a strip crown on anterior primary teeth. Case: A 5.5-year-old boy comes with his mother with complaints of tooth decay. He never hurts and has never been traumatized. A clinical examination revealed that the teeth 52, 51, 61, and 62 had extensive dentinal caries in all parts. Diagnosis based on ICDAS is caries class 5. Case Management: The teeth were subjected to crown-strip restoration in two visits. The first visit was for teeth 51 and 61, and the second visit was for teeth 52 and 62. The teeth were cleaned with carious tissue, lining, and application of flowable composite resin with strip crown, polishing, and finishing. Conclusion: Strip crown restoration can be an alternative choice for primary anterior teeth where caries extends throughout the crown and improves aesthetic results.
Downloads
Download data is not yet available.
References
Babu A. Tooth Coloured Crowns in Pediatric Dentistry – a Review. Int J Curr Res. 2019;11(05):4098–104.
Ghosh A, Zahir S. (2020). Recent advances in pediatric esthetic anterior crowns. Int J Pedod Rehabil. 2020;5(2):35.
Intan GA, Suwondo W. (2018). Penggunaan fiber glass pada pasien early childhood caries. Indones J Paediatr Dent. 2018;1(2):210–3.
Jeong M, Kim A, Shim Y, An S. (2013). Restoration of Strip Crown with a Resin-Bonded Composite Cement in Early Childhood Caries. Case Rep Dent. 2013;2013:1–6.
Muhamad A, Azzaldeen A, Mai A. (2015). Strip Crowns Technique for Restoration of Primary Anterior Teeth : Case Report. IOSR J Dent Med Sci. 2015;14(12):48–53.
Muhamad A, Nezar W, Azzaldeen A, Hanali A. (2015). Anterior dental esthetics in primary teeth. Int J Public Health. 2015;3(JANUARY):25–36.
Nerkar R. (2017). Recent esthetic revolution in pediatric dentistry: A review. Int J Oral Heal Med Res. 2017;4:80–2.
Organization WH. Oral health [Internet]. 2022. [cited 2022 Apr 4]. Available from: https://www.who.int/news-room/fact-sheets/detail/oral-health
Pitts N, Zero D, Marsh P, Al E. (2017). Dental Caries. Nat Rev Dis Prim. 2017;3.
Pooja JC, Subramanian EMG, Jeevanandan G. (2021). Prevalence of anterior strip crowns among carious primary teeth. Int J Dent Oral Sci. 2021;8(7):3050–4.
Renu AM. (2013). Esthetic in primary teeth. Int Res J Pharm. 2013;4:80–2.
Sahana S, Vasa AA. (2010). Esthetic Crown For Primary Teeth : A Review. Ann Essence Dent. 2010;2(2):87–92.
Valdeci de Souza MIA, Cavalheiro JP, Girotto Bussaneli D, Jeremias F, Cilense Zuanon ÂC. (2018). Aesthetic rehabilitation with strip crowns in Pediatric Dentistry: a case report. CES Odontol. 2018;31(2):66–75.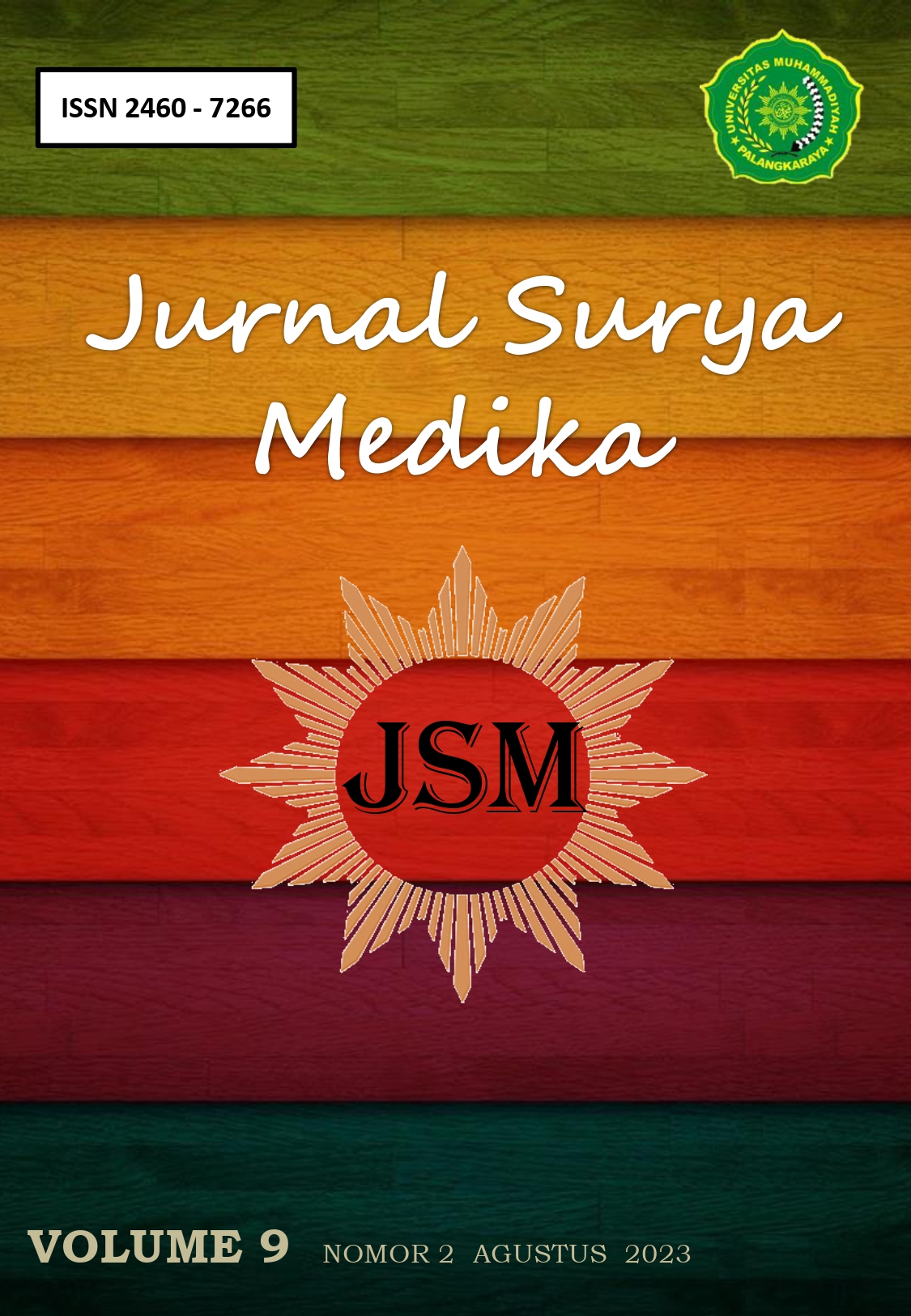 Downloads
How to Cite
Murika Sari, N. D. A., & Wardani Mahendra, P. K. (2023). Restorasi Estetik dengan Strip Crown pada Gigi Anterior Desidui (Laporan Kasus): Aesthetic Restoration with Strip Crown for Anterior Primary Teeth (Case Report). Jurnal Surya Medika (JSM), 9(2), 238–242. https://doi.org/10.33084/jsm.v9i2.5710
License
Copyright (c) 2023 Nendika Dyah Ayu Murika Sari, Putri Kusuma Wardani Mahendra
This work is licensed under a Creative Commons Attribution-ShareAlike 4.0 International License.
All rights reserved. This publication may be reproduced, stored in a retrieval system, or transmitted in any form or by any means, electronic, mechanical, photocopying, recording.