Antibacterial Activity of Ulin Fruit Extract (Eusideroxylon zwageri) Against Bacteria Causes in Human Infections
Antibacterial Activity of Ulin Fruit Extract (Eusideroxylon zwageri) Against Bacteria Causes in Human Infections
Keywords:
Antibacterial Bacteria, Eusideroxylon zwageri Infection, Minimum Bactericidal Concentration, Minimum Inhibitory Concentration
Abstract
Infectious diseases one of the main health problem, especially in developing countries and have been recorded to cause more than 3 million people to die every year. Therapy used is antibacterial, but currently there are many occurrences of resistance to antibacterials, for example by the bacteria Salmonella typhi, Escherichia coli, and Staphylococcus aureus so it's necessary to find antibacterial alternatives to treat infectious diseases. Non-pharmacological therapy used is the Ulin plant (Eusideroxylon zwageri), such as it's fruit which contains secondary metabolites that function as antibacterial. This research aimed to identify the antibacterial activity of the Ulin fruit extract against Salmonella typhi, Escherichia coli, and Staphylococcus aureus bacteria. The type of research used is True Experimental with a Posttest-Only Control Group design. Screening antibacterial activity of Ulin fruit extract against Salmonella typhi, Escherichia coli, and  Staphylococcus aureus bacteria using the well diffusion method and determining antibacterial activity test using the Minimum Inhibitory Concentration (MIC) and Minimum Bactericidal Concentration (MBC) methods, then the data were analyzed using One Way Anova Test. The results show Ulin fruit extract has antibacterial activity with highest inhibition zone at concentration of 10 mg/ml against Salmonella typhi 19,07 mm, Escherichia coli 12,57 mm, and Staphylococcus aureus 12,31 mm and each has strong antibacterial activity. MIC at concentration of 5mg/ml. The results of statistical analysis showed significance value of 1,000 (p>0.05), meaning that there was no significant difference. So, Ulin fruit extract (Eusideroxylon zwageri) has antibacterial activity with a Minimum Inhibitory Concentration (MIC) value of 5mg/ml.  
Downloads
Download data is not yet available.
References
Akcaya, Jurnal Borneo, Beri Hidayat, Fathul Yusro, Yeni Mariani, Fakultas Kehutanan, Universitas Tanjungpura, Jalan Imam, and Bonjol Pontianak. 2019. "the Ability of Two Species of Macaranga Wood Bark Extracts To Inhibit the Growth of Bacteria Enterococcus Faecalis." Jurnal-Litbang.Kalbarprov.Go.Id 5(2):95–109.
Darussalam, Handry. 2017. "Uji Sensitivitas Ekstrak Kayu Ulin (Eusideroxylon Zwageri Tet B) Terhadap Pertumbuhan Bakteri Staphylococcus aureus Secara In Vitro." Mahakam Medical Laboratory Technology Journal 1(2):21–30.
Dzoyem, Jean P., Raduis Melong, Armelle T. Tsamo, Alembert T. Tchinda, Deccaux G. W. F. Kapche, Bonaventure T. Ngadjui, Lyndy J. Mcgaw, and Jacobus N. Eloff. 2017. "Cytotoxicity , Antimicrobial and Antioxidant Activity of Eight Compounds Isolated from Entada abyssinica (Fabaceae)." BMC Research Notes 4–9. doi: 10.1186/s13104-017-2441-z.
Faisal, Muhammad R., Nada W. O. Amanda, Diana A. Mursidah, Dede Mahdiyah, and Bayu H. Mukti. 2021. "Antidiabetic Potential Screening of Ulin Fruit Extract (Eusideroxylon zwageri) Against Streptozotocin-Induced Diabetic Rats." 1(1).
Fitriana, Yolla Arinda Nur, Vita Arfiana Nurul Fatimah, and Ardhista Shabrina Fitri. 2020. "Aktivitas Anti Bakteri Daun Sirih: Uji Ekstrak KHM (Kadar Hambat Minimum) Dan KBM (Kadar Bakterisidal Minimum)." Sainteks 16(2):101–8. doi: 10.30595/st.v16i2.7126.
Greenwood. 1995. Antibiotic Susceptibility (Sensitivity) Test, Antimicrobial and Chemotherapy. USA: Mc Graw Hill Company.
Henaulu, Adudin H., and Martha Kaihena. 2020. "Potensi Antibakteri Ekstrak Etanol Daun Kecipir (Psophocarpus tetragonolobus (L.) DC) Terhadap Pertumbuhan Escherichia Coli Dan Staphylococcus aureus In Vitro." Biofaal Journal 1(1):44–54.
Hidayat, A. .. 2010. Metode Penelitian Kesehatan Paradigma Kuantitatif. Jakarta: Heath Books.
Ismail, Yulia Sari, Cut Yulvizar, and Putriani Putriani. 2017. "Isolation, Characterization and Antimicrobial Activity of Lactic Acid Bacteria from the Fermented Cacao Seed (Theobroma Cacao L.)." Bioleuser 1(2):45–53.
Khameneh, Bahman, Milad Iranshahy, Vahid Soheili, Bibi Sedigheh, and Fazly Bazzaz. 2019. Antimicrobial Resistance and Infection Control 8:1–28.
Kurniawan, Edy, Dwi Soelistya Dyah Jekti, and Lalu Zulkifli. 2019. "Aktivitas Antibakteri Ekstrak Metanol Batang Bidara Laut (Strychnos Ligustrina) Terhadap Bakteri Patogen." Jurnal Biologi Tropis 19(1). doi: 10.29303/jbt.v19i1.1040.
Mahdiyah, D, Dian Arsanti Palupi, Bayu Hari Mukti. 2021. Buku Ajar Mikrobiologi Kesehatan. Banten: CV. AA. RIZKY.
Mahdiyah, Dede, Helmia Farida, Ignatius Riwanto, Mustofa Mustofa, Hendro Wahjono, Tri Laksana Nugroho, and Winarto Reki. 2020. "Screening of Indonesian Peat Soil Bacteria Producing Antimicrobial Compounds." Saudi Journal of Biological Sciences 27(10):2604–11. doi: 10.1016/j.sjbs.2020.05.033.
Mariam, Fidya, I. Wayan Arya K. Firdaus, Fransiska Uli, and Artha Panjaitan. 2020. "Dentin Jurnal Kedokteran Gigi (Eusideroxylon Zwageri) Terhadap Aggregatibacter actinomycetemcomitans." IV(2):43–48. doi: https://doi.org/10.35790/ebm.v4i1.12230.
Mariani, Y., F. Yusro, Y. Konishi, T. Taguchi, and A. Tominaga. 2016. "Regulatory Effects of Five Medicinal Plants Used by Dayak Uud Danum in West Kalimantan Indonesia on the Delayed-Type Hypersrsensitivity and the Inflammation of Human Colon Epithelial Cells." Kuroshio Science 10–1(December):59–71.
Mariani, Yeni, Fathul Yusro, and Evy Wardenaar. 2020. "Aktivitas Ekstrak Metanol Daun Ulin (Eusideroxylon zwageri Teijsm & Binn) Terhadap Empat Jenis Bakteri Patogen." Jurnal Biologi Tropis 20(1):94. doi: 10.29303/jbt.v20i1.1642.
Napitupulu, Hatopan G., Inneke F. M. Rumengan, Stenlly Wullur, Elvy L. Ginting, Joice R. T. S. L. Rimper, and Boyke H. Toloh. 2019. "Bacillus Sp. Sebagai Agensia Pengurai Dalam Pemeliharaan Brachionus Rotundiformis Yang Menggunakan Ikan Mentah Sebagai Sumber Nutrisi." Jurnal Ilmiah Platax 7(1):158–69.
Rosmania, and Fitri Yanti. 2020. "Perhitungan Jumlah Bakteri Di Laboratorium Mikrobiologi Menggunakan Pengembangan Metode Spektrofotometri." Jurnal Penelitian Sains 22(2):76–86.
Utomo, Suryadi Budi, Mita Fujiyanti, Warih Puji Lestari, and Sri Mulyani. 2018. "Uji Aktivitas Antibakteri Senyawa Hexadecyltrimethylammonium-Bromide Terhadap Bakteri Staphylococcus aureus Dan Escherichia coli Antibacterial Activity Test of the C-4-Methoxyphenylcalix [ 4 ] Resorcinarene Compound Modified by Hexadecyltrimethylammonium-." 3(3):201–9.
Wangkanusa, Dewi, Widya Astuty Lolo, and Defny Silvia Wewengkang. 2016. "Uji Aktivitas Antibakteri Dari Ekstrak Daun Prasman (Eupatorium Triplinerve Vahl.) Terhadap Pertumbuhan Bakteri Staphylococcus aureus Dan Pseudomonas aeruginosa." Pharmacon 5(4):203–10. doi: 10.35799/pha.5.2016.14003.
WHO. 2014. "World Health Organization - Health for the World's Adolescents a Second Chance in the Second Decade." World Health Organisation 14.
Wila, Hana, Fathul Yusro, and Yeni Mariani. 2018. "Skrining Fitokimia Dan Aktivitas Antibakteri Ekstrak Kulit Batang (Eusideroxylon zwageri) Terhadap Escherichia coli Dan Salmonella Typhi." Jurnal Tengkawang 8(1):38–49. doi: 10.26418/jt.v8i1.30147.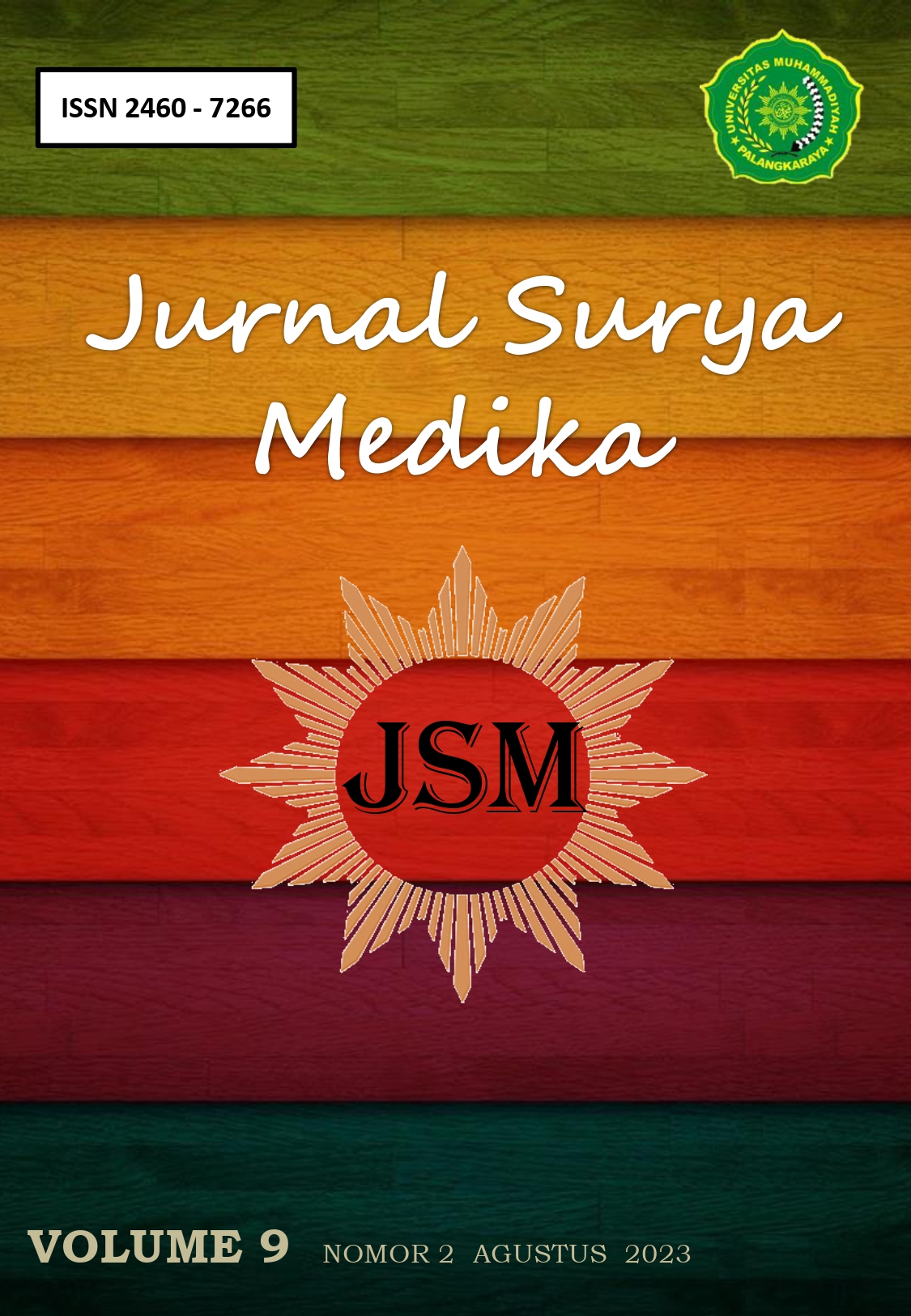 Downloads
How to Cite
Annisa, W., Mahdiyah, D., & Kurniawati, D. (2023). Antibacterial Activity of Ulin Fruit Extract (Eusideroxylon zwageri) Against Bacteria Causes in Human Infections: Antibacterial Activity of Ulin Fruit Extract (Eusideroxylon zwageri) Against Bacteria Causes in Human Infections. Jurnal Surya Medika (JSM), 9(2), 41–49. https://doi.org/10.33084/jsm.v9i2.5664
License
Copyright (c) 2023 Wina Annisa, Dede Mahdiyah, Darini Kurniawati
This work is licensed under a Creative Commons Attribution-ShareAlike 4.0 International License.
All rights reserved. This publication may be reproduced, stored in a retrieval system, or transmitted in any form or by any means, electronic, mechanical, photocopying, recording.