Hubungan Antara Hasil Pemeriksaan Sputum BTA dengan Hasil Resistensi Rifampisin Genexpert MTB/RIF di RSUD Doris Sylvanus Tahun 2018-2019
Relationship Between BTA Sputum Examination Results and Geneexpert MTB/RIF Rifampicin Resistance Results at Doris Sylvanus Hospital in 2018-2019
Keywords:
Tuberkulosis, BTA, GeneXpert MTB/RIP
Abstract
Background: Tuberculosis (TB) is a chronic infectious disease caused by the bacterium Mycobacterium tuberculosis. The sputum Acid-Fast Bacillus (AFB) examination is a widely used diagnostic test, but it is difficult to control a minimum of 5,000 germs / ml of sputum to get a positive result. The GeneXpert MTB / RIF examination is an automatic machine with easy and fast use that uses the principle of real-time nested PCR and molecular technology for the examination of Mycobacterium tuberculosis (MTB) and rifampicin resistance (RR). Purpose: To determine the relationship between the results of sputum AFB examination and the results of rifampicin resistance GeneXpert MTB / RIF in pulmonary TB patients at Doris Sylvanus Hospital, Palangka Raya for the period 2018-2019. Methods: This study used an analytic observational method with a cohort study design. The subjects of this study were all pulmonary TB patients who had been examined for sputum AFB and GeneXpert MTB / RIF at Doris Sylvanus Regional Hospital for the period 2018-2019. Data analysis used SPSS program with Chi Square test (p <0.05). Results: The results of statistical tests showed that the Sputum BTA result variable had a significant relationship with the GeneXpert MTB / RIF outcome variable. So  the result is p = 0.009. Conclusion: There is a significant relationship between the results of sputum AFB examination and the results of rifampicin resistance of GeneXpert MTB / RIF in pulmonary TB patients at Doris Sylvanus Hospital, Palangka Raya for the period 2018-2019.
Downloads
Download data is not yet available.
References
Amin Z, Bahar A. 2014. Tuberkulosis paru Dalam: Aru W, Sudoyo B S, Idrus A, Marcellus S,Siti S, ed. Buku Ajar Ilmu Penyakit Dalam. Edisi Ke-6 Jilid I. Jakarta: Pusat Penerbitan Departemen ilmu Penyakit Dalam Fakultas Kedokteran Universitas Indonesia.
Annisa Nurfiatul aini. 2019. Resistensi Mycobacterium tuberculosis terhadap Rifamfisin pada pasien Tuberkulosis Paru di RSUD dr. M. Djamil Padang Tahun 2017. Universitas Andalas. Padang [SKRIPSI]
Datulong dkk. 2015. Hubungan Faktor Resiko Umur, Jenis Kelamin dan Kepadatan Hunia Dengan Kejadian Penyakit TB Paru di Desa Wori Kecematan Wori. Jurnal Kedokteran Komunitas dan Tropik. Vol 3 (2).
Dinkes Kalteng. 2017. Profil Kesehatan Kalimantan Tengah Tahun 2017. Palangka Raya : Dinas Kesehatan Provinsi Kalimantan Tengah.
Hidayat, Triwahyuni T, Aulia. 2017. Kolerasi Antara Hasil Pemeriksaan Sputum BTA dengan Hasil Pemeriksaan GeneXpert Pada Pasien TB-MDR di RSUD DR.H. Abdul Moeloek Provinsi Lampung periode Tahun 2015-2016. Jurnal Ilmu Kedokteran dan Kesehatan. Vol 4(1). http://ejurnalmalahayati.ac.id/index.php/kesehatan/article/download/771/713
Hutama I H, Riyanti E, Kusumawati A. 2019. Gambaran Perilaku penderita TB Paru Dalam Mencegah Penularan TB Paru di Kabupaten Klaten. Jurnal Kesehatan Masyarakat. Vol 7 (1).
Ikhsan M. 2016. Deteksi Mycobacterium Tuberculosis Dan Resistensinya Dengan Teknik Pcr (Polymerase Chain Reaction) Dan Genexpert Mtb/Rif. Pusat Penelitian Dan Penerbitan (Puslitpen) Lp2m Uin Syarif Hidayatullah Jakarta.
Kemkes. 2018. Infodatin Pust data dan informasi kementrian dan kesehatan RI: Tuberkulosis. https://pusdatin.kemkes.go.id/resources/download/pusdatin/infodatin/infodatin-tuberkulosis-2018.pdf
Kurniawan E, Ravainal, Fauzar, Arsyad Z. 2016. Nilai Diagnostik Metode "Real Time" PCR GeneXpert pada TB Paru BTA Negatif. Jurnal Andalas. Vol 5(3) : 736
Maharani S. 2019. Hubungan Karakteristik Sosiodemiografi, hasil Pemeriksaan Laboratorium Darah Dan Rontgen Toraks Dengan Hasil Pemeriksaan Genexpert MTB/RIF Sputum Pasien Di RSUD Dr. Mohammad Hoesin Palembang Periode Januari-Juni 2018. Fakultas Kedokteran. Universitas Sriwijaya. Palembang. [SKRIPSI].
Permatasari S, Vrenika V, Felicia F, Malasinta, Eriani R, Saraswati N P, Irayanti M. 2021. Validitas Metode Real Time PCR Genexpert pada Suspek TB Paru BTA Negatif Di RSUD dr. Doris Sylvanus. Jurnal Surya Medika (JSM). Vol 7 (1): 88-93.
Pusat Data Informasi Kementrian Kesehatan RI .2016. Info Datin: Tuberkulosis. Jakarta: Kementrian Kesehatan RI.
Rama H. 2020. Hubungan Stigma Dengan Harga Diri Pada Pasien TB Paru Di Wilayah Kerja Puskesmas Andalas Padang. Fakultas Keperawatan. Universitas Andalas. Padang. [SKRIPSI]
Rivani E, Sabrina T, Patricia V. 2019. Perbandingan Uji Diagnostik GeneXpert MTB/RIF untuk mendeteksi resistensi rimfampicin Mycobacterium tuberculosis pada Pasien TB paru di RSUD dr. Moh. Hoesin Palembang. JKK Vol 6, No 1:24.
Sayum E, Dewi S S, Rohmawati E. 2018. Perbedaan Basil Pemeriksaan Mikroskopis dan GeneXpert pada Sputum suspek Tb kambuh. Universitas Muhammadyah Semarang. [Manuscript] http://repository.unimus.ac.id/3255/1/Manuscript%20.pdf
Setiati S, Alwi I, Sudoyo AW, Stiyohadi B, Syam AF. 2014. Buku Ajar Ilmu Penyakit Dalam jilid I. Edisi VI. Jakarta: InternaPublishing; 863-872
World Health Organization (WHO). 2019. Global Tuberculosis Report 2019. https://apps.who.int/iris/bitstream/handle/10665/329368/9789241565714-eng.pdf?ua=1
https://ejournal.unsri.ac.id/index.php/jkk/article/view/7236/3682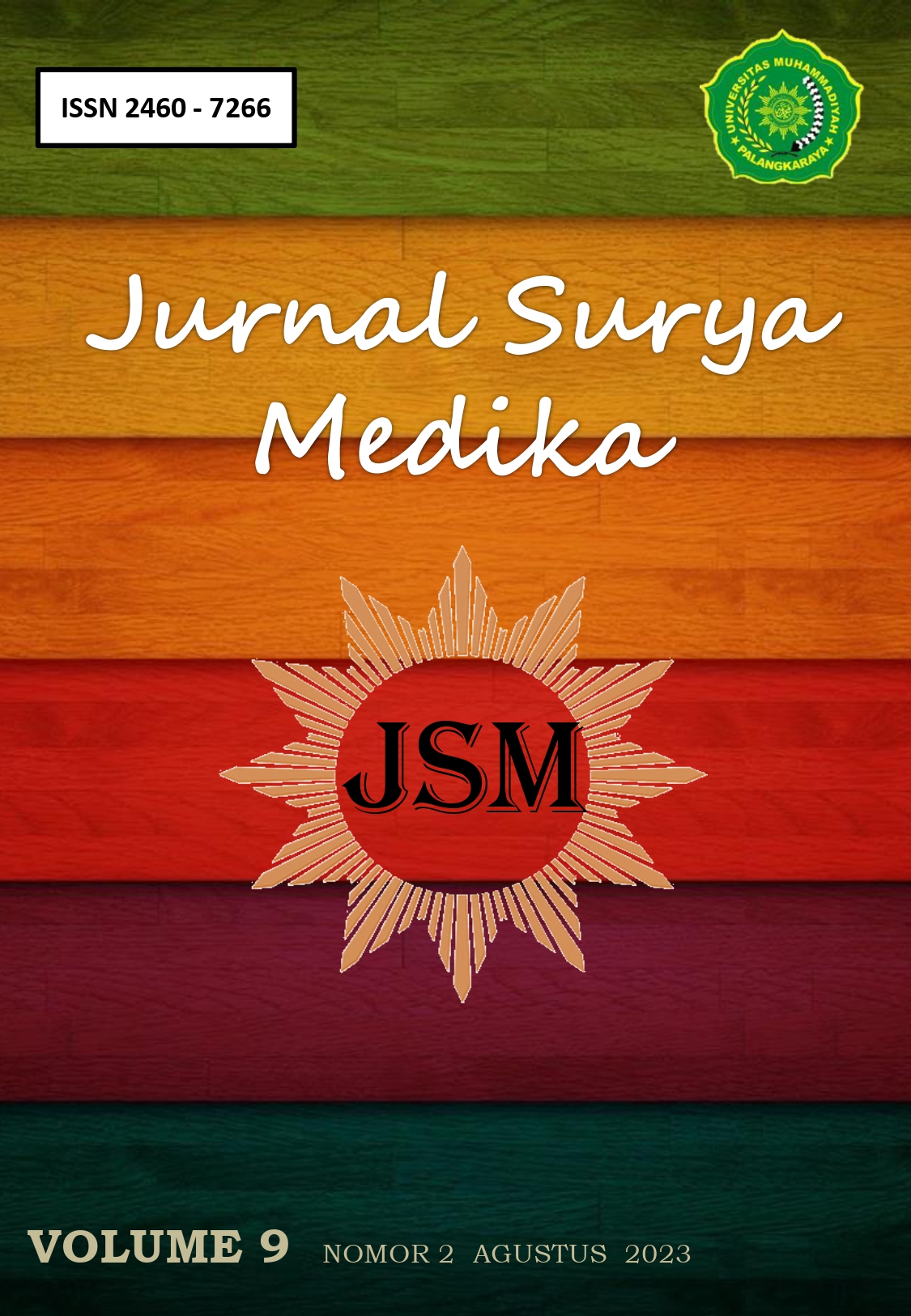 Downloads
How to Cite
Permatasari, S., Tutut, D., Furtuna, D. K., Felicia, F., & Aryati, F. (2023). Hubungan Antara Hasil Pemeriksaan Sputum BTA dengan Hasil Resistensi Rifampisin Genexpert MTB/RIF di RSUD Doris Sylvanus Tahun 2018-2019: Relationship Between BTA Sputum Examination Results and Geneexpert MTB/RIF Rifampicin Resistance Results at Doris Sylvanus Hospital in 2018-2019. Jurnal Surya Medika (JSM), 9(2), 11–17. https://doi.org/10.33084/jsm.v9i2.4037
License
Copyright (c) 2023 Silvani Permatasari, Dea Tutut, Dewi Klarita Furtuna, Florence Felicia, Fraulein Aryati
This work is licensed under a Creative Commons Attribution-ShareAlike 4.0 International License.
All rights reserved. This publication may be reproduced, stored in a retrieval system, or transmitted in any form or by any means, electronic, mechanical, photocopying, recording.