Tinjauan Sistematis Pengelolaan Obat dan Vaksin di Dinas Kesehatan Kabupaten/Kota
Systematic Review of Drug and Vaccine Management at District/City Health Offices
Keywords:
Pengelolaan, Obat, Vaksin, Dinas Kesehatan Kabupaten/Kota
Abstract
The availability of drugs in healthcare facilities will ensure that people get the medicines they need. To ensure the availability of drugs in healthcare facilities, good drug management must be carried out. The drug management cycle includes the stages of selection, planning, procurement, storage, and distribution. This systematic review aims to identify and characterize research methods, guidelines, indicators, and delivery of results in the evaluation of drug and vaccine management in District/City Health Offices. This systematic review uses the Preferred Reporting Items for Systematic Reviews and Meta-Analyses (PRISMA) methodology. Search for articles using Google Scholar, limiting the management of drugs and vaccines carried out at District/City Health Offices which are published from 2017 to 2022. Articles that meet the criteria are evaluated for methods, guidelines, and data processing, and the management stages are evaluated. Article quality was assessed using a modified Downs and Black checklist. Search results using the Google Scholar database obtained 1435 articles. After checking the research location and the year the article was published, 1426 articles did not meet the inclusion criteria. Of the nine articles than one article entered the exclusion criteria because it was a literature review. The results of a systematic review show that qualitative methods are the most frequently used in evaluating drug management, but qualitative methods also have many weaknesses to cover these weaknesses, mixed method research can be carried out. Quantitative research obtained the results of the percentage of drug management accuracy against indicators and qualitative research was carried out to find problems through content analysis. It is hoped that combining these methods will result in more precise drug management evaluation results so that suggestions for improvement will be more targeted.
Downloads
Download data is not yet available.
References
Aisah, N., & Suryawati, S. (2020). Evaluasi Pengelolaan Obat pada Tahap Perencanaan dan Pengadaan di Dinas Kesehatan Kabupaten Pati. 16(1), 9.
Cahyani, H. F., Ulfa, A. M., & Angelina, C. F. (2020). Evaluasi Manajemen Pengelolaan Obat Di Dinas Kesehatan Kabupaten Mesuji Tahun 2019. Jurnal Dunia Kesmas, 9(2), 288–300. https://doi.org/10.33024/jdk.v9i2.2591
Downs, S. H., & Black, N. (1998). The feasibility of creating a checklist for the assessment of the methodological quality both of randomised and non-randomised studies of health care interventions. Journal of Epidemiology & Community Health, 52(6), 377–384. https://doi.org/10.1136/jech.52.6.377
Fakhriadi, A., Pudjaningsih, D., & Farmasi, M. (2011). Analisis Pengelolaan Obat Di Instalasi Farmasi Rumah Sakit Pku Muhammadiyah Temanggung Tahun 2006, 2007 Dan 2008. 1(2), 12.
Husain, F., Kamba, V., Zulfiayu, Z., & Imran, A. K. (2022). Analisis Pengelolaan Obat di Instalasi Farmasi Dinas Kesehatan Kabupaten/Kota Se-Provinsi Gorontalo Periode Tahun 2018 dan 2019. Journal of Experimental and Clinical Pharmacy (JECP), 2(1), 44. https://doi.org/10.52365/jecp.v2i1.352
Indarti, T. R., Satibi, S., & Yuniarti, E. (2019). Pengendalian Persediaan Obat dengan Minimum-Maximum Stock Level di Instalasi Farmasi RSUP Dr. Sardjito Yogyakarta. Jurnal Manajemen Dan Pelayanan Farmasi(Journal of Management and Pharmacy Practice), 9(3), 192. https://doi.org/10.22146/jmpf.45295
Mwita, K. (2022). Strengths and weaknesses of qualitative research in social science studies. International Journal of Research in Business and Social Science (2147- 4478), 11(6), 618–625. https://doi.org/10.20525/ijrbs.v11i6.1920
Page, M. J., McKenzie, J. E., Bossuyt, P. M., Boutron, I., Hoffmann, T. C., Mulrow, C. D., Shamseer, L., Tetzlaff, J. M., Akl, E. A., Brennan, S. E., Chou, R., Glanville, J., Grimshaw, J. M., Hróbjartsson, A., Lalu, M. M., Li, T., Loder, E. W., Mayo-Wilson, E., McDonald, S., … Moher, D. (2021). The PRISMA 2020 statement: An updated guideline for reporting systematic reviews. Systematic Reviews, 10(1), 89. https://doi.org/10.1186/s13643-021-01626-4
Quick, J. D., Hogerzeil, H. V., Rankin, J. R., Dukes, M. N. G., Laing, R., Garnett, A., O'Connor, R. W., Health, M. S. for, & Drugs, W. A. P. on E. (1997). Managing drug supply: The selection, procurement, distribution, and use of pharmaceuticals. Kumarian Press. https://apps.who.int/iris/handle/10665/41908
Safriantini, D., Ainy, A., & Mutahar, R. (2011). Analisis Perencanaan Dan Pengadaan Obat Di Puskesmas Pembina Palembang. Jurnal Ilmu Kesehatan Masyarakat, 9.
Santoso, R., Anggriani, A., & Suryaman, A. (2020). Penyimpanan dan Distribusi Sediaan Vaksin di Dinas Kesehatan Kabupaten Garut. Jurnal IKRA-ITH Humaniora, 4(2), 7.
Sekardania, A. P., Utami, E. F., & Purmafitriah, E. (2017). Analisis Manajemen Pengelolaan Obat di Dinas Kesehatan Kabupaten Dompu. Pharmaceutical & Traditional Medicine.
Sintani, T., Anwary, A. Z., & Aquarista, M. F. (2021). Efektifitas Dan Efesiensi Manajemen Logistik Obat Pada Instalasi Farmasi Dinas Kesehatan Kabupaten Barito Timur. 12.
Tariq, S., & Woodman, J. (2013). Using mixed methods in health research. JRSM Short Reports, 4(6), 204253331347919. https://doi.org/10.1177/2042533313479197
Tumangger, H. Br., Pramudho, K., Noviansyah, & Adyas, A. (2021). Pengelolaan Obat di Dinas Kesehatan Kabupaten Lampung Timur Provinsi Lampung. Poltekita : Jurnal Ilmu Kesehatan, 15(3), 314–326. https://doi.org/10.33860/jik.v15i3.507
Wronikowska, M. W., Malycha, J., Morgan, L. J., Westgate, V., Petrinic, T., Young, J. D., & Watkinson, P. J. (2021). Systematic review of applied usability metrics within usability evaluation methods for hospital electronic healthcare record systems: Metrics and Evaluation Methods for eHealth Systems. Journal of Evaluation in Clinical Practice, 27(6), 1403–1416. https://doi.org/10.1111/jep.13582
Zuhroh, H., & Dyahariesti, N. (2021). Evaluasi Manajemen Penyimpanan Sediaan Vaksin Covid-19 Di Gudang Instalasi Farmasi Dinas Kesehatan Kota Mataram. 1, 10.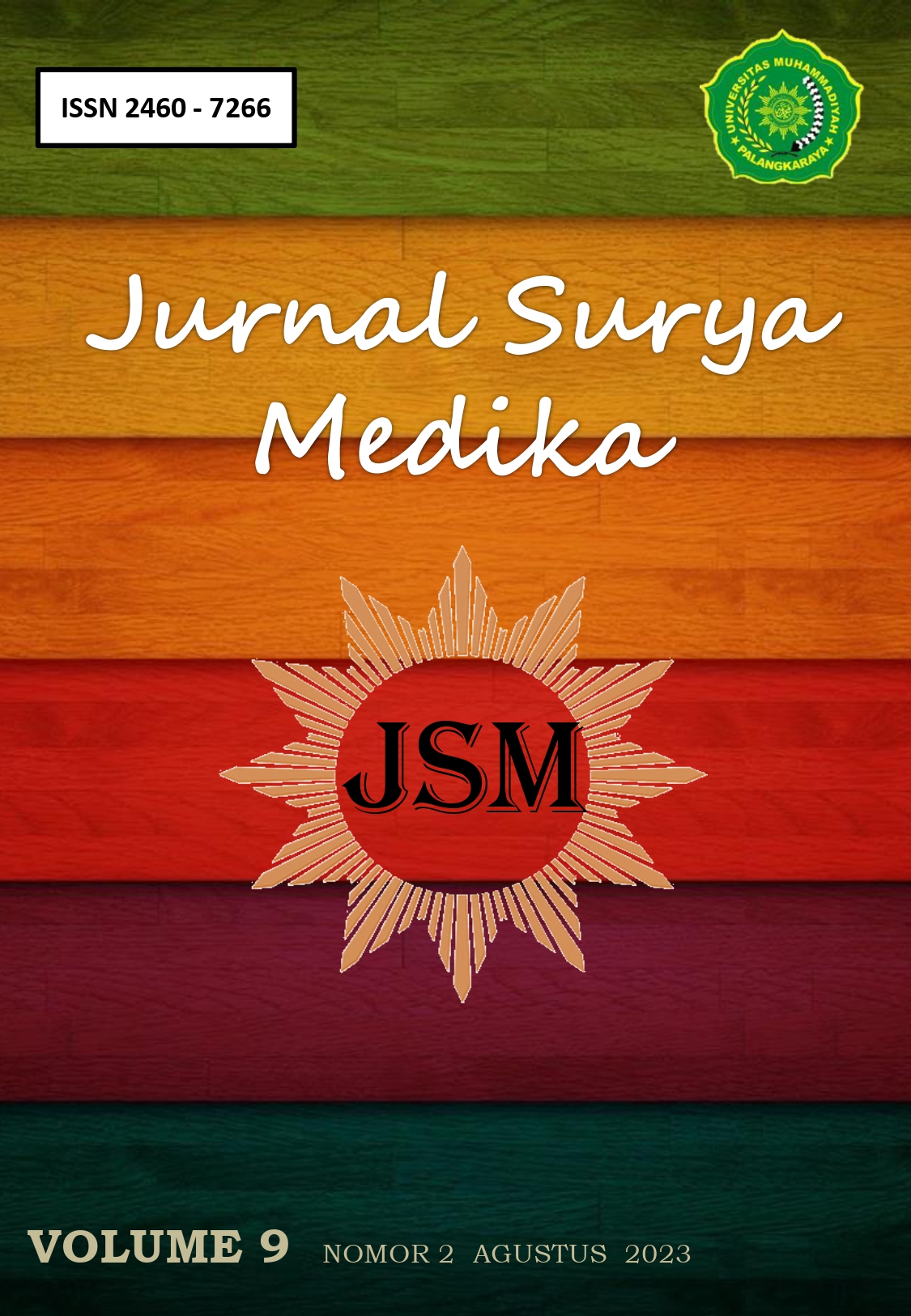 Downloads
How to Cite
Maylinda, T. D., Yasin, N. M., & Weidyaningsih, C. (2023). Tinjauan Sistematis Pengelolaan Obat dan Vaksin di Dinas Kesehatan Kabupaten/Kota: Systematic Review of Drug and Vaccine Management at District/City Health Offices. Jurnal Surya Medika (JSM), 9(2), 142–155. https://doi.org/10.33084/jsm.v9i2.5683
License
Copyright (c) 2023 Tashya Dhela Maylinda, Nanang Munif Yasin, Chairun Weidyaningsih
This work is licensed under a Creative Commons Attribution-ShareAlike 4.0 International License.
All rights reserved. This publication may be reproduced, stored in a retrieval system, or transmitted in any form or by any means, electronic, mechanical, photocopying, recording.