Tingkat Kepatuhan Minum Obat Pasien Hipertensi JKN di Poli Penyakit Dalam RSUD Dr. Doris Sylvanus Palangka Raya
Level of Compliance with Medication for Patients with Hypertension in JKN at the Internal Medicine Poly Dr. Doris Sylvanus Palangka Raya
Keywords:
Hipertensi, MMAS, Palangka Raya
Abstract
Penelitian ini merupakan cross sectional study data diambil selama 1 bulan (November 2015) di poli Penyakit Dalam RSUD dr. Doris Sylvanus Palangka Raya. Pasien hipertensi yang dapat berpartisipasi adalah pasien dengan usia ≥ 18 tahun – 65 tahun. Data diperoleh dengan cara melakukan wawancara menggunakan instrument kuisioner MMAS (Morisky Medication Adherence Scale). Pada penelitian ini subyek yang memenuhi kriteria inklusi sejumlah 86 pasien. Hasil penelitian menunjukkan tingkat kepatuhan minum obat pasien hipertensi di Poli Penyakit Dalam RSUD dr. Doris Sylvanus Palangka Raya adalah tingkat kepatuhan sedang dengan score MMAS= 6,05 ± 1,94, selain itu baik usia maupun tingkat pendidikan tidak mempunyai pengaruh terhadap tingkat kepatuhan minum obat, yang dibuktikan dengan hasil uji SPSS menggunakan Kruskal Wallis Test P= 0,806 untuk usia dan P= 0,178 untuk tingkat pendidikan (P < 0,05). Pada penelitian ini dapat disimpulkan bahwa tingkat kepatuhan minum obat pasien hipertensi di poli penyakit dalam RSUD dr. Doris Sylvanus Palangka Raya periode November 2015 adalah tingkat kepatuhan sedang.
Downloads
Download data is not yet available.
References
Alhaiqa, F., Deane, K.H.O., Nawafleh, A.H., Clark, A., Gray, R., 2012, Adherence therapy for medication non compliant patients with hypertension: a randomised controlled trial, Journal of Human Hypertension 26, 117–126.
Depkes, 2006, Pharmaceutical Care Untuk Penyakit Hipertensi, Direktorat Bina Farmasi Komunitas dan Klinik, Depkes RI, Jakarta.
Fung, V., Huang, J., Brand, R., Newhouse, J.P., & Hsu, J, 2007, Hypertension treatment in a medicare population: Adherence and systolic blood pressure control. Clinical Therapeutics, 29 (5), 972-984.
Hajjar, L., & Kotchen, T.A, 2003, Trends in prevalence, awareness, treatment, and control of hypertension in the United States, 1998-2000. JAMA, 290, 199-206.
Lin, Y., Huang, Y., Yang, Y., Wu, J., Chang, C., & Lu, F, 2007, Adherence to Antihypertensive medications among the elderly: a Community-based survey in Tainan city, Southern Taiwan. Taiwan Geriatr Gerontrol, 2 (3), 176-189.
Morgado, M., Rolo, S., & Branco, M.C, 2011, Pharmacist intervention program to enhance hypertension control: a Randomised controlled trial. Int J Clin Pharm, 33, 133-140.
Morisky, D.E., Ang, A., Krouselwood, M., & Ward, H. J, 2008, Predictive validity of a medication adherence measure in an outpatient setting. Journal of Clinical Hypertension, 10 (5), 348-354.
Nelson, M.R., Reid, C.M., Ryan, P., Willson, K., & Yelland, L, 2006, Self-reported adherence with medication and cardiovascular disease outcomes in the Second Australian National Blood Pressure Study (ANBP2. Medical Journal of Australia, 185 (9), 487-489.
Ogedegbe, G., Tobin, J.N., Fernandez, S., Gerin, W., Diazgloster, M., Cassells, A., Khalida, C., Pickering, T., Schoenthaler, A., & Ravanell, J, 2009, Counseling African Americans To Control Hypertension (CAATCH) trial: a Multi-level intervention to improve blood pressure control in hypertension blacks, Journal of The American Heart Association, 2, 249-256.
Rahajeng, E., dan Tuminah, S., 2009. Prevalensi hipertensi dan determinannya di Indonesia. Majalah Kedokteran Indonesia, 59 (12).
WHO-ISH Hypertemsion Guidline Committee, 2003. Guidlines of the management of hypertension. Journal Hypertension, 21 (11), 1983-1992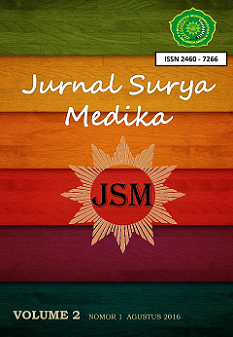 Downloads
How to Cite
Ardhany, S. D. (2016). Tingkat Kepatuhan Minum Obat Pasien Hipertensi JKN di Poli Penyakit Dalam RSUD Dr. Doris Sylvanus Palangka Raya: Level of Compliance with Medication for Patients with Hypertension in JKN at the Internal Medicine Poly Dr. Doris Sylvanus Palangka Raya. Jurnal Surya Medika (JSM), 1(2), 10–17. https://doi.org/10.33084/jsm.v1i2.394
License
All rights reserved. This publication may be reproduced, stored in a retrieval system, or transmitted in any form or by any means, electronic, mechanical, photocopying, recording.